Gwyneth Paltrow slams Kourtney Kardashian copying claims: 'there is room for EVERY woman to fulfil her dreams'
Gwyneth Paltrow sent a strong message of female empowerment after a fan asked her thoughts on Kourtney Kardashian's wellness brand, Poosh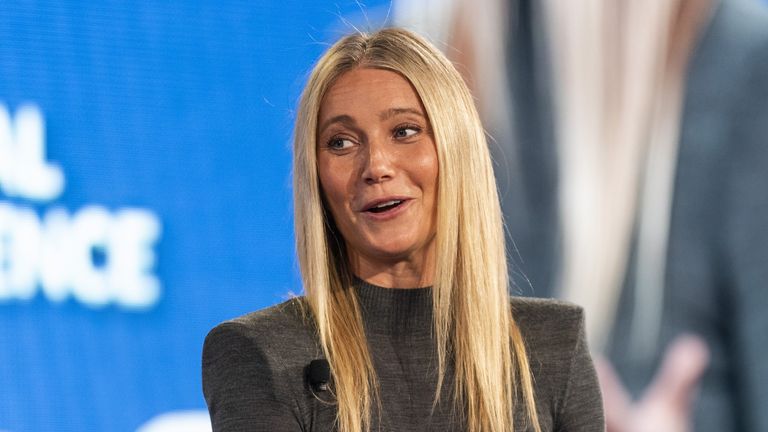 (Image credit: Lauren Justice/Bloomberg via Getty Images)
Gwyneth Paltrow doesn't mind a bit of competition. In fact, she welcomes it – especially from other business-minded women.
The Oscar-winning actress is well-known for her lifestyle brand, Goop.
Launched in September 2008, Goop started out as a weekly e-mail newsletter providing new-age advice and has now become a major e-commerce brand, collaborating with fashion brands, launching pop-up shops, holding wellness summits, launching a print magazine, a podcast, and a series for Netflix.
---
By 2018, the company had been valued at $250 million.
So, Gwyneth really carved a place for herself in the market – but that doesn't mean there isn't room for others.
Kourtney Kardashian launched her own lifestyle brand in 2019, called Poosh. On Instagram, a fan sent in a question wondering, "Are you upset that Poosh copied you?"
Gwyneth's powerful response was a positive affirmation for all women.
She wrote, "This idea that women need to be in competition is legacy patriarchy bullsh*t, there is rom for EVERY woman to fulfill her dreams."[sic]
The actor went on to add, "I used to fall prey to this kind of thinking years ago, so I understand where it comes from. Now I get so happy when I see new wellness businesses."
If that wasn't enough, Gwyneth gave a shout-out to Kourtney's new marriage to Travis Barker, writing "#KRAVISFOREVER."
Poosh is described as a lifestyle brand that acts as a way for Kourtney Kardashian to share her way of life with fans. This includes Kourtney's top diet picks, recipes, skin care favorites and much more.
Poosh has evolved over time, though, and now explores many topics to do with wellness – entering similar subject areas well covered by Gwyneth's Goop.
These include the likes of sexual wellness tips, explainers on different vibrators, and alternative approaches to healing or wellness.
The similar sounding names could be another reason the fan posed the question – Goop and Poosh have similar sounds, but this, again, could be a coincidence.
Poosh is seemingly named after Kourtney's daughter, Penelope.
Back in 2019, Kourtney posted a photo of herself in the bath with her daughter Penelope standing close by, sweetly playing with her mother's hair. The photo's caption read, "Name: Penelope, Nickname: Poosh."
As for Gwyneth and Goop?
According to a 2018 New York Times Magazine (opens in new tab) profile, Gwyneth came up with the name Goop for her lifestyle brand after she was told, "all the successful internet companies had double O's."
And, in a 2009 USA Today (opens in new tab)interview, she further explained, "I wanted it to be a word that means nothing and could mean anything."
Jack Slater is not the Last Action Hero, but that's what comes up first when you Google him. Preferring a much more sedentary life, Jack gets his thrills by covering news, entertainment, celebrity, film and culture for woman&home, and other digital publications.
Having written for various print and online publications—ranging from national syndicates to niche magazines—Jack has written about nearly everything there is to write about, covering LGBTQ+ news, celebrity features, TV and film scoops, reviewing the latest theatre shows lighting up London's West End and the most pressing of SEO based stories.