Blonde Netflix: Everything we know so far about the intriguing Marilyn Monroe movie
The trailer for the Marilyn Monroe Netflix movie Blonde has left audiences rapt and in already in awe of Ana de Armas' performance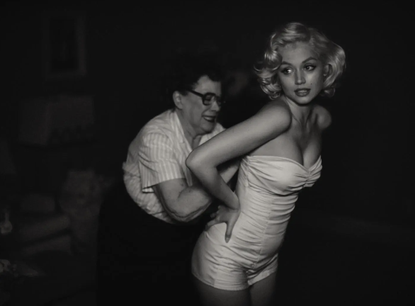 (Image credit: Netflix)
It seems like everyone has been talking about Blonde, the new Marilyn Monroe Netflix movie, for years now. Finally, the film is about to debut on the platform.
Starring Ana de Armas as Marilyn Monroe, Blonde will premiere on Netflix on September 28, effectively becoming the only movie of 2022 to be rated NC-17 and the only one of its kind to ever debut on a streaming service.
What is Blonde about?
Adapted from an eponymous 2000 novel by Joyce Carol Oates, Blonde looks at Norma Jeane Mortenson's journey to becoming Hollywood icon Marilyn Monroe.
As fans of the star know, Marilyn's life, although seemingly picture-perfect, was plagued by abuse, romantic problems, drug issues and more. Back in 1962, at the mere age of 36, Marilyn was found dead from an overdose of barbiturates.
As seen in the newly released trailer, the film, shot partly in black-and-white and partly in color, will dissect Marilyn's life in front of the camera while also showcasing her private day-to-day with former husbands Joe DiMaggio, the American baseball player, and Arthur Miller, the famous playwright.
"I know you're supposed to get used to it, but I just can't," Ana-as-Marilyn says in the trailer. "I play Marilyn Monroe, Marilyn Monroe, Marilyn Monroe. I can't face doing another scene with Marilyn Monroe."
---
The film's director, Andrew Dominik, has gone on the record about the contents of his work in connection to its much-talked about rating.
"I was surprised [about the NC-17 rating]," Dominik said to Vulture (opens in new tab) a few months ago. "I thought we'd colored inside the lines. But I think if you've got a bunch of men and women in a boardroom talking about sexual behavior, maybe the men are going to be worried about what the women think. It's just a weird time. It's not like depictions of happy sexuality. It's depictions of situations that are ambiguous. And Americans are really strange when it comes to sexual behavior."
The director also opened up about the essence of the film, and of Marilyn's character and troubled life, in his interview with Vulture.
"The idea behind Blonde is basically it details a childhood drama, and mistaken ideas that she carries into her adult life, and she sees the world through the lens of those ideas," he said to the outlet. "And they necessitate a split into a public self which can be loved, and a private self which has no hope of achieving intimacy. She's not seeing the world, really; she's seeing herself. [...] On a simplest level, it's about an unwanted child who becomes the most wanted person in the world and can't deal with all of that desire coming at them."
Who is in the cast of Blonde?
Blonde, which runs almost three hours long, stars Ana as the "older" Marilyn and casts Lily Fisher as her younger counterpart.
Fans haven't been shy about expressing their excitement over the rest of the casting selections as well, including Bobby Cannavale as Joe, Adrien Brody as Arthur and Caspar Phillipson as John F. Kennedy, who was rumored to have engaged in an extramarital affair with Marilyn throughout the years.
Julianne Nicholson has also signed on to the movie, playing Marilyn's mother, Gladys Pearl Baker Mortensen Eley. Allan "Whitey" Snyder, Marilyn's well-known personal makeup artist will be played by Toby Huss.
How to watch Blonde...
Blonde will debut in its entirety on Netflix on September 28.
Before then, though, the film will be shown at the 2022 Venice Film Festival, which, this year, is set to run from August 31 through September 10.
Interestingly enough, according to the Academy's guidelines, Blonde will have to offer audiences a brief run in movie theaters to be considered as a possible nomination for this year's upcoming Oscars, which will air in March of 2023. No official word yet on how that is going to work.
Anna Rahmanan is a New York-based writer and editor who covers culture, entertainment, food, fashion and travel news. Anna's words have appeared on Time Out New York, the Huffington Post, Fortune, Forbes, Us Weekly, Bon Appetit and Brooklyn Magazine, among other outlets.