Mick Jagger reveals his daily exercise routine to rock out on stage at 78
Mick Jagger of the Rolling Stones works out at the gym or dancing every day for six weeks before a tour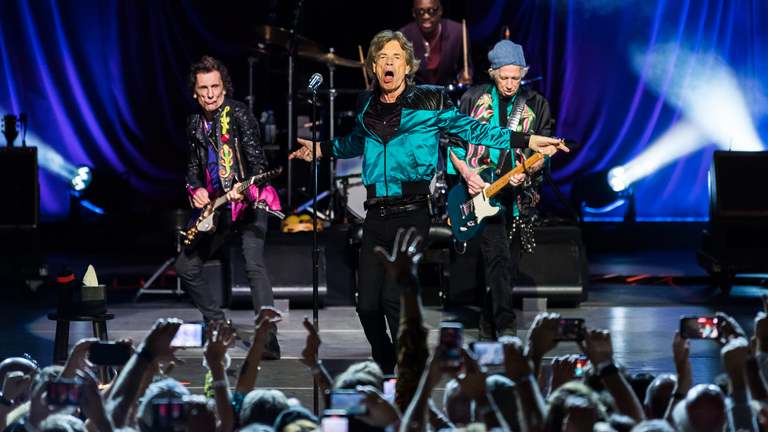 (Image credit: Jason Koerner / Contributor)
Turns out that moving the way Mick Jagger does at the age of 78 doesn't come easy.
How much exercise the singer actually needs varies depending on his schedule but, in a new interview with the Sunday Times (opens in new tab), the superstar reveals that, generally speaking, he partakes in, "six weeks of practice even before rehearsals [for a tour] start." He specifically mentions doing, "dancing, gym, every day of the week. I don't enjoy it very much, but it has to be done." Bravo to you, Mick!
---
In the interview, Mick also acknowledges that he's been traveling with a cardiologist ever since having undergone heart valve replacement surgery back in 2019. The superstar is not oblivious to the fact that his lifestyle is anything but ordinary.
"Rock 'n' roll, or any kind of pop music honestly, isn't supposed to be done when you're in your 70s," he says to the outlet. "It wasn't designed for that. Doing anything high-energy at this age is really pushing it. But that makes it even more challenging. So it's, like, 'OK, we've got to f***ing do this right,' but it's got to be as full-on as possible. Of course you could do another type of music. We've got lots of ballads. I could sit on a chair."
As for his fellow band members, who are all gearing up for the Rolling Stones' upcoming 14-date 60th anniversary tour, exercise and a healthy lifestyle also take center stage.
Chatting with the Sunday Times alongside frontman Mick, guitarist Keith Richards, who is also 78 years old, reveals he likes to take it slow before gigs. "I may or may not have a stiff drink, but usually I don't," he says. "You know, you grow out of everything. I've spent all my life giving up things, so that's about it now."
Slide guitarist Ronnie Wood, who is turning 75 years old next week, sings the praises of stretching, especially following his recent struggles with lung and small-cell cancer. "After all my battles [...] with the big C, I try to keep moving, keep my joints warmed up, stretches and stuff," he says.
Perhaps most importantly, the rockers share how age has benefited their relationships with each other. "We've matured among ourselves. The attitudes within the band are no longer throwaway," says Ronnie. "It used to be all 'Oh, crawl back under your rock.' I had many years of 'Shut up, you're the new boy,' that kind of feeling, but now every tour has a changed demeanor. Mick's been through so many different moods and images in his life, and he's come back to this really warm person. Keith too."
Anna Rahmanan is a New York-based writer and editor who covers culture, entertainment, food, fashion and travel news. Anna's words have appeared on Time Out New York, the Huffington Post, Fortune, Forbes, Us Weekly, Bon Appetit and Brooklyn Magazine, among other outlets.