Best thriller books of 2021 for readers who love a psychological page-turner
Mysterious, chilling, and very addictive, the best thriller books of 2021 will keep you guessing until the last page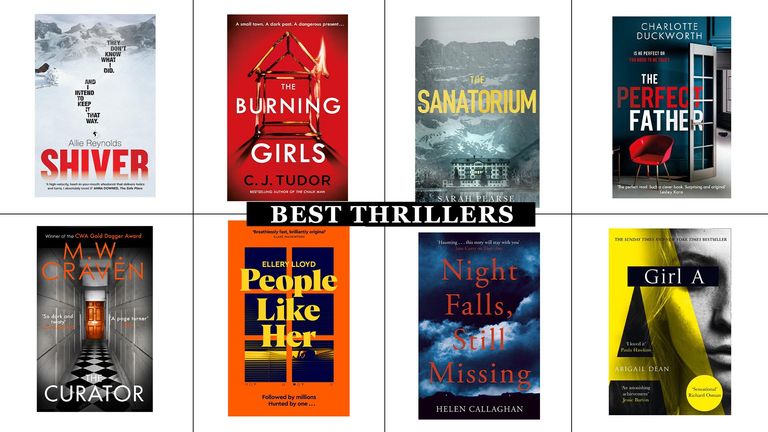 (Image credit: Future)
The best thriller books will leave you desperate to turn the page, wracking your brains for an answer, and sometimes, scared out of your wits. Thrillers have long reigned supreme over the bestseller charts as one of the most-read and most-talked-about book genres—with novelists striving to shock and delight readers in equal measure with clever twists and turns.
With bigger and better stories being published all the time, it's never long before another dark tale comes along to capture our imaginations, whether you listen to the story unfold on an audiobook, get stuck into a paperback, or prefer an eReader (we have some handy guides on the best Kindles and best eReaders if you're in the market for an upgrade).
Due to their high-drama storylines, range of complex characters, and shifting perspectives, bestselling thriller books make for some of the best book-to-screen adaptations. Over the last few years, several of these adaptions have achieved huge international success, with Big Little Lies, The Girl on the Train, and Gone Girl being some of the most well-known examples. And their popularity has secured more fans for the thriller genre in general. So what are the latest thriller novels that are taking the genre by storm? These are the best thriller books of 2021.
Best thriller books to read in 2021
We all love a twist in the tale and this is something the best thriller books have come to master. Building suspense, all the while preparing for the final devastating reveal, the best novels have not one, but several, major surprises in store. Here we reveal our pick of the latest and best thriller books in this gripping genre, that will surprise and shock in equal measure. Whether you want a brilliant plot twist, something with psychological insight, or a classic deception story, we've got some great recommendations for you.
Crime thriller books
Crime thrillers are perhaps one of the most popular types of thriller books, and for good reason. These options explore serious incidents—be they murders, disappearances, or so much more—giving the author a chance to explore the impacts of such crimes and the race to solve them. A crime thriller can hook us with multiple twists, turns and shocks, which is why we all find them so fascinating.
Not A Happy Family by Shari Lapena
When Sheila and Fred Merton are found brutally murdered soon after a tense family lunch with their three adult children, their close family and friends are shocked, but not all of them are upset. That's because multi-millionaire Fred was a narcissist bully, Sheila was a neglectful mother, and their deaths means their children stand to inherit a fortune. With no alibis and plenty of motive, the police have to decide which one of them did the ghastly deed. And if they can't solve it, Fred's sister Audrey is willing to point the finger. A cross between Big Little Lies and Miss Marple, we reckon this one could be destined for the screen sometime soon.
Read it because... Shari's previous book, The Couple Next Door, sold in its millions, and Paula Hawkins is a fan.
A line we love: "But much as she feels bad about that, some small part of her is glad—or maybe relieved—that he has turned on one of his other children for once."
---
The Therapist by Helene Flood 
Sara's career as a therapist means she spends her days dealing with drama. So when Jan Erik, her husband's best friend, calls to say he never showed up for their weekend away together, she doesn't immediately panic. After all, her husband, Sigurd, has already left her a message to say he's arrived, so Jan Erik must be playing a prank, right? But when the police launch a murder investigation, and strange things start to happen in Sara's home at night, she realises she needs to dissect her own relationship in the same way she does her client's lives, to figure out what happened to him. Who can she really trust? It's a slow and creepy build-up—you might want to avoid reading this one at night!
Read it because... Helene Flood is a Oslo-based psychologist herself, so there are deep insights in this book, translated from her native Norwegian by Alison McCullough.
A line we love: "If you remember everything, it's hard to recall the significant things—the things you have to remember."
---
The Heights by Louise Candlish
When Ellen's son Lucas befriends troubled teen Kieran, her instinct to keep her child safe intensifies. Ellen's gut feeling is right as, within a matter of months, Lucas' life has been destroyed. What follows next is a cat-and-mouse game between Ellen and Kieran, as she strives for revenge. Told through Ellen's own heartbreaking account, you soon wonder whether her point of view is accurate, or if there's another side to the story.
Read it because... Award-winning Candlish packs the book so full of twists you'll keep wanting to read just one more chapter. 
A line we love: "Already I feel like I'm using bodily fluids for ink—the blood of my son, the tears of my daughter."
---
The Last Thing To Burn by Will Dean
You won't so much read as breathlessly inhale this unbearably tense tale about a woman held captive on a remote farmhouse in the British Midlands. Thanh Dao—or "Jane", as her husband Lenn prefers to call her—is a victim of trafficking, sold into a life of slavery, fear and unimaginable cruelty, who is about to find a new reason to fight back. Shocking, visceral and totally unforgettable.
Read it because... It's been described as Room meets Misery. A dark story of survival, the horrors of human trafficking, and enslavement. Will Dean says the idea came to him one night in 2016 when he spent from 12am-6am visualising the whole book. His novel, Red Snow, won Best Independent Voice at the Amazon Publishing Readers' Awards.
A line we love: "I sit feeding my daughter and planning his death."
---
The Sanatorium by Sarah Pearse
Luxury hotel Le Sommet may look like the perfect place to escape from it all, but there's a reason the former sanatorium is located in such an isolated spot high in the Swiss Alps. As it soon transpires, the grand old building is not the only player in this deadly game hiding past secrets, and as a storm blows in and bodies begin to pile up, it's up to troubled detective Elin to dig until she uncovers the truth. Genuinely scary and deliciously atmospheric, and one of the best books of 2021, this international bestseller is guaranteed to give you goosebumps.
Read it because… It's a quick paced gothic thriller that packs a punch—and was a book club pick for Reese Witherspoon! The setting was inspired after reading about the legacy of TB sanatoriums in Crans Montana.
A line we love: "It's hard not to imagine, she thinks, looking out; this place somehow consuming someone, swallowing them whole."
---
Before She Disappeared by Lisa Gardner
Recovering alcoholic Frankie Elkin spends her time searching for missing people the world has given up on—a pastime that leads her to a Boston neighbourhood with a tough reputation, where she begins a hunt for Haitian teenager Angelique Badeau. Facing resistance from the local police department and even the girl's own family, Frankie senses that she's on the verge of uncovering some extremely troubling truths—but will she catch up with the perpetrators before they catch up with her? A read-in-one-sitting triumph.
Read it because… It's written by the master of the psychological thriller. A self-confessed research junkie, Lisa Gardner has transformed her interest in police procedure and criminal minds into a streak of internationally acclaimed novels. She's also had four turned into TV movies. 
A line we love: "I am my demons, and my demons are me."
---
The Burning Girls by CJ Tudor
Since her unforgettable debut The Chalk Man stormed into the bestseller charts three years ago, CJ Tudor has become the go-to author for creepy horror-thrillers—and The Burning Girls may well be her best yet. Rev Jack Brooks moves to the small town of Chapel Croft with his teenage daughter Flo looking for a fresh start, but it soon becomes clear that the close-knit community is hiding something. Why are they receiving macabre messages? Is Flo really having visions? And why did the last vicar kill himself? A breathless, brutal and brilliant read.
Read it because… This Sunday Times Best Selling author has been writing since she was a child but only knuckled down to it properly in her thirties. She admits that The Burning Girls was a "tough book to write at times."
A line we love: "You may not be able to judge a book by its cover, but you can certainly judge a person by their books."
---
The Downstairs Neighbour by Helen Cooper
Fans of Lisa Jewell and Shari Lapena will enjoy this twisty tale. In a West London townhouse, three families co-habit in apparent harmony. Teenage Freya lives on the top floor with her devoted parents Steph and Paul, Emma and her insomniac hamster reside below and driving instructor Chris is in the basement with his wife Vicky. It is only after Freya goes missing that cracks begin to appear, hidden truths are revealed and a mysterious character emerges from the shadows of the past…
Read it because… This heart-pounding debut novel is a delicious blend of family drama meets domestic suspense. Helen's creative writing was shortlisted in the Bath Short Story Prize in 2014, she also came third in the Leicester Writes Short Story Prize 2018. She says that she's 'been massively influenced by novels like My Cousin Rachel by Daphne Du Maurier.'
A line we love: "You complacent idiot Paul. Of course something like this was going to happen."
---
The Survivors by Jane Harper
Jane Harper has emerged as one of the top must-read authors in the crime thriller genre over the past few years, and her debut The Dry was made into a movie starring Eric Bana which broke box-office records when it premiered in the author's native Australia. This, her most recent novel, is an intricate and atmospheric why-and-whodunnit set in a small costal town, where secrets are rife and old wounds still weep.
Read it because… It's a slow burn mystery that oozes atmosphere. The author, Jane Harper, also has a string of best-sellers under her belt - including the CWA Gold Dagger for Best Crime Novel, British Book Awards Crime and Thriller Book of the Year, and the Australian Book Industry Awards Book of the Year. Reese Witherspoon also bought the rights to her book, The Dry, which was turned into a film starring Eric Bana.
A line we love: "The sea swelled again, and this time the drag of the undertow was strong enough that he took a step toward her. She didn't notice."
---
Shiver by Allie Reynolds
When Milla joins her snowboarding friends for a reunion in the same French Alps resort where they competed against each other ten years ago, she believes she's there at the behest of Curtis, the man she cannot seem to let go. At first, the trip is every bit as exhilarating as she hoped, but it soon becomes clear that time has not healed all the group's old resentments—nor has it shed any light on what happened to Saskia, the girl who disappeared all those years ago… A hugely enjoyable cat-and-mouse whodunnit.
Read it because… It reminds us of an 80s classic horror film that's been brought bang up to date. A captivating read told entirely from Milla's point of view, it's also been translated into 22 languages. Prior to becoming a novelist, Allie Reynolds was also one of the UK's top freestyle snowboarders—so she knows a thing or two about remote, snowy settings! 
A line we love: "As I have done many times before, I imagine what might have happened if I'd made a different choice that night."
---
The Curator by M.W. Craven
Part of the Washington Poe series, this recent instalment of the crime thriller books sees Poe and Tilly Bradshaw trying to get to the bottom of linked crimes all over Cumbria in the build up to Christmas. Nothing is making sense and things get even darker when a disgraced FBI agent gets in touch to warn them about a criminal who calls himself 'The Curator'…
Read it because… It was longlisted for the prestigious CWA Gold Dagger Awards 2021. After many years of working in the probation service, W.W Craven became a full time crime writer after becoming ill. He admits that "writing was my way of trying to come to terms with what had happened to me."
A line we love: "It was the night before Christmas and all wasn't well."
---
When You See Me by Lisa Gardner
One of the best thriller books of the last year, from international bestselling author Lisa Gardner, this dark tale follows a task force committed to hunting down every last trace of a notorious serial kidnapper. Although the kidnapper is now dead, his legacy lingers and the town he once terrorised is still not safe.
Read it because… This is simply dripping with suspense. Another entry from the queen of crime thrillers, Lisa Gardener admits that she first had the idea after listening to True Crime podcasts. We love how the story is told from various points of view, which adds to the tension.
A line we love: "Sometimes fear is like that: it leaves you with nothing but the desire for it to be done."
---
Brixton Hill by Lottie Moggach
Focusing on the British prison system, Lottie Moggach's Brixton Hill follows Rob who is approaching the end of a 7-year sentence. All he has to do now is stay out of trouble—something he seems to be managing until one day his path crosses with that of a mysterious woman. Moggach paints a fascinating picture of prison life and delivers well-rounded characters to believe in.
Read it because… Moggach has created an authentic read that includes some spot-on descriptions of south London's architecture. It's also inspired by some of the things she witnessed when her son's father was imprisoned. Her dazzling debut novel, Kiss Me First, was adapted into a six-part Channel 4 series. 
A line we love: "Birthdays are about being loved and celebrated, and neither of those apply to me."
---
Psychological thriller books
In the same way that the best historical fiction books bring the past to life, many of us are drawn to the best thriller books for the way they delve into, and bring to light, the perspectives of twisted and damaged characters. Our need to understand motivation and find some shred of humanity in the evilest of criminals is something that is encouraged by this trend. And psychological thrillers are where we get the chance to explore this concept in action. Psychological thrillers explore the psyche of people—both criminal and otherwise—with nail-biting twists and turns along the way.
The Night She Disappeared by Lisa Jewell
When 19-year-old Tallulah heads out on a date with her boyfriend, 39-year-old grandmother Kim is happy to take care of baby Noah, telling the young couple to let their hair down. Little does Kim know that her daughter won't return from that fateful night, and it is the beginning of a living nightmare, where Kim must fight to find the truth about what really happened to her daughter.
Read it because… This is a real thriller with heart, as emotional as it is enthralling. No cheap thrills here! Characters are carefully crafted in this complex, psychological thriller. 
A line we love: "Arachnophobia is one of those words that sounds as bad as that which it describes. Tallulah suffers from arachnophobia, Tallulah is in the dark."
---
The Perfect Father by Charlotte Duckworth
New mum Esther is initially overjoyed when Robin offers to become a stay-at-home dad to their baby daughter. She had struggled through pregnancy and was missing her job, so it seemed to make sense. That is, until the dynamic of her and Robin's relationship begins to alter dramatically. Esther is about to confront her husband when she arrives home to find both he and the baby missing. Could it be that this seemingly perfect man was, in fact, anything but? Smart, compulsively readable and with an ending you will not see coming, there's nothing about this gripping story that fails to satisfy.
Read it because… Told from the points of view of a husband and a wife, in two timelines, it's the author's third compelling novel. It was a top 20 Kindle bestseller in both the UK and the USA.
A line we love: "We were introduced at a party I had tagged along to with Viv, and he fell to his knees and thanked God when I said I wasn't an actress myself."
---
People Like Her by Ellery Lloyd
Following on in the trailblazing wake of crime-writing duo Nicci French, husband and wife Collette Lyons and Paul Vlitos have teamed up to become Ellery Lloyd and share the narrative strands of this unputdownable chiller. Mumfluencer Emmy puts so much effort into portraying the perfect image on her social channels that she fails to see just how distant her novelist husband Dan has become. There is also someone watching her—a follower who's becoming increasingly malicious—and they are a lot closer than Emmy could ever have imagined. Sinister, thought-provoking and refreshingly relatable, People Like Her will have you hooked.
Read it because… It's a slick thriller that unravels the mystery of the insta-age we live in and probes the dark side of parenting online. Described as 'Gone Girl with a Momstagram account'—it's no wonder that the film and TV rights have been snapped up. 
A line we love: "What can you say to someone who has lost a child? What can you possibly say? Even if the child was also your grandchild? There is nothing to say, and you can never stop saying it."
---
Girl A by Abigail Dean
Perhaps one of the most-hyped releases of 2021, Girl A became an instant bestseller in both the UK and the USA when it was released in January. Dark and shocking, it follows Lex—dubbed by the media as "Girl A"—the only one of six children who managed to escape their parents' House of Horrors. When her mother dies in prison, Lex must reconcile with her siblings and decide what to do with the home that was once their prison. A powerful read.
Read it because… The book was inspired by the real-life harrowing Californian 'House of Horrors'. This debut novel by Abigail Dean, who is also a lawyer, has taken the literary world by storm. Television and film rights have been sold to Sony.
A line we love: "'Girl A,' she said. 'The girl who escaped. If anyone was going to make it, it was going to be you.'"
---
The Murder Game by Rachel Abbott
A year after the wedding that never was, friends gather at Lucas' Cornish seaside stately home, to mark the anniversary of the ill-fated day that saw tragedy strike. Now, Lucas has told his guests that he has planned a game, and everyone has costumes to wear and parts to play. But no one knows what the game means, and what will happen once it's over. Full of twists and turns, this is a book that will keep you turning the pages until well into the night...
Read it because… You're a fan of Something in the Water, The Woman in the Window or The Silent Patient. Rachel began her career as an author in 2011 and has since sold 4 million books. 
A line we love: "We have our costumes, we have our parts, and everyone must play. The game, he tells us, is about to begin."
---
Strangers by C.L. Taylor
If you're dying for more psychological thrillers to sink your teeth into, look no further than C L Taylor's Strangers. The characters in this tale of revenge and obsession are drawn together by terrifying circumstances. Initially all strangers, the bloody events of a single evening change everything.
Read it because… It's an unpredictable thriller which keeps you snared in the drama. C.L. Taylor's books have sold in excess of a million copies, reached number one on the Amazon Kindle, Kobo, iBooks and Google Play charts and have been translated into over 25 languages.
A line we love: "Alice Fletcher has never seen a dead body before. She always imagined they'd look peaceful: their skin slackened, their muscles softened and their mouths settled, not into a smile exactly, but a loose, contented line. Alice Fletcher was wrong."
---
Magpie Lane by Lucy Atkins
In Lucy Atkins' Magpie Lane, she dramatically delves into what it means to be family and how unbreakable and terrible this bond can be, after the eight-year-old daughter of an Oxford College Master goes missing. At the heart of it all is the family's Scottish nanny, Dee, who—following the news—reflects on her time with the well-to-do family, and the accomplished but dysfunctional unit she really found them to be. 
Read it because… You love gothic houses and superb storytelling. Written by Sunday Times book critic and journalist, Lucy Atkins, who spent a good year reworking her first draft. We're also a little excited to hear that film rights have been bought for another of her books—The Night Visitor.  
A line we love: "This is so horrible. So horrible. It makes sense now, the atmosphere in this place. Don't you feel it? You have to!"
---
Invisible Girl by Lisa Jewell
Jewell brings to life the pain Saffyre Maddox who has never been able to move past a childhood trauma that occured when she was 10 years old. When she goes missing from opposite the house of loner Owen Pick, on Valentine's Day of all days, he's soon on the receiving end of harmful accusations. So was Owen responsible for her disappearance? Or is something much more sinister going on?
Read it because…It's written by the queen of the twisty page turner. Lisa Jewell is a number one New York Times bestselling author of nineteen novels which have been translated into twenty-eight languages and sold over 5 million copies across the world!
A line we love: "I recognise the shape of him, the angles of his body, and I know exactly what he is planning to do."
---
Just Like The Other Girls by Claire Douglas
In Claire Douglas' latest, young Una Richardson jumps at the chance of a fresh start when Elspeth McKenzie employs her as her live-in carer and companion. But things take a sinister turn when it emerges that Una's predecessors vacated their position in very quick succession. This is a haunting tale of obsession and rejection that shows how far some people will go to feel they belong.
Read it because…This Sunday Times bestselling author has dreamt of being a novelist since she was seven. She finally got her wish after winning the Marie Claire Debut Novel Award with The Sisters. 
A line we love: "Suicide. That's what they'll say it was. Just like the other girls."
---
The Other Passenger by Louise Candlish
And from the bestselling author of Our House, Louise Passenger, comes another addictive thriller—The Other Passenger—where charismatic Kit is murdered the night after having an argument with his friend and fellow commuter. Deliciously disturbing, this is one story that will keep you guessing which character you should trust right until the end.
Read it because… It's a tense tale of adultery and double crossing, set among the Thames river commuters and loosely based on the Thames Clippers. Candlish's novel Our House won the British Book Awards 2019 Crime & Thriller Book of the Year.
A line we love: "Hurtling towards fifty as we were, we found it hard to judge younger adults' ages. They all looked like sixth formers to us."
---
Domestic thriller books
Perhaps the most prominent and popular theme in domestic thrillers is the idea that perfection is impossible. Unlike the best romance books, thrillers take the idea of the ideal family and twist it—a concept which never ceases to engage, entertain and shock in equal measure. Domestic thrillers are all about anticipating the cracks beneath the perfect façade—and the following books do this best.
Finders Keepers by Sabine Durrant
Sabine Durrant's Finders, Keepers is an eerie tale of neighbours Verity and Ailsa. The question of who needs the other more soon becomes the focus as Verity works tirelessly to help Ailsa, despite the warnings from everyone around her.  
Read it because… This is a gripping slow burner of the highest quality which keeps you guessing until the very end. Written by a former assistant editor of The Guardian.
A line we love: "I looked around the table, at the motley crew who come together at the Dog and Fox once a week, and it in all their eyes: that I was too trusting, too lonely, that I would take in anyone to keep the darkness from pressing in."
---
Before I Say I Do by Vicki Bradley
Never let yourself think that the secrets of the past can remain buried forever. Every bride's worst nightmare comes true when the only man waiting with the registrar is the best man—Julia's fiancé has gone missing on their wedding day. But is it the skeletons in her closet that have caused events to spiral out of control?
Read it because… It's an addictive story written by a real-life detective. Author Vicki Bradley is on a career break from the Metropolitan Police while she focuses on her writing. Detailed and authentic, she gives a unique insight into the life of a detective. 
A line we love: "When she realised that I wouldn't give him up, she'd toed the line, but her concerns had always left me with a niggle of self doubt."
---
Night Falls, Still Missing by Helen Callaghan
Like all of the best thriller books, this one is incredibly hard to put down—so much so that some people read it in almost one sitting. Night Falls, Still Missing is a masterclass in tension-building. When Fiona receives an invitation to come to Orkney from her best friend, Madison, she arrives and discovers Madison is missing and her house is stripped bare. Fiona soon suspects not only that something horrific has happened, but that Madison had been about to reveal an earth-shattering secret…
Read it because… It's the perfect companion for a dark, cold night. Written by The Sunday Times Bestselling author of Dear Amy and Everything is Lies, the research for this novel saw Helen staying in the Orkneys alone one winter—she even set the story in the holiday house she rented.
A line we love: "The only way you will get a chance to see it, to see what I mean, is to come up here."
---
The Split by Sharon Bolton
Sharon Bolton's The Split is another thriller that isn't afraid to delve into the dark depths of obsession and highlight the issues surrounding unhealthy relationships and stalking as Felicity Lloyd tries desperately to evade a man whose only thoughts are of finding her. This is a tense and character-driven read that builds to an explosive ending.
Read it because… Supercharged with suspense and suspicion, it's an irresistible story. Sharon's first novel, Sacrifice, was made into a film in 2016. Her novels have also won numerous other awards. 
A line we love: "And finally, like the last trace of a dream, she remembers what the voice in her ear said to her: He's coming."
---
All My Lies Are True by Dorothy Koomson
In Dorothy Koomson's highly-anticipated sequel to The Ice Cream Girls, prepare yourself to see the dramatic events unfold from all sides and perspectives, as Serena and Poppy once more take centre stage, this time with their families. Revenge may be a dish best served cold, but the anger that propels one person towards vengeance is red hot.
Read it because… It's the sequel to the Sunday Times bestseller The Ice Cream Girls—which was loosely adapted into an ITV drama. A pacy, thought provoking thriller about family, obsession and psychological abuse. Dorothy's books have been translated into more than 30 languages and more than two million copies sold in the UK alone! 
A line we love: "The sky is there as a reflection of my life, something that at first looks clear and simple, but when you move closer, look a little bit deeper, there's always so much more."
---
The Other Mrs by Mary Kubica
As one of the biggest themes within the crime fiction and thriller genre it's no surprise that there are so many tense crime thrillers out there joyfully dismantling the idea of the perfect family. And Mary Kubica's The Other Mrs is no exception as one woman discovers her husband has been keeping a dangerous secret that could threaten their very survival.
Read it because… A spine-tinging story packed with tension and terrific twists, it's written by a New York Times bestselling author. The rights to adapt her latest book, Local Woman Missing, have also been snapped up.
A line we love: "Cheating spouses are masters at manipulation."
---
The Last Wife by Karen Hamilton
In Karen Hamilton's The Last Wife, though Marie has spent years longing for her late friend Nina's seemingly charmed life, things start looking much less rosy when she finally obtains her dream. Marie's character tries to join a well-established group in a village—but she has no idea what lies beneath the surface.  A shocking tale of truth and trust that will keep you guessing. 
Read it because…Karen Hamilton's main character, Marie, was inspired while reading about book-groups online, and discovering that some weren't as friendly as she'd imagined. 
A line we love: "People say, 'Follow your dreams,' yet I'd say, 'Follow what makes you sick with envy'."
---
The End of Her by Shari Lapena
Acclaimed thriller writer Shari Lapena knows how to build up the tension in The End of Her, which takes apart the idea of the perfect family unit. Recently married, with adorable baby twins, things seem perfect for Stephanie and Patrick until an allegation is made about his first wife: that he murdered her. Is Patrick telling the truth when he claims he's innocent, or should Stephanie escape while she still can?
Read it because… It's a superb domestic suspense novel by the best selling author whose debut novel, The Couple Next Door, was a global bestseller. Shari's books have sold over 7 million worldwide.
A line we love: "These days Stephanie is astonished at how naive she was before the birth. Control is an illusion."
---
Isabelle Broom is the author of eight escapist fiction novels. She won the Romantic Novelist's Association Best Contemporary Romance Novel award in 2019 and The Great British Write Off short story competition in 2015, with her winning entry, The Wedding Speech, later being adapted into a short film.
Following a degree in Media Arts from the University of West London, she spent an eventful summer working in a bar on a Greek island, became an avid traveller, and vowed to one day write stories set in all her favourite locations around the world. Before this dream became a reality, Isabelle spent a gloriously fun 11 years working at heat magazine,
As well as heading off on adventures abroad—a pastime she now gets to call 'research'—Isabelle is lucky enough to write book reviews and travel features on a freelance basis. To find out more about her novels—and her mildly chaotic Suffolk-based life—you can visit isabellebroom.com, follow her on Twitter and Instagram (@isabelle_broom) or search for Isabelle Broom Author on Facebook.