Best thriller books of 2021 for readers who love a psychological page-turner
Our pick of the best thriller books of 2021—how many have you read?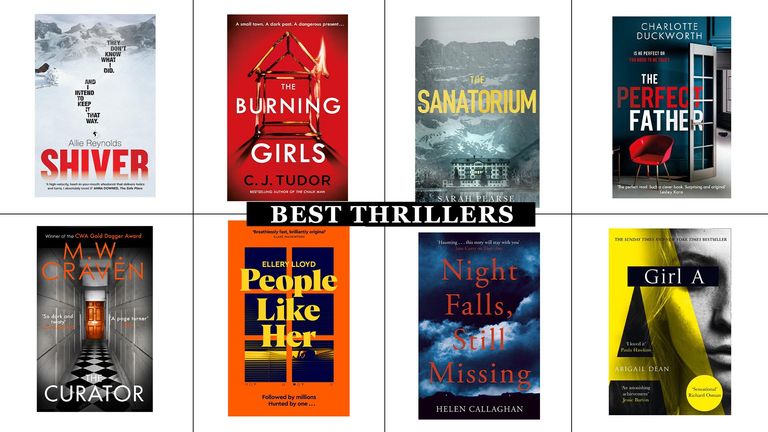 (Image credit: Future)
The best thriller books will leave you desperate to turn the page, wracking your brains for an answer, and sometimes, scared out of your wits.
Thrillers have long reigned supreme over the bestseller charts as one of the most-read and most-talked-about book genres, whether you read them digitally (see our guide to the best Kindles and best eReaders here) or prefer a traditional paperback. But just why are they so popular? And which standout thrillers should you have on your list to read this year?
Due to their high drama storylines, range of complex characters and shifting perspectives, the very bestselling thriller books make for some of the best book-to-screen adaptations and count as some of the most popular TV shows and movies of recent times.
Over the last few years, several of these adaptions have achieved huge international success, with Big Little Lies, The Girl on the Train, and Gone Girl being some of the most well-known examples. And their popularity has secured more fans for the thriller genre in general. So with bigger and better stories being published all the time, it won't be long before another dark tale comes along to capture our imaginations (and dominate our book club book chats!).
Best thriller books to read in 2021
We all love a twist in the tale and this is something the best thriller books have come to master. Building suspense, all the while preparing for the final devastating reveal, the best novels have not one, but several, major surprises in store. Here we reveal our pick of the latest and best thriller books in this gripping genre, that will surprise and shock in equal measure. Whether you want a brilliant plot twist, something with psychological insight, or a classic deception story, we've got some great recommendations for you.
Crime thriller books
Crime thrillers are perhaps one of the most popular types of thriller books, and for good reason. These options explore serious incidents—be they murders, disappearances, or so much more—giving the author a chance to explore the impacts of such crimes and the race to solve them. A crime thriller can hook us with multiple twists, turns and shocks, which is why we all find them so fascinating.
---
---
---
---
---
---
---
---
---
---
---
---
---
Psychological thriller books
In the same way that the best historical fiction books bring the past to life, many of us are drawn to the best thriller books for the way they delve into, and bring to light, the perspectives of twisted and damaged characters. Our need to understand motivation and find some shred of humanity in the evilest of criminals is something that is encouraged by this trend. And psychological thrillers are where we get the chance to explore this concept in action. Psychological thrillers explore the psyche of people—both criminal and otherwise—with nail-biting twists and turns along the way.
---
---
---
---
---
---
---
---
---
Domestic thriller books
Perhaps the most prominent and popular theme in domestic thrillers is the idea that perfection is impossible. Unlike the best romance books, thrillers take the idea of the ideal family and twist it—a concept which never ceases to engage, entertain and shock in equal measure. Domestic thrillers are all about anticipating the cracks beneath the perfect façade—and the following books do this best.
---
---
---
---
---
---
---
---