The best pillows for neck pain – to help reduce aches and pains when you sleep
Designed for cervical spine support, these specialist best pillows for neck pain are an investment to reduce aches and pains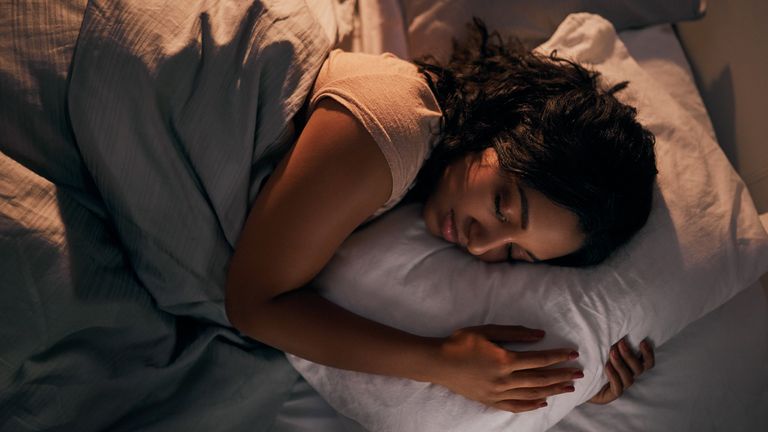 (Image credit: Getty Images)
The best pillows for neck pain keep your head, neck and spine in alignment, and your neck supported. If you're experiencing pain after sleeping, it's worth noting that any physical symptoms can be the result of varied problems - so the ideal pillow for each type of pain will be different. 
If you're experiencing a continuing problem with your sleep, some of the best fitness trackers can help you to figure out the issue. Otherwise, a visit to the doctor is recommended. However, it's also really important to check your pillow, to see if that is compounding the problem. 
To figure this out, determine the position you mostly sleep in. Back or side positions are most common. Most chiropractors advise not sleeping on your front as it can cause too much stress on the spine. Then check the following against your current pillow. Is there a big gap between your neck and the pillow surface? Does your pillow have too high or too low a loft (height)? Are you lying at an awkward angle, either too far up or low down on the pillow? Perhaps when travelling, you're not using the best travel pillow for your needs? The main aim is to keep your head, neck and spine in neutral alignment, which is why a cervical or orthopaedic pillow could be a good choice if you suffer pain after sleeping.
If you are a side sleeper a deeper, firmer pillow is recommended to ensure it retains its height over the course of the night. Back sleepers need a pillow with less depth and density – so the loft isn't raising your spine out of alignment. Luckily there are plenty of different pillows on the market – many designed specifically to aid neck and shoulder pain – so you are sure to find something that works for you. Here are our top picks for the best pillows for neck pain.
The best pillows for neck pain right now
1. Kally Sleep Cervical Neck Pain Pillow
Best pillow for firm support at a great-value price
Specifications
Size: W56 x D34cm
RRP: £29.99
Cover: 100% cotton
Guarantee: None
Reasons to buy
+Firm base for back and side sleepers+Cotton outer helps to prevent overheating+14-night trial period
Reasons to avoid
-Shape and firmness might not suit everyone
This Kally Sleep Cervical Neck Pain memory foam pillow features a butterfly shape with a divot in the middle that gently cradles the head, while simultaneously offering cervical (spine) support. The slow-rebound inner is medium-firm in density, coming in at a seven on a scale of 1-10. The breathable, 100% cotton outer will also help those who tend to suffer from overheating at night. It's slightly smaller than a standard pillow so it's wise to invest in bespoke extra covers, which can be bought online. Kallysleep also offers a 14-night trial so you can test it out for a couple of weeks to ensure it's the right fit. 
2. MARNUR Memory Foam Pillow
Best pillow for tummy sleepers
Specifications
Size: W64.5 x D37 x H14cm
RRP: £39.99
Filling: Memory foam
Cover: Polyester and spandex
Guarantee: None
Reasons to buy
+Will suit all kinds of sleepers+Ensures even pressure distribution to reduce strain on neck and head+Two different heights+Sweat-reducing cover
Reasons to avoid
-Shape requires custom pillow covers
While front sleeping is not really recommended and can cause neck issues for some, if you're unable to sleep any other way, then this strangely shaped offering – the MARNUR Contour Memory Foam Pillow Orthopedic – might help. Designed to specifically cater for all sleepers, including those who spend the night on their stomach, it has a unique ergonomic shape designed to maintain the natural curve of your neck, which is why it's on our list of best pillows for neck pain. Armrests at the side reduce pressure on arms and wrists, a contour area properly aligns the neck while the centre section provides optimal support and comfort for the head. The cervical curve helps reduce head and neck rotation, ensuring even pressure distribution and reducing snores for comfortable stomach sleeping. The breathable, sweat-reducing pillowcase fits neatly and can be removed for washing, too.
3. Sissel Classic Orthopaedic Pillow
Best pillow for preventing tension headaches
Specifications
Size: W47 x D33 x H11cm (medium); W47 x D33 x H14cm (large)
RRP: £49.95
Filling: Polyurethane (PU) foam
Cover: 75% cotton, 25% polyester
Guarantee: Five years
Reasons to buy
+Good price for specialist pillow+Soft, washable outer cover+Five-year guarantee
Reasons to avoid
-Might not suit front sleepers
If your neck isn't supported properly when you sleep it can strain the vertebrae and tendons, resulting in soreness and stiffness in the morning. The knock-on effect of this is possible tension headaches that then prevent you sleeping properly – a vicious circle. Having created cervical support pillows for more than 30 years, expert brand Sissel offers a number of them, including this Sissel Classic Orthopaedic pillow, which is designed to sit snugly in the space between the neck and shoulders when you sleep. This prevents your muscles tensing up to keep you in position if your pillow isn't supportive enough. The soft, velour cover is removable and can be popped in the washing machine – sleep hygiene improved instantly! 
Best pillow for hybrid comfort and a cool night's sleep
Specifications
Size: 50 x 75cm
Filling: Memory foam cubes, microfibre casing
Cover: Cotton
Guarantee: 1 year
Reasons to buy
+Loose filling allows for bespoke fit+Removable cover for washing+Bag to store spare Nanocubes+One-year guarantee
Reasons to avoid
-Needs occasional plumping-Expensive 
The hundreds of foam Nanocubes inside the Simba Hybrid pillow gently cushion your head, neck and spine while also creating a supportive base. The loose cubes – encased in a zip pocket – can be taken out or added to depending on your sleep position and preference, to create a personalised sleeping experience that could help to banish neck pain caused by an ill-fitting pillow. Keep more filling in for a firmer base with a higher loft (great for side sleepers) or, if you're a back sleeper, remove some until you have the perfect lower, slightly softer sleep. To help you keep cool at night, especially if you suffer with hot flushes, the cubes are sandwiched between a hypoallergenic fibre, enriched with minerals, called Aerelle Cool Night that dissipates heat, and a microfibre padding for softness. 
See our full Simba Hybrid pillow review
5. Tempur Original Support Pillow
Best pillow for firm structured neck support
Specifications
Size: W50 x D31 x H11.5/8.5cm (medium); W61 x D31 x H11.5/8.5cm (large)
Filling: Visco-elastic memory foam and polyester
Cover: Polyester
Guarantee: 3 years
Reasons to buy
+Good support for side sleepers+Three-year guarantee+Hypoallergenic
Reasons to avoid
-Takes time to get used to shape-Not suitable for front sleepers
Made with the same space-age material that fills its mattresses, the Tempur Original Support pillow has been specifically designed to cradle the neck and shoulders to provide pain-free slumber. Through the night, the firm memory foam filling gently moulds to the shape of your head and neck and then springs back to its original shape afterwards, ensuring that each sleep is as comfortable as the last. It's available in three height sizes, so you can pick the one that suits your style of sleeping – Tempur recommends the medium or large for women and the large or XL for men. There's a 30-night trial if you're not sure which one is best for you. The soft outer cover can be washed at 60˚ and spares are available to buy, too.
6. The White Company Luxury Hungarian Goose Down Support Pillow
Best pillow for a feathery soft – yet still supportive – option
Specifications
Size: Standard, 50 x 75cm; Super King 50 x 90cm
RRP: £75
Filling: 85% duck feather, 15% duck down (core); 80% Hungarian goose down, 20% Hungarian goose feather (outer)
Cover: 329-count cotton jacquard
Guarantee: None
Reasons to buy
+Ethically sourced feather and down filling+High down content provides extra softness+Soft cotton outer cover
Reasons to avoid
-Needs professional laundering to keep at its best
Super squishy pillows probably won't offer enough in the way of neck support, as these types of pillows can sink down under the weight of your head during the night. If you prefer a softer surface on which to lay your head, then you'll also need to invest in something with firmness and good bounce-back to protect your neck and spine. This luxurious The White Company Luxury Hungarian Goose Down Support pillow has a good loft and a supportive fill – it features a firmer feather and down inner core, surrounded by a mix of 80% down and 20% feather – and provides the perfect balance of softness and support. It's machine washable and all feathers and down are sourced from cruelty-free suppliers. It's available in medium or medium-soft and also in two sizes – standard or super-king.