Best sewing machines: For everyone from beginner sewers to experienced stitchers
Find the best sewing machine to suit your sewing skill level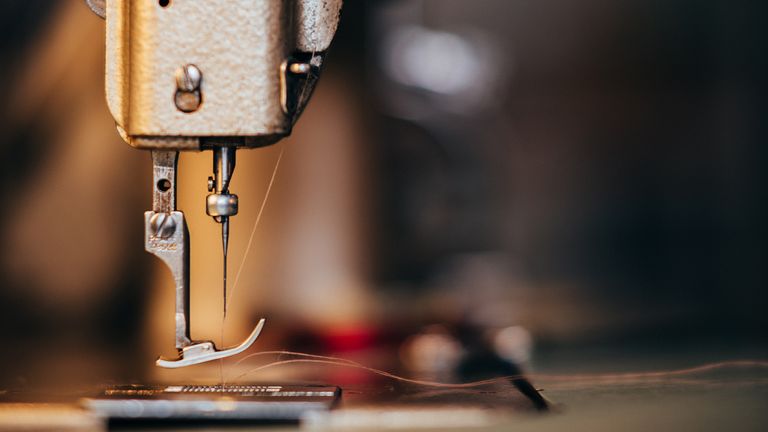 (Image credit: Getty)
Whatever your skill and budget, there's a sewing machine to match your needs on the market, but with countless sewing machines available, finding the right one for you is a near-impossible task. So, we've done all the hard work for you and put the best sewing machines to the test. 
From mechanical models with basic stitches to high-tech computerised sewing machines with an abundance of features, our craft editor, Esme Clemo, reviewed the best of the bunch from the leading sewing machine brands. 
Hobbies are having a moment, whether you're investing in the best jewellery making kits, or one of the best yoga mats to perfect poses on. 
After weeks of putting the machines through their paces, looking at stitch ranges, design, price, durability and overall sewing performance, we've whittled down our list to the following six best sewing machines. 
How to choose the best sewing machine for you
When faced with the plethora of sewing machines on the market, the technical jargon and multiple options can overwhelm even the most experienced of stitchers. 
The first thing you need to do when looking for the best sewing machine for you is to figure out your sewing level. Is this your first sewing machine? Would you class yourself as a beginner? If the answer to both these questions is yes, you should start by looking at mechanical machines. 
Generally, mechanicals have a limited number of basic stitches and can be programmed at the twist of a wheel. Super simple.
Anything more than this and you move into computerised sewing machines. These are perfect for intermediate sewers who want to expand their stitching skills and advance into embroidery, free-motion stitching, quilting and more. They make the perfect transition from simply stitching up a garment or home furnishing to adding embellishment and intricate detailing.
More experienced stitchers will usually have a niche, be it quilting, embroidery, garment making – the list goes on. Usually, this determines the type of machine required. So, for example, a quilter would be looking for a quilter's sewing machine with a long arm and extendable bed, to name just a few specialist features. 
Once you've selected the type of sewing machine you want based on your skill level, it's time to get down to the real deal-breakers.
Set yourself a budget. It's easy to become distracted by the gadgets and gizmos on offer without paying attention to the price tag, which increases dramatically with the high-end sewing machines on offer.
Work out where you're going to sew and store your sewing machine. Size matters with a sewing machine, especially when it comes to storage, so pay attention to the model measurements. Don't forget about the weight, too, and how this might affect your sewing space.
Decide how many stitches you want. It's a numbers game in the world of sewing machines, especially when it comes down to stitch types. If you're savvy, research how the higher stitch numbers are selected on the machine. Sometimes, it's a fiddly and complicated process that takes a long time to master, so you might want to avoid those models.
Best sewing machines
For fuss-free sewing at speed, the Janome Sewist 780DC is for you
As the newest model to launch from the Sewist series, the Janome Sewist 780DC boasts all the latest gadgetry. Even with these time-saving and high-tech additions, the Janome Sewist 780DC never loses its simplicity of design and ease of use. It's the perfect all-rounder. 
Compared with the other models in our best sewing machines guide, you might be thinking that 80 built-in stitches is an uninspiring number. However, unless you're planning on embroidering every sewing project you embark upon with letters, numbers and names, you honestly don't need any more than what this machine has to offer.
So, whether you're a beginner or intermediate sewer, this is a great mid-range model to step up to from a mechanical, especially if some of the more complex computerised sewing machines are putting you off. 
It's all in the details with this tech-savvy sewing machine
With the Bernina 435, every single detail has been thought about, every function adapted to help the sewing machine perform faster and be easier to use. For example, if you're a sewer who likes to tackle big projects, the jumbo bobbin leads to fewer interruptions throughout your stitching and the included slide-on extension table provides ample sewing space. 
And what about the unrivalled amount of stitch patterns on offer? True, some might find this an overwhelming selection to choose from, but with an in-built memory function to save and store your stitch settings, you can return to your favourites time and again at the click of a button.
If you're still wondering what all the fuss is about, it comes down to the colour display and interactive touch screen. Feel like it's a bit too technical for you? The on-screen Sewing Consultant can help you choose the right settings to suit your stitches and your projects, and it's always there at the touch of a button to help guide you through.
An all-rounder that delivers on price and performance
The Silver 197, named after the huge range of built-in stitches, is the perfect all-rounder for both beginners and accomplished sewers. The budget-friendly price tag doesn't reflect the comprehensive range of features it has to offer, of which there are plenty.
Speed-saving functions, like the automatic needle threader, start/stop button as a foot pedal alternative and LCD display might not set this machine apart from its competitors. However, the memory mode used to store up your favourite stitch settings, and the stitch range that includes alphabetical and numerical options, place this machine above the rest. 
It might not be the quietest machine or have the least vibration, but it makes up for these traits by being the cheapest model that offers the user the most creativity.
The Necchi NC-102D ticks all the boxes
The first thing to note about the Necchi NC-102D is the way it looks. Its modern appearance and pop of colour make it a standout model among the rest, but you'd be wrong in thinking this model is all style over substance. 
With 200 utility and decorative stitches, including an alphanumeric stitch range, this model packs in a lot of features for the mid-level price tag. There's a rare mute button, to keep your stitching schtum, and all the usual gadgetry and automatic functions you'd expect from a computerised machine, along with a memory feature.
If that's not enough, the included nine presser feet are sure to win you over if you want to bag a bargain.  
The Singer Heavy Duty 4423 is a must-have machine for speedy stitchers
Compared with the computerised machines on this list, you might be wondering why we're championing a mechanicall model. The Singer Heavy Duty 4423 is in a league of its own when it comes to durability and build. With a metal internal frame, this sewing machine is built to last. 
Capable of stitching up to 1,100 stitches per minute, the speed alone makes this sewing machine noteworthy. Plus, it makes very little noise and no vibration, even when pushed to these top speeds. So, if you're looking for an option that can keep up with you, you've found it.
It's easy to operate, too, with dials to select stitch options and a foot pedal to control stitching. The Singer Heavy Duty 4423 goes back to basics, but it does it brilliantly – and in a stylish grey finish, too. 
The Pfaff 1.5 Creative delivers specialised embroidery functions for sewing pros
If you've not heard of Pfaff before, it's about time you did. This modern sewing machine brand is the best on the market for computer-integrated software, so you can completely personalise your stitching experience.
Looks-wise, the Pfaff 1.5 Creative has a sleek and elegant design, which helps it to stand out from the crowd, but this isn't a machine that puts style over substance. It produces high-speed embroideries perfectly, helped by the Original IDT system and the included master hoop attachment. 
Admittedly, this is a specialist machine, so if you're an enthusiastic embroiderer or want to use your machine for quilting, it's the perfect model for you, with a large sewing space and 150 beautiful built-in stitches to choose from.