The six features all good walking shoes have
Bag yourself a pair of good walking shoes by keeping these features in mind next time you shop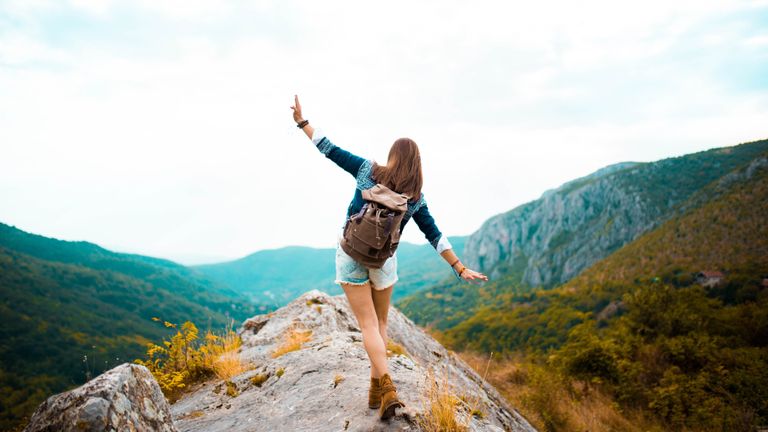 (Image credit: Getty Images)
Good walking shoes are essential, whether you're strolling in the park or hiking over uneven terrain. They'll keep your feet safe and secure, and help support your body and joints throughout your walk.
While you might be tempted to throw on your favorite running trainers, it's so important to invest in a pair of the best women's walking shoes. The reason for this being that running trainers are designed differently and don't offer the support that's needed for walking. 
Unlike runners, whose midsole comes into contact with the ground first, walkers see their heel touch the ground first before rolling down the foot with each complete step. Another difference is in the impact experienced on contact with the ground. The momentum when running means greater impact is felt through the foot, which again alters the style of the shoe.
Finding good walking shoes is actually easier than you might think. According to the experts, there are six features you should always look for to find the perfect pair for you, and then you'll be ready to reap all the benefits of walking. 
1. Ensure there's good grip 
Good walking shoes will always have a good grip. When you're walking for long distances, possibly over uneven terrain, you'll need a sole with solid grip that can help keep you steady and upright. 
"The outer sole is fundamental, as it is the very first touchpoint between you and the terrain," says Hugo Chouissa, footwear merchandiser for Brooks. "It is really playing the role of providing the right level of grip and traction according to the terrains."
Make sure you assess the bottom of any shoe you're considering buying, to ensure it has good grip for your walking adventures. 
2. Invest for longevity
Personal stylist Lindsay Edwards took up hiking a few years ago and has been in love with the activity ever since. She believes you should invest in walking shoes to ensure they last you for many years to come. 
"Typically, a pair of walking shoes will last between 500-900 miles," says Lindsay. "Although this depends on the quality of your footwear and the terrain you are walking on."
There are plenty of cheap walking boots out there, but if you're serious about hiking, purchasing a more premium, well-made and durable pair of walking shoes will be worth the investment.
It's also good to know when you need to ditch your trusty walking shoes and buy a new pair. "If you're noticing that your walking boots or shoes are feeling less cushioned, starting to leak or the soles are wearing thin, then it's definitely time to replace them," says Lindsay. "Feeling painful to wear? Then you must look to replace them immediately as prolonged use may damage your feet."
3. Comfort and support is key 
Like anything you plan to wear for long stretches of time, good walking shoes must be comfortable and supportive. "There should be no hot spots or pinch points – just a snug, secure heel and ample room in the toes," says Kenny Mackey, resident kinesiologist at Keen shoes.
Not sure if the shoes you're trying meet these criteria? There are a few tests that can help you decide. "Stand on your tip-toes in boots to ensure your toes can move and don't hit the front or top of the boot," says Kenny. "Gently kick a wall or use a decline ramp to ensure your toes will have enough room when you're hiking downhill."
To check how secure your heel is, Kenny adds "Lock in your heel. Then, check for heel lift or slip by putting your foot at different angles and walking upstairs."
4. Lightweight shoes are best 
One of the most important aspects of comfortable walking shoes is how lightweight they are. After all, you don't need extra weight on your feet when you are hiking up a steep fell.
Lighter shoes also have the benefit of helping you maneuver your way around tricky terrain more quickly. Look for shoes that feel less like a foreign object and more like an extension of your foot.
Shoes with thinner soles tend to be more lightweight. However, do ensure that they still have enough support and thickness for good shock absorption.
5. Good walking shoes are always flexible
What does good flexibility in your walking shoes look like? Essentially, your foot and ankle need to be supported when you walk, to avoid any injuries. Look for shoes with a slight arch, that spring back when you walk. This kind of design will help distribute your weight evenly. This means you experience fewer aches and pains in any one particular body area the day after hiking.
If you're not sure if the shoes have spring, try them on and walk around to feel them out. Ultimately, you want a shoe that supports your foot as you walk, but moves easily to adapt to different surfaces.
6. Try waterproof walking shoes 
Dependent on where or when you're walking, you may get caught in a rain shower (or storm!), or come across small streams of water. In any of these situations, the last thing you want is to get cold and wet feet. The solution is obvious: make sure you get yourself a pair of the best waterproof hiking boots.
Many waterproof walking shoes are made with material that has a GORE-TEX membrane in it. This is designed to prevent water from getting inside your shoes, while also making them breathable. Different brands may use similar materials. For instance, Keen's Terradora shoes use a material called KEEN.DRY. This works in the same way, adding an extra waterproof outer layer that helps to fend off any water droplets as you walk.