Could a Bootea teatox help you beat the bloat?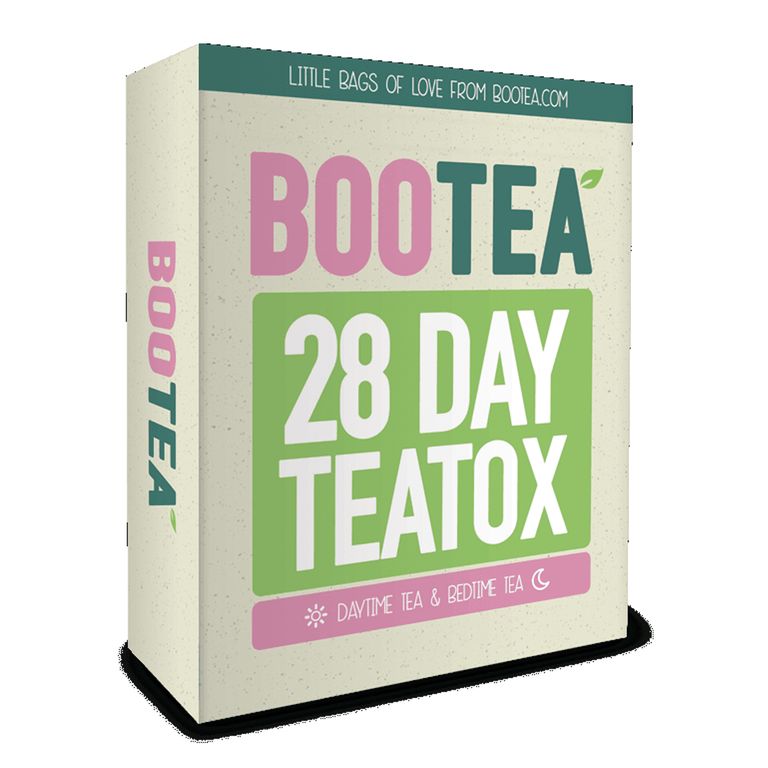 In a perfect world, de-bloating would involve sizeable slabs of brie, a large glass of malbec and plenty of sedentary Iplayer catch up. But while we await that nirvana, how about if instead flat stomach confidence was as easy as drinking a cup of tea? I'll take that.
The latest trend in detoxing is teatoxing - 28 day programmes designed to aid digestion, boost energy, quell your appetite and more - and it's as simple as drinking a brew or two.
With a special occasion looming, I tried one of the more well-known teatox packages, the appropriately namedBootea(all becomes clear later) The promise is simple, drink one Daytime Detox every morning, this contains metabolism-boosting Chinese Oolong, Ginseng root to rev up energy and dandelion, thought to suppress sweet cravings and aid digestion. Then, every other night before bed, drink a Bedtime Cleanse, a natural blend of peppermint, liquorice and, the key to it all, Senna. Drink this natural extract and within 8 hours it'll produce a natural (very gentle!) laxative effect, to help clean out your digestive systemand flush away toxins your body might be holding on to - hence the name!
So, did it work? In a word: yes. In two words: yes, but...
Of course you won't magically turn into Cindy Crawford by drinking a cup of tea, but after a week of teatoxing my stomach was feeling lighter, looking less bloated and also, I felt genuinely more energised so exercise became easier. There is a healthy eating plan you can opt in or out of which is just sensible stuff - lots of veg, not so much cake - but I found teatoxing made me more conscious of what I was eating anyway, so I naturally made better choices.
So while I can't promise you the brie and Bake Off miracle plan, Teatoxing is a fabulously lazy way to de-bloat for an occasion, or to kick-start some healthy lifestyle changes.For only three minutes of extra effort, you can't say fairer than that!
As woman&home's Senior Beauty Editor, Fiona Mckim has tried more products than she's had hot dinners and nothing makes her happier than raving about a brilliant beauty find on womanandhome.com or her instagram grid (@fionamckim if you like hair dye experiments and cute shih-tzus)

Fiona joined woman&home as Assistant Beauty Editor in 2013, working under legend Jo GB, who taught her everything she needed to know about the industry (clue: learn about ingredients and employ extreme cynicism).
In a previous life, Fiona studied journalism back home in bonnie Scotland and honed her skills as a magazine features writer, with a brief and terrifying stint on the showbiz gossip pages of a tabloid newspaper in between. She's a skincare fanatic who can't resist adding an extra step to her routine if it's all the rage in Japan, loves fragrance, has fun with makeup and never turns down the chance to test a new hair tool. Basically, she loves it all.

When not slathering herself in self tan or squinting at a tiny ingredients list on a moisturiser, you'll probably find Fiona enjoying something to do with food - cooking it, eating it, cajoling her friends into trekking across London to try a hyped pop-up in a dirty car park.