Baby Botox explained, and why w&h's Beauty Director is glad she tried it
All the facts about baby Botox, plus a first-hand account of this popular "tweakment"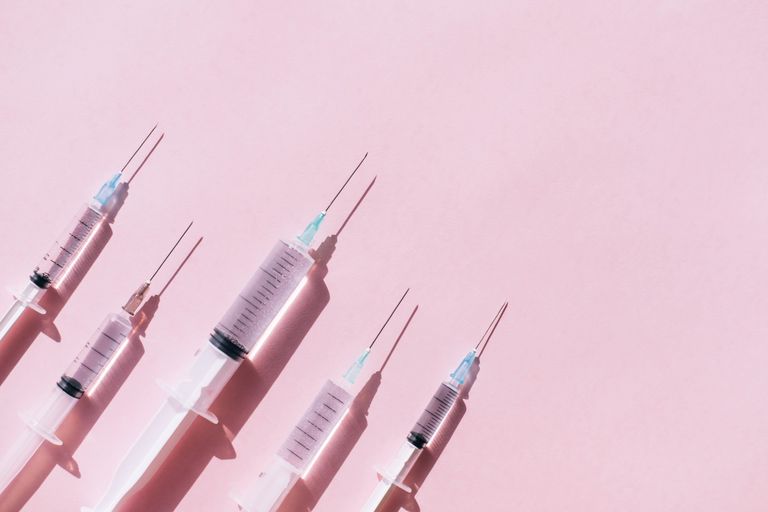 (Image credit: Getty images)
Baby Botox—sounds cute, doesn't it? And while the needle-phobic among us may disagree, there is something sweetly unintimidating about this Botox-lite "tweakment" that's a firm favorite of beauty editors, A-listers and anyone who wants to have a bit of work done without actually looking "done."
It's a fact that even the best eye creams, skincare for dry skin and the best retinol cream in the world can only do so much for facial lines. This is why woman&home Beauty Director, Charley Williams-Howitt decided, after years of deliberation over going down the injectible road, to try baby Botox.
But what exactly is baby Botox? How does it differ from its grown-up sister—a.k.a. plain old Botox—and what really happened when Charley tried the treatment for the first time? Let's find out.
Baby Botox—everything you need to know
What is baby botox?
Essentially baby Botox is Botox, with a lighter touch. This makes it one of the best skin tweakments for needle first-timers, those without particularly deep lines or who can't think of anything worse than that frozen overly-injected look sported by The Real Housewives of absolutely everywhere.
"Baby Botox treatments involve tiny doses of Botox which are injected into the usual areas," explains Dr Nick Milojevic of the Milo Clinic. "The results are still very similar to when normal doses are given, but more movement is present and it does wear off more quickly. The patient may have to return for the next treatment after 2 months but in time, even with baby Botox, the results will last a lot longer."
In terms of where baby Botox works its magic best, it's much like regular Botox and is often administered in the face's most dynamic areas, such as the forehead or between the brows. It's particularly affective around the eyes, where most patients want ultra-subtle results without losing too much expression.
NHS Doctor and founder of Harley Street's Imperial Aesthetics, Dr. Daniel Hunt has reported an enormous 493% rise in Baby Botox treatments, which he puts down to increased screentime and video calls.
"With many of us squinting at the screen, crows feet may start to become more visible," explains Dr Hunt. "Baby botox in the area will lift and prevent further creasing. It can also lift and tighten other areas prone to making the face look tired. You can use it to treat the marionette lines around the mouth which can make you look like you're frowning, or sad."
Baby botox before and after
Why I'm glad I tried baby Botox, by w&h Beauty Director Charley Williams-Howitt
Why I chose baby Botox
"I had been thinking about a 'tweak' after seeing my tired-looking face staring back at me on Zoom calls. Two things sealed the deal – the need to look fresher and feel better about myself – and Dr Tapan Patel. We chatted over (the dreaded) video call and he immediately put me at ease. 'Doing a consultation with you over Zoom is not ideal. I need to feel your face, see its texture and really look at you,' he said.
So the following week I'm at Dr Patel's PHI Clinic in London's Harley Street. After a consultation, he recommends we try baby Botox, which is a reference to the unit amount. 'The main mission is not for your friends to ask "Who did your Botox?" but to make a difference with a natural result – to freshen you up a bit so you feel more confi dent,' he says. With Botox, it's important to remember that if too much product is injected, all expression will be blunted, and the skin may develop a very smooth, shiny appearance. This is something I definitely wanted to avoid."

The consultation

"Wrinkles and fine lines can be identified in two ways: expressive or static. Expressive ones are those that are evident when expressing emotion. Static lines are those that remain evident, even when the face is relaxed. There were three areas that concerned me: my frown lines, the horizontal lines on my forehead and crow's feet. Before any needle work, I had to do a series of silly expressions while my photo was taken, then my face was 'marked up' with lots of little dots."

The treatment
"I thought I would feel terrified climbing into the chair, but I was surprisingly calm, thanks to Dr Patel's soothing manner. He did one injection using a needle smaller than a diabetic one and asked, 'How painful on a scale of one to 10?' 'One,' I replied. I honestly felt no pain, just a 'pop' when the needle pierced the skin.
The procedure (12 injections) took about five minutes. My forehead had a series of what looked like insect bites, but they soon disappeared. I saw results a few days later – on the fifth day there it is, a slighter better version of me. Friends can't put their finger on what it is – and that is just the result I wanted. Results are temporary and treatment is ongoing. Patients usually have a top-up one every three to four months." Prices from £195 at the PHI Clinic
How the results differ from Botox
A combination of low-commitment and highly versatile results is a reason why Baby Botox is becoming more popular than other traditional injections. "It's a quick yet effective way of achieving results fast, without much recovery time needed," agrees Dr Milojevic. "Baby Botox basically gives our patients the choice. If they want the normal dose treatment, we will use a unique technique to achieve very effective, long lasting but still natural results. Baby Botox however, can be used for those patients who want to be even more minimal and more natural, or those who just don't want it to last too long."
How much does baby botox cost?
Wondering if baby Botox is cheaper? As with any tweakment that all depends where you go and how much you have. Generally-speaking though, due to fewer units being injected it can be a less expensive option. Expect to pay between £100-250 which can rise steeply if several areas are treated.
Baby botox near me
Baby Botox is available nationwide, at any number of clinics, but as with any treatment, these injectibles are only as good as the professional who administers it.
Always have Botox by a medical professional, ideally a physician who specialises in skin and never a beauty therapist or a salon worker. To find a list of GMC registered doctors and dermatologists, visit gmc-uk.org
Next visit Real Self to do further research. This is essentially Tripadvisor for cosmetic treatments. You can search by treatment, doctor, practice or postcode, read reviews and see before and after shots.
Remember, there is never any emergency cosmetic treatment. Be wary of special offers, chains with two-for-one deals, or persuasive staff. If you feel under any pressure at all, walk away.
As woman&home's Beauty Channel Editor, Fiona Mckim has tried more beauty products than she's had hot dinners and nothing makes her happier than raving about a brilliant find on womanandhome.com or her instagram grid (@fionamckim if you like hair experiments and cute shih-tzus)

Fiona joined woman&home as Assistant Beauty Editor in 2013, working under industry legend Jo GB, who taught her everything she needed to know (clue: learn about ingredients and employ extreme cynicism).
In a previous life, Fiona studied journalism back home in bonnie Scotland and honed her skills as a features writer at publications including Junior and Prima Baby, with a brief and terrifying stint on the showbiz pages of a tabloid newspaper in between. She's a skincare fanatic who can't resist adding an extra step to her routine, adores fragrance, has fun with makeup and never turns down the chance to test a new hair tool. Basically, she loves it all.

When not slathering herself in self tan or peering at a tiny ingredients list on a moisturiser, you'll probably find Fiona enjoying something to do with food - cooking it, eating it, cajoling her friends into trekking across London to try a hyped pop-up in a dirty car park.
Come to think of it, the hot dinners and beauty products are probably about even.