Low effort (and cost!) pampering tricks and beauty treatments at home that will help you beat the January blues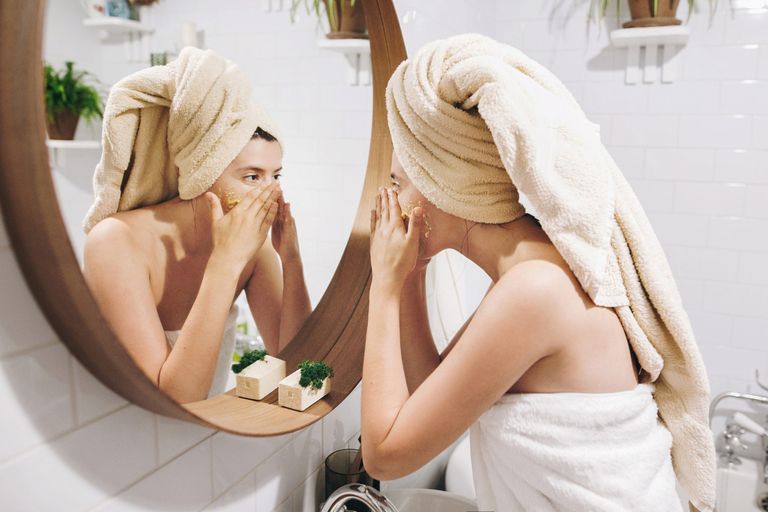 According to the experts, the 20th of January is the most depressing day of 2020 – with plummeting temperatures doing nothing to help the post-Christmas slump. As our bank accounts look as unhealthy as our party-season skin, we've gathered up our best purse-friendly pick me ups to help you through…
Here's our round-up of low effort, pampering beauty treatments at home that will perk up your appearance and your mood! All of these treatments can be done on a budget and within any home. All you need is a bit of time...
Try these beauty treatments at home
1. Facial massages
We carry a lot of tension in our faces, especially around our jaws and temples, (squinting at our phones doesn't help) so a quick massage will make a real difference. All you need is a few drops of oil (we love Botanics Restoring Overnight Facial Oil, £11.49, Boots) and five minutes.
Start from the centre of your face and work outwards and upwards with your fingertips in small, circular motions before focusing in on your forehead and jawline. Best done before bed and after cleansing, It'll drain away puffiness overnight and help you nod off easier.
SHOP NOW: £11.99 Botanics Restoring Overnight Facial Oil
2. Aromatherapy showers
With a spa trip a little outside of a lot of peoples January budget, why not transform your bathroom into one instead? One step up from lighting your favourite scented candle, turn on the shower before dropping a couple of drops of your favourite essential oil onto the floor. Combined with the steam, you can guarantee a gorgeously-scented and relaxing treat. It can make the floor a little slippery, so take good care. Not sure which oil to pick? Lavender will help you nod off, Clary Sage (£8.84, tisserand.com) is great for balancing changing moods, while eucalyptus will leave you energised.
SHOP NOW: £8.84, Clary Sage,tisserand.com
3. Manis
A quick file and paint will make you feel more 'done' but taking the time to look after your cuticles too will reward you with longer, stronger nails. Dot a drop of Nailberry Little Treasure Nourishing Cuticle Oil, £14.50, John Lewis, onto each nailbed before gently massaging in. For best results, make this the very last step in your routine so you don't wash off all your good work.
SHOP NOW: £14.50, Nailberry Little Treasure Nourishing Cuticle Oil, John Lewis
4. Bath salts
If your new year's resolutions have seen you hitting the gym more than usual, you're likely to be suffering from sore, achy muscles. Pick up a bag of Dr Teal's Pure Epsom Salt Soothe & Sleep Soaking Solution, £7.99, Superdrug, to help you unwind. It's not only scented with mind-soothing lavender but the pure epsom salts work wonders to ease tension, relieve aching muscles and cramps - as well as flushing toxins from your body. Don't be tempted to scrimp, you'll need a generous handful to reap the benefits.
SHOP NOW: £7.99, Teal's Pure Epsom Salt Soothe & Sleep Soaking Solution, Superdrug
5. Face masks
Just like a good hair day, a good skin day can really boost your confidence on a gloomy winter morning. Packing super-charged skincare into a 15 minute fix, take the time to apply a face mask (here are three of the best under £10). If your gripe is blackheads and build-up, look out for one with charcoal or salicylic acid to unclog pores. For tired, dry skin, hyaluronic acid is the skincare saviour you need. Or, if you're lucky enough not to have a skincare concern to tackle, try Nip + Fab's Illuminate Vitamin C Fix Face Mask, £7.50, Boots, to boost all-round radiance.
SHOP NOW: £7.50, Nip + Fab's Illuminate Vitamin C Fix Face Mask, Boots
Happy pampering!
Jess Beech is an experienced fashion and beauty editor, with more than eight years experience in the publishing industry. She has written for woman&home, GoodtoKnow, Now, Woman, Woman's Weekly, Woman's Own and Chat, and is currently Deputy Fashion & Beauty Editor at Future PLC.
She caught the magazine bug during a stint as Fashion Editor of her university newspaper alongside her English degree, and hasn't looked back since. As for the fashion bug, that came as part and parcel of growing up in the 90s, but the less said about that the better!
Jess' average day in the office is spent researching the latest fashion trends, chatting to industry tastemakers and scouring the internet to bring you this season's must-buy pieces - as well as advice on how to wear them. Weekends are equally fashion-focused, and Jess has been known to visit no less than five Zara stores in a single day in search of the perfect occasion dress.
The only thing that comes close to a buzz of finally tracking down that much-coveted dress is the joy of discovering a new beauty wonder product or hero ingredient. A beauty obsessive, Jess has tried everything from cryotherapy to chemical peels (minus the Samantha in Sex and The City-worthy redness) and interviewed experts including Jo Malone and Trinny Woodall.