Review: Chewton Glen Hotel & Spa, Hampshire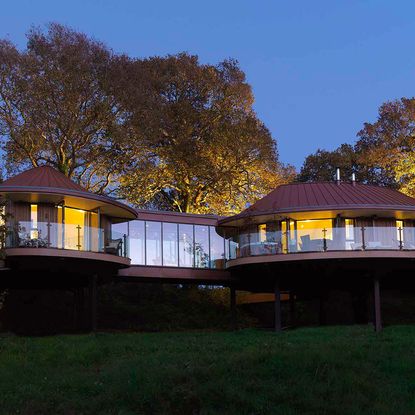 Dappled light cast across a wooden floor, the sound of bird song floating through the open window, the wind rippling through a canopy of tree branches and lush green leaves to greet you when you wake in the morning. Leave your troubles on the ground with reality when you take to life in the sky in one of Chewton Glen's heavenly treehouses…
Tucked away in the New Forest, surrounded by stunning English countryside, is the privately owned luxury Country House Hotel & Spa, Chewton Glen. Once a grand country manor house that served as a family home for centuries, five years ago the famous luxury hotel, which has previously been named the 'Best Country Hotel in the World', opened a new series of suites like no other to offer a new level of luxury and escape for their guests.
Hidden within the sprawling grounds of the estate are the carefully crafted and beautiful constructed Chewton Glen treehouses…
DISCOVER
Prepare to experience a treehouse unlike any you've seen before. Stood 35ft above ground level in a secluded valley, your every need has been considered and catered for within their walls. From the bottle of Tattinger on ice waiting for you on your arrival, which you can enjoy in your very own hot tub, to the under floor heating, wood burner and blankets to keep you warm if you stay in the winter. Wake up with nature in the morning as birds chatter in trees outside your window and the rising sun slowly warms the wooden boards of your private balcony. At night, snuggle up in the heavenly king-size bed, or awaken your inner-child and make yourself a hot chocolate using the melt-in-the-mouth chocolate chips and marshmallows stored in Kilner jars in the mini kitchenette.
DINE
There are three ways to enjoy the incredible cuisine and fine food on offer at Chewton Glen. If you can't tear yourself away from the serene view from the private balcony of your treehouse, have your meals delivered to your door to enjoy in the comfort of your suite. Or, venture out to the hotel and into the perfectly kept grounds to enjoy the hotel's two very different dining experiences: The Dining Room and The Kitchen.
The Dining Room
If you're not ordering room service straight to your treehouse, stroll down to the main house to enjoy dinner in The Dining Room in the evening. The hotel's philosophy is 'live to eat, not eat to live' and the sumptuous fare detailed on their menus exemplifies this. All of the dishes are prepared with an amazing array of vegetables, fruit, herbs and edible flowers straight from the property's very own Walled Kitchen Garden. Any produce not grown in the grounds is sourced as locally as possible, with fish caught by local fisherman down the coast, to award-winning artisan cheeses from Hampshire and Winchester.
Select from the extensive wine list whilst enjoying a view over the grounds from The Dining Room, or let one of the hotel's expert sommeliers find a vintage from the Chewton Glen's vast collection that could become your new favourite.
Breakfast at your Treehouse in the morning is a much more informal affair than the subtle majesty of the hotel's Dining Room restaurant. Wake up to discover your very own breakfast hamper has been delivered to your door. Inside, a full continental breakfast, complete with a glass bottle full of fresh milk for tea and coffee, and freshly squeezed orange juice along with your chosen daily newspaper. Perfection.
The Kitchen
After getting one of his first starts at Chewton Glen, in the hotel's pastry department, chef James Martin is back at the luxury establishment, but this time with a whole restaurant with his fingerprints (and recipes) all over it.
Newly opened in 2017 and known as 'The place to cook & dine by James Martin', The Kitchen sits in a sunny landscaped point right on the edge of Chewton Glen's immaculate grounds. Surrounded by sculptures, blossoming plants and carefully planned herbaceous borders, The Kitchen offers a slightly more relaxed and easy going atmosphere for dinner or a light lunch during your stay. With a focus on fresh produce and locally sourced ingredients, James Martin's dishes offer simple favourites such as burgers, pizzas, and salad but done marvellously well. A smart greenhouse just next to the restaurant brims with crisp green leafy plants that will be used in many of the dishes on the menu, and the open layout of the restaurant allows you to watch the talented chefs at work.
Adding a whole new dimension to your stay at Chewton Glen and a serious draw for any foodies, The Kitchen also offers cookery courses for hotel guests and day visitors. Try your hand creating tea party treats, master the art of bread making, or even create your very own bespoke blended gin in the restaurant's purpose built cookery school space. For those who are particular fans of James Martin, Chewton Glen even offers a unique cookery session with the chef himself.
Prices start from £155 for a seasonal course, and include refreshments, lunch, all equipment and ingredients.
DOWN TIME
The tranquil hotel spa is available for all Treehouse guests to use, and you can book a variety of treatments from massages and facials, to manis and pedis. There's an outdoor pool for sunny summer days available for all hotel guests to enjoy, or a 17m indoor pool, along with a hydrotherapy pool in the spa to wash away your worries. You can also have a bespoke Treehouse treatment bought to you, giving you the unique opportunity to relax in the luxury interiors of your suite or surrounded by the lush tree canopy while enjoying a treatment on your private balcony.
For those keen to keep fit during their stay, the hotel boasts both a fitness studio and a gym, although it would be a shame not to seize the opportunity to take a jog in the grounds or down the hotel's 'beach walk' to the sea too. Other ways to enjoy the hotel's beautiful gardens and grounds include a nine-hole, par 3 golf course, outdoor tennis courts, mountain bikes to borrow as you wish and croquet on the lawn which is conveniently close to the hotel's terrace bar where you can sink a gin surrounded by wisteria as the sun goes down.
GETTING THERE
The Chewton Glen hotel sits on the border between the beautiful countryside counties of Dorset and Hampshire, with the historic New Forest on its doorstep.
One of the easiest ways to get there is by car, with ample parking available in the grounds. We simply put the hotel's sat nav postcode (BH23 5QL) in the OnStar navigation of our Vauxhall Grandland X and were cruising up Chewton Glen's winding driving way flanked by trees and manicured lawns before we knew it.
The hotel is within easy reach of Christchurch, Bournemouth and Southampton, and the nearest train station is New Milton which is accessible on hourly trains from London Waterloo and is situated just a seven minute taxi journey from the Chewton Glen gates.
Alternatively, the hotel can also make arrangements for those who which to arrive by helicopter…just in case.
BOOK IT
For a Treehouse Studio Suite, prices start from £850 per night for two people. The cost of the room includes your daily breakfast hamper, delivered to your treehouse.
Call 01425275341 or visit www.chewtonglen.com for more information and to book your stay.
Thanks to Vauxhall for loaning us the new Grandland X. The bold and powerful SUV makes life a little more grand with its luxurious, spacious and stylish features. For more information: www.vauxhall.co.uk
Digital Editor - Woman & Home
An internationally published digital journalist and editor, Rachael has worked as a writer and editor for both news and lifestyle websites in the UK and abroad including Metro UK, Homes & Gardens, Ideal Home, GoodTo.com, honey.nine.com.au and body+soul.
Rachael's published work covers a broad spectrum of topics and she has written about everything from the future of sustainable travel, to the impact of the coronavirus pandemic on the world we live in, to the psychology of colour.