Retreat holidays that will reinvigorate, give clarity and inspire purpose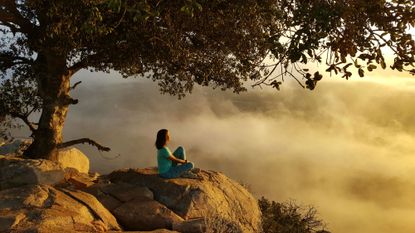 When do you ever really get time to relax? If your answer is 'never', it sounds like you might need a retreat. These are the best retreat holidays on the market for relaxing, reinvigorating and inspiring.
Ever since The Beatles travelled to Rishikesh in India during the late 1960s, the popularity of retreat holidays has soared. With the latest wellness trends taking hold, the market abounds with retreats for every kind of traveller.
Whether you simply want to be pampered, you're seeking some sort of healing experience, or you want to do some soul searching, these retreat holidays will inspire.
1. The original retreat destination: Rishikesh, India
Make like The Beatles and beeline for Rishikesh, the destination the fabulous four visited in 1968 on their ashram retreat. The town centre itself is quite touristy nowadays, with ashrams and yoga studios popping up all over the place, selling spiritual retreats to visitors. But beyond the bustles is The Roseate Ganges, a stunning high-end hotel offering fabulous retreats.
There's a stress management retreat, a detox retreat, a weight management retreat and a relaxation retreat – all of which include spa time, a gorgeous villa with views out to the wooded Ganga Valley, and healthy Indian food.
The cost: Retreats start from 19,500 Indian rupees (£210) per person per night and range from three to 14 nights.
2. The closer-to-home retreat: The Lanesborough, London
If the thought of travelling thousands of miles doesn't help you relax, perhaps you need to look closer to home. This is where five-star hotel The Lanesborough, near London's Hyde Park, comes in. The property has partnered with Bodhimaya, award-winning wellness retreat specialists, to offer overnight restorative retreats and meditation and nutrition programmes.
There will be daily mind and meditation consultations with Cornelius, Bodhimaya's co-founder. Expect spa treatments, private yoga sessions, reiki and sound healing. Plus, you'll get a private consultation with a nutritional expert – all in the centre of one of the world's busiest cities. Who says London can't be relaxing?
The cost: The one-night 'Restorative Retreats' at The Lanesborough start from £1,795 per person, including overnight hotel stay.
3. The staycation retreat: the Lake District
Walking and meditation go hand-in-hand, which is why Ramblers Walking Holidays have launched their new Mindfulness in the Mountains retreat. Moderate hiking along various trails on the shores of Buttermere is accompanied by resources that will help you understand techniques for mindfulness and the theoretical concepts surrounding it.
The walks will be silent, allowing you time to think and feel whatever comes your way, and back at the accommodation there will be yoga and meditation sessions.
The cost: A three-night break starts from £295 per person and includes accommodation all meals, meditation andyoga sessions and transport to and from trails. Departures leave on 2 June, 11 August, 10 October 2020.
4. The detox retreat: Marrakesh
We love Marrakesh. This chaotic, enigmatic city is enthralling with its bustling main square and narrow, winding souks. It doesn't sound like much of a retreat, though, does it? But that's where the Mandarin Oriental comes in. They run an excellent detox retreat holiday with all sorts of exciting inclusions to help you relax and rejuvenate.
You'll stay in a private villa or suite, enjoy daily exercise programmes, meditation classes, yoga, private training sessions and a hammam experience. There are detox breakfasts, cooking classes, workshops and juices galore, all within the gorgeous grounds of this five-star hotel. Enjoy strolls through the 20 hectares of olive groves, or simple relax by the pool when you're not working on self improvement.
The cost: Rates for the Detox Break at Mandarin Oriental, Marrakesh start from approximately £1,190 per night.
5. The spiritual escape: Mexico
If you feel the need to get spiritual, there may be no better place for it than at Rancho La Puerta – one of Mexico's first ever retreat properties. The ranch is just an hour's drive from San Diego (via the US/Mexico border control) and has 4,000 acres of private gardens, mountains and meadows to explore, alongside its beautiful property with its swimming pool and private villas.
Every Saturday, a new retreat cycle begins and guests can come for a full week, or partial-week stays of three or four nights. The retreats involve all manner of spiritual and and mental escape thanks to spa treatments and hiking trails, but there's more to it than just relaxing. There are over 80 fitness classes, such as yoga and pilates, plus guest speakers from authors to politicians. Healthy cuisine is on offer, too, using many ingredients from the property's glorious gardens.
The cost: Retreats at Rancho la Puerta cost from £2,890 per person and include transfers from San Diego, three meals a day, the programme of classes and events and use of all resort facilities.
6. The ultimate health retreat: Antigua
The Caribbean is a naturally relaxing place. Hole up in the fancy hotel here and you're bound to feel restored after a week or two. But if you're more health conscious, you might want to check into Carlisle Bay – a resort on the southern coast of Antigua.
The hotel offers an 'Inetgrative Health Retreat', which involves acupuncture, personalised massages, numerous yoga sessions, meditation sessions, wellness workshops and guided mindfulness walks, alongside healthy food and drink. You'll even get recommendations from an expert on Chinese medicine.
The cost: The Integrative Health Retreat includes 4 nights' all-inclusive accommodation and the full programme of activities for $2,250 per person in an Ocean Suite or $2,350 per person in a Beach Suite.
7. The sleep retreat: Bath, England
This is not your average retreat. Forget self-improvement and soul searching – this retreat in Bath, Somerset, has a purely practical bent: it aims to help you sleep better. Renowned Clinical Hypnotherapist Fiona Lamb will run guided meditation and hypnotherapy sessions, which aim to create fundamental shifts at an unconscious level to bring about long lasting changes to your sleep habits, and the divine Lucknam Park Hotel & Spa in January (17-19) 2020.
There will be sound therapy, equine-assisted therapy and Qi Gong, as well as accommodation and three-course lunches and dinners at the fabulous hotel. Enjoy yoga sessions and forest walks too, all with a view to helping you sleep better.
The cost: The two-night Sleep Retreat is available from £1,040 per person based on a Classic room and includes all meals and all sessions. Subject to availability and not valid in conjunction with any other offer/break.
Lottie is an NCTJ-trained journalist, an experienced travel writer and an expert in creating compelling digital content.
Lottie has been in the travel writing business for nearly a decade and has writing and photography bylines at The Telegraph, The Times, The Independent, the i and National Geographic Traveller. She's done broadcast work for BBC Radio 4 and have contributed to a number of guidebooks and coffee table titles during her career.