How To Spend The Perfect Weekend Walking In The Lake District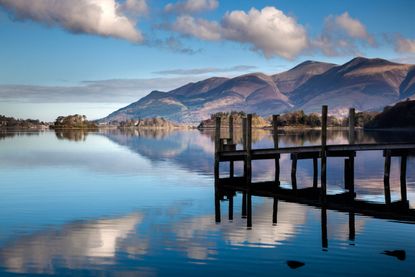 The path wiggled across the buttercup meadows and over the hilltops, a copper-brown trail through the yellow-speckled fields. Up here, atop one of the Lake District's many hills, the views rolled on for miles - under a sky the colour of forget-me-nots. "Not a bad spot for a biscuit break, eh?" said Nicholas, my guide for the day, as he took off his rucksack. I couldn't disagree.
After an hour of walking, my legs were ready for a break. Our six-strong group had made great progress on that meandering path, but a good few hours of hiking lay ahead of us. With lunch in our packs and sturdy boots on our feet, we were ready for a day amongst the Lake District's most picturesque peaks - happily, with the sun shining at our backs.
In the distance, almost hidden from view by the grassy gradients, I spotted a shimmering lake - its rippling surface catching the sun. "That's Derwent Water - home!" said Nicholas, confirming my suspicions. With our hotel on its beautiful banks, Derwent Water was our destination - where a hot bath, wine and dinner awaited.
Hikers next to Derwent Water (Alamy)
Our group of six were a merry band. We didn't know each other but we bonded quickly, swapping stories as Nicholas lead us over the hills. Every mile or so, we'd pause for a drink, soaking up those views over a thermos flask. The sun stayed out, the butterflies danced overhead, and the glistening surface of Derwent Water got ever-closer.
More like this: Great British breaks! See our exclusive UK hotel offers from £65pp
As hiking hotels go, Derwent Bank is the finest I've ever encountered - but then, this was no average walking holiday. HF Holidays, our host for the weekend, has been running full-service walking breaks for over 100 years, combining great locations and top-notch guides with all the little luxuries you need after a day exploring.
The lounge at Derwent Bank (HF Holidays)
The hotel itself was more of a country house, used exclusively by HF guests as a base for various walking trips. Our own itinerary, a three-night long weekend, included two days of walking - with a choice of easy, medium or hard routes, each led by an expert guide. Each night, all hotel guests reconvene for a relaxed evening of socialising, a hearty dinner, and a presentation about the next day's walking options.
The crowd was fun and friendly, with ages ranging from twenties to eighties - and plenty of solos, couples and girlfriends trying an alternative weekend away. This was no hardened hiking bunch: HF's guests clearly enjoy their comforts as well as a day in the hills. We rested our weary legs in the hotel bar, then tucked into a three-course feast (which we'd selected from a vast range of menu options each morning).
"My room looked like it had been lifted from an interior design magazine" (HF Holidays)
After dinner, with coffee and mints, it was evening entertainment time: a dance class, wine tasting, or a general knowledge quiz perhaps. My personal highlight was a talk from the incredibly brave local Mountain Rescue team, with plenty of tales of derring-do (and derring-don't) - a reminder why HF's expert guides are essential.
Derwent Bank is just one of HF's 18 country houses, which are found in Britain's superlative walking spots. Holidays on the Isle of Wight, in Cornwall, the Cotswolds, and South Downs provide undulating countryside strolls - while those in search of challenging peaks head to the likes of the Lake District, Glen Coe and Snowdon.
Walking in the Lake District (Alamy)
But while the terrain varies, the standard of accommodation - as seasoned holidaymakers Jean and Ruth assured me over dinner - is high throughout all of the hotels. My room looked like it had been lifted from an interior design magazine, complete with a sumptuous bed, deep bath, and inspirational views.
But of course, the walking is the star of the holiday - and though my trip was short, it was the perfect balance of rest, relaxation and exercise.
"The sun stayed out, and the butterflies danced overhead..." (Alamy)
Though I'd chosen a medium walk on Day 1, I fancied the Scafell Pike summit on Day 2: a challenging jaunt to England's tallest mountain. I'd felt trepidation when I signed up the night before, but after a great night's sleep and a full English breakfast, I was raring to go.
On the short drive to the mountain's base, we laughed at how different this experience was from walking holidays when we were kids. Back then, I would have dreaded the up-hill hike, but today the challenge, camaraderie, views and fresh air were there to be savoured. It's amazing what difference a few little luxuries make.
The author joined HF Holidays' three-night Guided Walking at Derwent Water (opens in new tab) trip - from £239, including accommodation, all meals and a guided walk each day.
With the mix of easy, medium and hard walks, this holiday is suitable for participants of varying fitness levels.
The closest train station to Derwent Water is Penrith, and HF Holidays provides a shuttle bus service to Derwent Bank. Parking at Derwent Bank is free.