What it's really like to walk on the Great Wall of China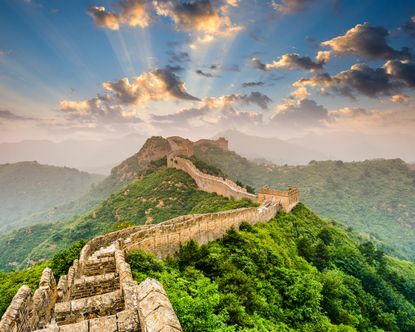 Walking on the Great Wall of China is a once-in-a-lifetime experience, so how do you make the absolute most of it? Here's what it's really like...
It's the stuff of myths and magic, this great snake of a fortification that at its zenith measured 4,163 miles and kept out hordes of enemies as it wound its way over mountains, across plains and deserts, and over vast plateaux.
Now it is one of the biggest attractions drawing visitors to one of the fastest-growing holiday destinations on earth. And while today parts of it have crumbled, been destroyed or are too dangerous to visit, there are still over 100 sections that can be walked on.The best way to see it is to take a tour from China's capital Beijing – it's a good 90-minute drive from the city centre.
Experience the majesty of China for yourself on ourGreat Tour of Chinatrip – including the Great Wall, Shanghai, Beijing, Hong Kong and more…
When you first see Great Wall, it just looks like a rather modest garden wall just winding through the hills. It is only when you get onto it that you realise it's not the doddle it looks. For instance, the steps are at different levels and it's quite strenuous to walk on, so make sure you wear your most comfortable walking shoes. You rise quite steeply, and along the way are look-out alerts and gateways. Within a very short time you seem to have achieved some height, which affords great views across the countryside; a bleak and forbidding countryside at that.
More like this: A first timer's guide to visiting China & Hong Kong
The wall is so vast that even a coach party of tourists just looks like a few ants. However, you do need to pay attention to where you are going and what you are doing. It is best to get to the wall as early as possible - not just to avoid the crowds, but to get the best of the light and avoid the heat. If you are visiting during spring or autumn it can also get quite chilly, so you will need to wear a few layers, but bring plenty of sunscreen and water too. A small backpack is essential.
When you are looking out at what seems to be the top of the world, with nobody else in sight, the sheer wonder of this extraordinary construction makes the hairs stand out on the back of your neck. It really is the stuff that dreams are made of and will provide endless memories and tales for family and friends.
Beyond the Great Wall: what else should you see in China?
Spend at least two days exploring Beijing – you won't be disappointed. While the Americans think they invented huge, they're not a patch on the Chinese. Tiananmen Square, for instance, is like a small county in the middle of the city, while the Forbidden City, once home to China's emperors, is not just massive but is calm and elegant too.
Just outside the Forbidden City walls are rows of small buildings which were home to the palace guards – and they've now been turned into shops and craft centres.And then of course there are the markets. It's not possible to visit them all, but do opt for the silk market and the pearl market – you will need a guide and an interpreter.
Experience the majesty of China for yourself on ourGreat Tour of Chinatrip – including the Great Wall, Shanghai, Beijing, Hong Kong and more…
Do you really need travel insurance?
It may feel like an extra expense but travel insurance can give you peace of mind should the worst happen when you are travelling. The best travel insurance policies should cover most things, from emergency medical expenses and repatriation to flight delays and trip cancellations. You can even choose policies specifically tailored to your type of trip, such as cruise or backpacking insurance.
Compare Travel Insurance Quotes at GoCompare (opens in new tab)
While Beijing is grand and imperial, Shanghai is sassy and glamorous. Only two hours' flight apart, they seem centuries away from each other. Much of the old part and even the Art Deco area has been destroyed, but some of its modern buildings are sensational. The Shanghai Museum is a glorious exercise in space and light and worth a visit for the bronzes alone. While afterwards, if you need sustenance, it houses a great café where some noodles and a beer will set you back as little as £2.
The Bund is the most famous district in Shanghai and runs by the side of the river. It still houses some of the old Art Deco mansions, so to see one in its almost original state visit the Peace Hotel, a classic 1920s pleasure palace whose Jazz Bar is still going strong. Further along the street is Three On The Bund – the funkiest building in town – with several great restaurants, including the Whampoa Club, which is decorated like an original Cartier jewellery box in vivid jades and rubies.
More like this:11 amazing things to do and see in China
Just behind the Bund is the little area of Xin Tian Di, a collection of small original buildings which have been preserved and now house young designers, artists and craftspeople. It's a torment all on its own, because in each one you will find something that you really want to buy – but have run out of space in your luggage. The different take on traditional Chinese skills, from silks to wood and calligraphy, is inspiring.
Fancy some retail therapy? Head for Beijing's Yashon market and go mad. It has everything from divine suitcases to jackets, sunglasses to cashmere throws, watches to wallets – whatever your heart desires, you'll find it here. Most of the things we buy these days are made in China (I met an American businesswoman in a bar who had just visited a computer factory that was three miles long)– and boy does that make shopping here awesome. Regardless of what you are buying, remember to bargain like mad and also that Chinese traders are very keen on dollars.
If you have time and energy for one more excursion, then Xi'an is the place. You could do a day trip to Xi'an from either Shanghai or Beijing, but I would recommend a night's stop-over from Beijing to catch your breath.
I know we have all heard about Xi'an's terracotta warriors – and some of us have even seen them in exhibitions in London and other cities– but nothing quite prepares you for the sheer scale of the excavations. Archaeologists unearthed a whole army of terracotta warriors, and to call it magnificent doesn't do it justice. I was so astonished that I had to have one of my own, so I immediately set off for the warrior 'copying shop' and shipped back a half-size general who now guards my hallway. China has that sort of effect on you. You want to keep a piece of it.
All images from Alamy