Travel tension: 2/3 of women would not trust their partner to book a holiday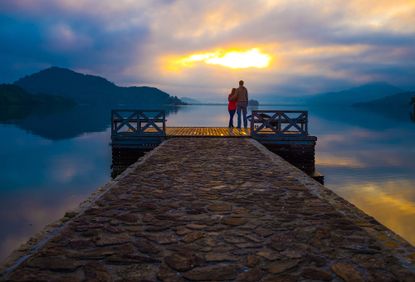 Holidays with your partner are supposed to be a time for romance and relaxation. Making memories with a loved one abroad is one of the best ways to explore the world. But according to Flight Centre's latest research, many couples don't even get that far.
The study found that two thirds of people in relationships fight during the planning stages of a trip, and 37% describe the booking process negatively. Even worse, 14% of couples have broken up as a result of friction caused by holiday booking stress.
Read more: 10 holiday booking hacks and tips (opens in new tab)
Deciding on when to travel and fly (24%), budget (18%) and which destinations to visit (16%) proved to be the biggest causes of friction when couples book holidays together. And the research revealed that, on average, couples spend 105 minutes arguing per holiday booking session.
It was also revealed that 59% of women would not trust their partner to book their holiday by themselves, with nearly one fifth admitting that their partner doesn't know them well enough to book a holiday they would enjoy.
Men, on the other hand, proved to be a little more trusting, with 60% having confidence in their partner to plan their holiday alone.
Flight Centre (opens in new tab) claims these stresses have been pivotal in the rise in shorter trips, as almost 20% couples say they are forced to book shorter breaks, because longer holidays take too much time, effort and stress on their relationship to organise.
Read more: Take a short break with these no-fly holidays (opens in new tab)
All this stress shouldn't stop you from travelling, mind – it's clinically proven that holidays help you live longer (opens in new tab), after all.
Lottie is an NCTJ-trained journalist, an experienced travel writer and an expert in creating compelling digital content.
Lottie has been in the travel writing business for nearly a decade and has writing and photography bylines at The Telegraph, The Times, The Independent, the i and National Geographic Traveller. She's done broadcast work for BBC Radio 4 and have contributed to a number of guidebooks and coffee table titles during her career.