Christmas lights trails 2020: festive trails that will make Christmas feel magical again
As the dark nights creep in, there's nothing better to get you in the festive mood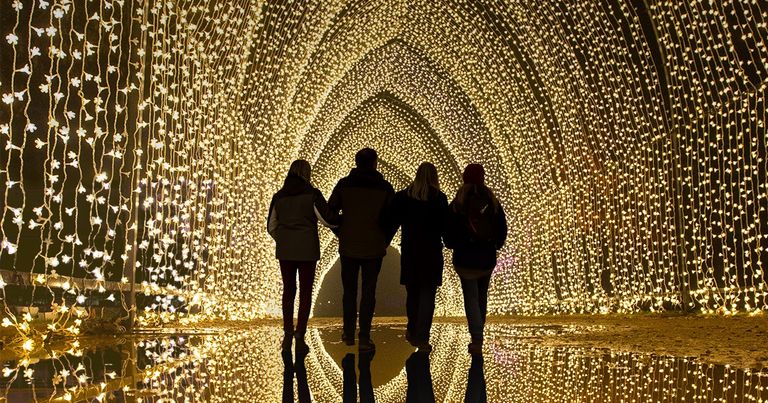 (Image credit: Raymond Gubbay)
With illuminated trails set to be unveiled across the country this winter, there's never been a better time to immerse yourself in the great outdoors, with one of these magical Christmas lights trails 2020.
Designed for visitors of all ages and created by world-renowned artists and design studios, they provide the perfect festive experience.
Here we share our pick of eight of the best Christmas light trails 2020, sure to delight visitors this Christmas...
Best Christmas lights trails 2020
1. Christmas at Kew
18 November 2020 – 3 January 2021
For it's eighth year, Christmas at Kew returns with a new trail to illuminate the magnificent gardens. With over one million lights, this winter trail is set to be even more breathtaking than ever before. This year visitors will be lead through the stunning illuminated Rose Garden for the very first time. They can also enjoy festive bursts of colour as they explore every corner of Kew's iconic landscape and take in the tunnel of bells and the much looked-forward to Palm House Pond finale. We can't wait!
2. Christmas at Bedgebury
20 November – 31 December 2020
Now in its third year, this family-friendly one-mile magical festive trail in the heart of the Kent countryside will once again be awash with colour. Christmas at Bedgebury is full of seasonal surprises and shimmering reflections that cast light on beautiful silhouettes of majestic trees as visitors explore the National Pinetum.
3. Christmas at Blenheim Palace
20 November 2020 – 3 January 2021
The illuminated trail makes a welcome return to Blenheim Palace this year, inspired by the winter landscape itself. Visitors will be entranced as they undertake thiswinter wonderland adventure, dramatically illuminated with stunning lights. Featuring lasers and light projections, visitors can wander under magical tree canopies drenched in seasonal colour and dripping with silvery shards of light, frosty snowflakes and stars.
4. Christmas at Dunham Massey
20 November – 30 December 2020
The sell-out trail returns for a fourth year to this historic National Trust property in Cheshire. Look out for the giant glittering deer as you step into a world of festive cheer, accompanied by a soundtrack of nostalgic festive classics. Huge snowflakes create an aerial kaleidoscope over the gardens and the crystal and fire garden allow visitors a quiet moment of reflection. This is sure to make you feel that Christmas has well and truly arrived.
5. Christmas at the Botanics
26 November 2020 – 3 January 2021
At the Royal Botanic Garden Edinburgh, the festive trail for 2020 looks set to showcase the magnificence of our natural world. There will be bouncing lines of light in the laser garden and giant luminescent sculptures rising into the sky. Trees wrapped carefully in ribbons of colour and a flickering fire garden round off this wonderful festive scene. The historic Inverleith House will also once again spring to life as a new festive projection is displayed across its façade and the tunnel of light is always a firm festive favourite.
6. Christmas at Belton
27 November 2020 – 3 January 2021
This year the stunning country-house estate of Belton will once again have its historic tree canopies decorated with magnificent lights. Visitors will discover giant luminescent candlesrising high into the night sky, glowing flowers and snowflakes where you least expect them. And for any family trips, don't forget to watch out for a glimpse of Father Christmas along the way!
7. Christmas at Stourhead
27 November 2020 – 3 January 2021
Find new moments to share as the after-dark trail lights up the beautiful National Trust gardens at Stourhead, Wiltshire. Visitors can walk past giant luminescent sculptures rising high intothe night sky, whilst trees wrapped in light illuminate the way to the Crocus Lawn. This extraordinary floral carpet glows gently in the moonlight and is a truly magical sight to behold.
8. Christmas at Wisley
21 November 2020 - 4 January 2021
If you are also in Tier 4 along with the RHS Garden Wisley, located in Surrey just a few miles from Woking, you can visit their Glow Walks through the festive season. Wander the trail to see some of Wisley's most popular sights lit up in dazzling colour, as well as some eye-popping installations. A truly magical experience!