Atmosphere Kanifushi review: A quintessential Maldivian resort with a sustainable soul
At this five star luxury resort, when they say all-inclusive, they really mean it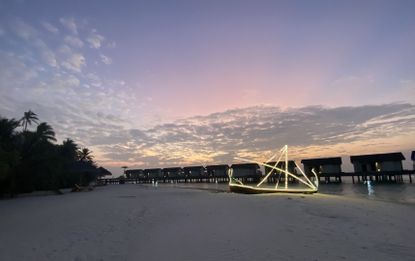 (Image credit: Rachael Martin)
Whether you're visiting the Maldives for the first time or you're planning a return visit, Atmosphere Kanifushi would make a fine choice. The perfect blend of what once made the Maldives a bucket list destination and what the modern traveller is seeking today, Atmosphere manages to balance tradition with modernity, simplicity with luxury, and once-in-a-lifetime experiences with considered sustainability; ensuring that if you love your first trip enough to return, Kanifushi and the beauty of the Maldives will still be there when you come back.
Why you can trust Woman & Home Our expert reviewers spend hours testing and comparing products and services so you can choose the best for you. Find out more about how we test.
With hundreds of hotel options in the Maldives spread across the archipelago's thousands of pristine islands, it's no mean feat picking just one for a holiday of a lifetime.
While it can be tempting to hop between islands during your visit, we'd recommend picking just one hotel on one island for the duration of your stay. This way you will maximise your relaxation time and give yourself every opportunity to slip into the carefree and calm way of island life.
No one island in the Maldives 'has it all' - every beautiful hotel offers something slightly different and the many different designs, amenities, room standards and way of running the hotels sets the tone for the environment and means each island has its own unique atmosphere, despite the fact they are all located in the same beautiful part of the world.
But while we stand by our assertion that no one island has it all, we think Atmosphere Kanifushi, the hotelier's original property in the Maldives, comes pretty close, making it a brilliant option for anyone visiting the Maldives for the first time and looking for a truly authentic and memorable experience.
Discovering Atmosphere Kanifushi
Atmosphere Kanifushi is one of the largest resort islands in the Maldives. The 2km-long paradise is home to 350 staff – almost double the number of guests on the island – ready to take care of your every need and make your holiday one to remember forever (for all the right reasons).
There are 162 rooms, six restaurants, three bars, two amazing swimming pools, one spa and plenty of things to do. Even with a full week on the island you would probably only scratch the surface of everything that is on offer here. Just to try eating and drinking at all of the different bars and restaurants Atmosphere Kanifushi has to offer you would need at least four days here, such is the variety.
Attracting a truly international crowd, Kanifushi's length, size and design mean that despite the large number of people on the island at any one time it doesn't feel that way during your stay. Each room, restaurant and building is nestled within the island's lush, tropical foliage and the hotel's experienced landscaping team work hard to ensure the beautiful desert island aesthetic remains pristine. Apart from when eating meals at one of the larger restaurants like The Spice, we were totally unaware of how many other guests were on the island during our stay, often finding ourselves looking out at uninterrupted views or meandering down the shaded, sandy pathways of the island alone.
The one downside of an island of this length is that there is some distance to cover when travelling between your room and other destinations on the island such as restaurants or the pools. All of the sandy lanes and pathways of the island are well shaded so walking is very manageable, but this isn't for everyone. Atmosphere have thought of that though, and the island provides both a shuttle bus service (a golf buggy that you can track via the hotel's app to ensure you never miss a lift) and bikes that you can rent for $1 USD a day during your stay. The bikes are popular, and at busy times there may be a waitlist before you can get your own two wheels for your trip, but we loved being able to whizz up and down the island together on bikes and think that the island's length is definitely more of a positive than a drawback, given how much privacy it affords guests who want it during their holiday.
We were also impressed by the great lengths that Atmosphere Kanifushi is going to in order to become a truly sustainable travel destination. There's a lot of greenwashing when it comes to hotel resorts and sustainability, but the team at Kanifushi, led by the passionate General Manager Ms. Mei P Pun, have made truly impressive strides to become more eco-friendly.
A major contributing factor to this is the fact the island has its own water purification system, eliminating the need to import water or litter the island with plastic water bottles unlike many resorts in the atoll. Glass bottles are provided in all rooms filled with drinking water and these are refilled daily. The hotel's strive for true sustainability doesn't stop there either. The island also has plans for solar plans in the near future and the head of landscaping has successfully started a vegetable garden on the island, growing a variety of fruit and vegetables including okra, radishes and melons despite the challenging climate, in a bid to reduce the air miles of some foods served on the island.
For the eco-conscious traveller, this is definitely a destination worth bookmarking.
How many rooms does Atmosphere Kanifushi have and what are they like?
There are over 160 detached villas and suites across land and sea on Kanifushi. All of the rooms on the island are finished to the same, high standards, offering the upmost comfort and luxury with lots of polished wood surfaces, plush seating and large glass windows and doors that make the most of the view.
Staying in a wooden villa on stilts above the ocean is now a rite of passage it seems when visiting the Maldives, and Kanifushi has a range of water villas to offer guests seeking this unique experience.
The water villas are smaller than the suites on land, but they all come with the benefit of uninterrupted sea views, added privacy and plenty of Instagrammable photo opportunities. The water villas are full of features that make the most of their unique location, including glass floor panels in the bedroom and bathroom to allow you to look down on the clear blue ocean and fish swimming below from the comfort of your room; wooden steps that lead straight down from your private deck into the sea, and beautiful panoramic views of the iconic Maldivian sunsets. You can also book a water villa that has its own private pool overlooking the ocean, but these come at a higher cost per night.
The double occupancy villas with a pool on land are much larger than the water villas and come with plenty of space to spread out and relax both inside and outside. The pool is large enough to negate the need to visit the public pools and you can also access the beach direct from your private deck.
There are also villas available without private pools. These rooms are slightly cheaper because the private outside space is smaller (and you don't have a pool) but the villas are no smaller or less luxurious inside. So if you don't mind relaxing and swimming at the two main pools during your stay, the Sunset Beach Villas are a great option.
In our opinion the very best rooms on Atmosphere Kanifushi are the Kanifushi Grand Pool Villas. Truly remarkable in size, these rooms are set up in a way that if you didn't want to, you'd never have to leave the villa during your stay.
The large, comfortable and generously furnished rooms open out onto an impressive private deck, with a 15ft private pool - the largest this writer has ever seen with a private deck in a hotel resort - and multiple seating areas including a round sofa bed and a swing seat big enough for 3. Each villa has access to the beach, with a parasol and sun loungers set up and waiting for your use exclusively during your stay.
Thanks to the well stocked mini bar and mini fridge, containing beers, wine and soft drinks, the coffee machine and selection of snacks available that are included in your room rate and replenished daily, you could easily bypass the cafes and bars if you wanted to, in favour of sunset drinks 'à deux' in the privacy of your own villa. Perfect for honeymooners and those on a romantic break keen to maximise their quality time together.
How many restaurants does Atmosphere Kanifushi have?
You are spoilt for choice when it comes to dining options on this luxury Maldivian island and guests are encouraged to stay a minimum of 4 or 5 nights just to get a chance to try out of all the restaurants, cafes and food experiences on offer.
The Spice - Atmosphere Kanifuahi's main restaurant, The Spice serves a wide and impressively diverse selection of food, buffet-style, three times a day. The large restaurant overlooks the waves and at high tide you can see fish swimming in the clear blue waters from your table.
Pier Six – The island's luxury over-water fine dining restaurant serving fresh seafood and a la carte delights with Asian flavours. All guests staying for four or more nights have one dinner at Pier Six included in their Kanifushi Plan and then any further reservations are charged at extra. Don't leave without trying the dim sum.
Teppanyaki Grill – Watch a culinary show in a special part of the Pier Six restaurant whilst Kanifushi's expert chefs grill and fry the freshest of seafood in front of your eyes. Don't skip the starter here as the sushi is fresh and delicious.
The Liquid – Atmosphere Kanifushi's premier bar on the island, guests can grab a drink at any time of day whilst enjoying the views and ambience at the main, family-friendly pool.
Just Veg – The first a la carte vegetarian restaurant in the Maldives, Just Veg is so much more than the name suggests. Our favourite restaurant on the island, the gourmet vegetarian cuisine is inspired by all corners of the globe and I guarantee you won'tleave hungry.
The Sunset Bar – A relaxed pool-side bar and restaurant serving light bites and lunch snacks with a menu that changes daily and often features the island's catch of the day. Grab an ice coffee at any time of day and enjoy it whilst lounging by the adults-only infinity pool.
Ceylon Bliss – A relaxed and rustic bar surrounded by lush tropical foliage and overlooking the water, grab a pre-dinner drink here under the canopy of trees or enjoy some authentic Sri Lankan street food. The menu changes every night and the food is truly delicious.
Lantern bar – Opened only in December 2022, The Lantern Bar is Atmosphere's Kanifushi's latest offering to guests and sits over the water at the eastern end of the island. With holistic health and wellness as the inspiration for this newly launched bar, every detail has been considered – from the antioxidant drinks on the menu (that can be served with or without alcohol) to the copper cups the beverages are served in to aid digestion.
You can also order breakfast to your room, to be enjoyed at your personal outdoor dining area or served as a 'floating breakfast' on your private pool for those looking for the ultimate Instagram opportunity. There is also the possibility to book a private dinner or beach BBQ, arranged to ensure minimal interactions with anyone who isn't your significant other or travel companion until you board the sea plane home.
However, bypassing the multitude of bars and dining options that Atmosphere Kanifushi has to offer for the entirety of your stay would be a great error and the quality of food and variety on offer is superb, with options for every taste, dietary preference and occasion.
What is the Kanifushi plan and how does it work?
When they say 'all-inclusive' at Atmosphere Kanifushi, they really mean it. All meals and drinks are included, all day, for all guests; and the package also includes excursions like snorkelling, a la carte dinner experiences such as a Teppanyaki culinary show and a spa treatment per guest per stay.
Atmosphere Kanifushi is one of around 20 truly all-inclusive resorts in the Maldives and where they strive to be set apart from their competitors is their all-inclusive 'Kanifushi plan'. The plan means that when guests pay to stay on the island the rate includes their whole experience – from food and drinks to activities, excursions and even a treatment in the brilliant spa. This resort prides itself on having 'no hidden costs', meaning that guests can truly relax while on holiday without worrying about what their eventual bill might look like at the end of the stay.
What activities are included on the Atmosphere Kanifushi plan?
As well as one spa treatment per person per stay, the Kanifushi plan also includes some activities such as snorkelling trips, fishing, a sunset cruise and a day excursion to local island Naifaru where there is a turtle rescue centre. All activities are entirely optional and you can sign up for as many as you like. Guests can also hire snorkel equipment (fins, a mask and snorkel) for free for the duration of their stay, should they want to snorkel in the waters around the hotel and admire the array of tropical fish just offshore.
You can also hire canoes and paddleboards from the water sports hut free of charge during your stay.
Activities such as scuba diving, sailing and motorised water sports are not included in the Kanifushi Plan and are charged at extra.
Atmosphere Kanifushi is great for both couples and families
While the luxurious villas with their private pools and sun decks lend themselves perfectly to a couple who is looking for some quality time in paradise, and the romantic dining options with the opportunity to organise a special supper à deux are designed to make any special occasion with you and your significant other that bit more memorable, Atmosphere Kanifushi is a resort that has been designed with both couples and families in mind.
The spacious beach villas mean there's plenty of room for adults travelling with small children, while the island's 'Residence' villas come with two bedrooms in one condo with more than enough room for the whole family. There's also a kids club, a family pool and plenty of food options for the kids in the main restaurant, The Spice. The island's bikes can be fitted with the child seats for smaller children and bigger kids can have their own two wheels so they can take themselves off to the games room to play table tennis, Xbox or snooker.
The size of the island also means that couples looking for quiet time and kids looking for, well, the opposite, can quite happily coexist in paradise without crossing paths too often. This is also facilitated by an adults-only pool and bar.
How do you get to Atmosphere Kanifushi and how far is it from Male?
To get to Atmosphere Kanifushi from Male International Airport you will need to take a seaplane. The flight takes roughly 40 minutes and the transfer is complimentary for all guests, with a lounge available at the airport for those who need to wait between landing in Male and taking off across the atolls to your final destination.
The seaplane flight doesn't appeal to everyone, but what Atmosphere Kanifushi lacks in proximity to the airport it makes up for in the peace and serenity of their remote paradise island. The distance from Male means no jumbo jets flying overhead, uninterrupted views where the only thing between you and the horizon is azure blue water, and a true sense of exclusivity. I've stayed at resorts both a speedboat ride away from the airport and a seaplane's distance, and despite being a slightly nervous flyer (especially on smaller planes), I'd choose the seaplane resort options every time.
Atmosphere Kanifushi review: The woman&home verdict
When we met the team behind the scenes of Atmosphere Kanifushi, with decades of experience in resorts and the hotel business between them, we were struck by how deeply they understand what visitors to the Maldives want from their holiday and what they need to do to deliver that both now and for decades to come.
From the Kanifushi plan to the strides being made towards sustainability, this is an island where transparency is important, and that means everything is exactly as it seems - or better. Atmosphere Kanifushi doesn't just look like paradise in the pictures online, it really is a once-in-a-lifetime retreat like no other, and in our opinion what you see on social media for this resort really doesn't do it justice. You don't need to just see the island for yourself, but experience it too, and once you have had a taste of the Kanifushi way of life, you'll never want to leave.
Atmosphere Kanifushi prices and further information
For more information about Atmosphere Kanifushi or to book a stay visit atmosphere-kanifushi.com (opens in new tab).
Rooms rates start at £887 per night and can also be booked through Booking.com (opens in new tab).
Digital Editor - Woman & Home
An internationally published digital journalist and editor, Rachael has worked as a writer and editor for both news and lifestyle websites in the UK and abroad including Metro UK, Homes & Gardens, Ideal Home, GoodTo.com, honey.nine.com.au and body+soul.
Rachael's published work covers a broad spectrum of topics and she has written about everything from the future of sustainable travel, to the impact of the coronavirus pandemic on the world we live in, to the psychology of colour.