Why I put my career on hold for a 'grown-up gap year' - and you should too
Fancy taking a sabbatical from work, but not sure where to begin? Behold the rise of the 'grown-up gap year' - here's how to have one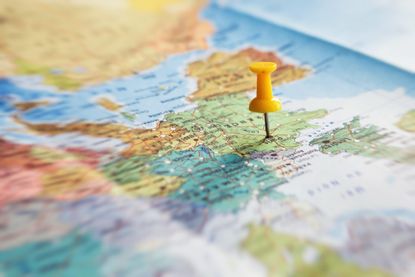 woman&home newsletter
Sign up to our free daily email for the latest royal and entertainment news, interesting opinion, expert advice on styling and beauty trends, and no-nonsense guides to the health and wellness questions you want answered.
Thank you for signing up to Woman & Home. You will receive a verification email shortly.
There was a problem. Please refresh the page and try again.
Fancy taking a sabbatical from work, but not sure where to begin? Behold the rise of the 'grown-up gap year' - a growing trend for taking a few months off from work (rather than a full year) to travel, relax, or gain skills to boost your career. JoyMontgomery did just that - and returned with a new zest for life.
"2016 was incredibly stressful, with a number of events that put my life in perspective. My nephew sadly died, two of my colleagues were diagnosed with terminal illnesses, and I was recovering from back surgery. It made me realise that you only get one chance in life.
I took unpaid leave from work, and applied to volunteer with Raleigh International, a sustainable development charity that works with remote communities all over the world. They said that with my background in admin and logistics, I'd be best placed as a volunteer manager, supporting the local projects - so in January this year, I moved to Malaysian Borneo for three and a half months.
I'd never worked abroad, or been away for that length of time before - but I soon got stuck into everything. Young people from all over Britain volunteer with Raleigh on sustainable development projects - and it was my job to support the volunteers in Sabah, Borneo. I did everything from research and admin to sorting visas and planning evacuation procedures - all sorts of things.
Joy, far right, with the other volunteers and volunteer managers
The volunteers were working to construct water sources for remote communities, as a lot of families are dependent on collecting rainwater or going to a standpipe in the village. It made me realise how much we take things for granted in the UK.
Our living conditions were very basic, with no air conditioning, running water or electricity. Most of the time we slept on roll mats on the floor in a traditional longhouse - because beds as we know them simply don't exist over there. We also went trekking in the jungle for a few days, and slept in hammocks strung up between two trees. Bizarrely, it didn't affect my back at all - but it did start to twinge again when I was back on my mattress at home!
We take so much for granted in the UK. You turn on the tap and water comes out - and you don't appreciate how important and incredible that is until you go somewhere that doesn't have such privileges. It really put life in perspective.
Joy managed logistics, whereas the younger volunteers got stuck in with manual tasks
I travelled on my own, but soon found myself working alongside a fantastic group of like-minded people. There were two other volunteer managers in their fifties, as well as a few in their late twenties and thirties. Everyone had such different backgrounds - people who had worked as medics, in fashion, a photographer, a teacher... As you can imagine, we had some fascinating conversations.
I think waiting until my fifties to do this trip gave me a richer, better experience than if I'd done it thirty years ago. The youngsters called me Momma J, and it was probably nice for them to have a motherly figure around. Also, my office experience made the day-to-day work easier to manage, so I was able to concentrate on other things that really enriched my time in Borneo.
The trip gave me a sabbatical from the real world - you leave all of the normal day-to-day responsibilities behind. You're so engrossed in what you're doing, but it's very rewarding - and it left me feeling energised.
Lunchtime for the volunteers and volunteer managers
Before the trip I was thinking "I'm in my fifties, what else is there to do? Am I able to do anything else?" - But being surrounded by young people made me realise that I am still able to do everything after all! Now, I want to do more travelling and experience new things.
My daughters and husband were so supportive when I told them I wanted to do the trip - and they kept telling me how proud they were of me.
It was so refreshing to switch off technology for a while, too. We talked, played cards, sang, told jokes... and I communicated with my family mostly by good old fashioned letter. It was a digital detox! I don't look at my phone half as much as I did before, I hardly ever check Facebook or watch TV, and I'm no longer glued to my emails.
Creating a tree nursery
I feel much younger mentally now than I did before the trip, and much less burdened with responsibility and stress. I lost weight while out was out there because it was a much more physical lifestyle, so the moment I got back I re-enrolled at the gym and started eating healthily.
People have told me that I just look so much better than I did before I went - and I feel it! I'm so much more invigorated and more pro-active now: it just made me realise how much I can do.
I'd thoroughly recommend taking a sabbatical to anybody - I had such a rewarding time, and returned with a fresh perspective and a new zest for life." More information: raleighinternational.org
Joy's top tips for volunteering trips:
Do your research. Pick an organisation with a strong structure, good health and safety standards, medical support and rigorous training. I felt safe and very well supported, and the projects were genuinely helping the communities - you could see the difference that they were making.
Find your niche. Whatever skills or experience you have, there will be a role for you - and no, you're never too old! In fact, older volunteers are sought after, as they often have a wider range of practical skills than younger participants. Travel with an open mind. I met so many incredible local people, and they welcomed us with open arms.
It's easier than you might think. I am a personal assistant in a university, and when I asked my boss if I could take a sabbatical he simply said yes! Never just assume that your employer will say no - I was very pleasantly surprised.
Sign up to our free daily email for the latest royal and entertainment news, interesting opinion, expert advice on styling and beauty trends, and no-nonsense guides to the health and wellness questions you want answered.
Joy is currently a Senior Commerce Writer for British Vogue and before that held the position of Shopping Editor at Who What Wear UK. Joy studied History of Art at Cambridge University and has been working as a writer and editor for over 7 years.