A Guide Of Where To Stay, And What To Do And See In Stunning Norfolk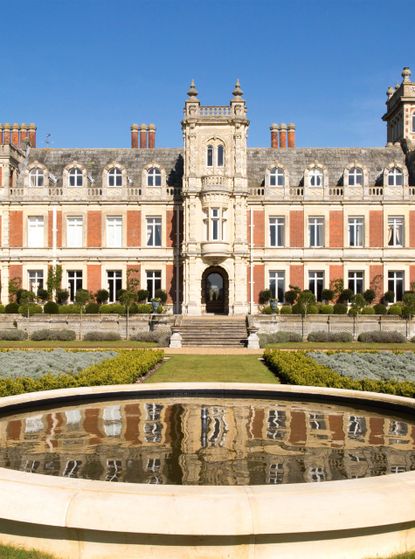 (Image credit: Alamy Stock Photo)
Norfolk is a fabulous weekend or holiday destination, with attractions and opportunities to suit all tastes and pockets. Here you will discover lovely old market towns, quaint villages with great pubs, as well as green, rolling countryside that is perfect for exploring.
The beaches of Norfolk are spectacular, the waterways that make up the Norfolk Broads are pretty and serene. There are nature reserves, stately homes and endless miles of coastline where you can watch seabirds, seals and other wildlife.
A trip to Norfolk is sure to be a rewarding experience, whether you're in search of culture, history and and heritage, the seaside, the great outdoors or to enjoy the fresh, seasonal food that's such an exciting part of what this diverse and vibrant county has to offer.
Where to stay
Barsham Barns
If you're looking for an unforgettable place to stay in Norfolk, look no further. Nestled in the rolling hills and vast fields of the stunningly lush Norfolk countryside, lies Barsham Barns.
At the end of many vast and winding roads of North Barsham, and hidden away from the hustle and bustle of towns and cities, are barns you might see on any farm (although infinitely more luxe). But the real surprise comes when you step inside.
Come in from the cold to lush, farm-chic luxury. Each of the five converted barns in this rustic development is stylishly finished (by interior designers, none the less), with a modern, contemporary twist that also maintains the cosy, comfy feel that you want for a country weekend break.
The Loose Box is the smallest of the barns, but doesn't feel that way. It's gorgeously clean and cosy, with breathtaking interiors. The open-plan feel of all of the barns ensures a spacious, calming feeling. And the floor-to-ceiling windows ensures a view of the open countryside whichever barn you're in.
A stylish, modern kitchen leads on to an open-plan living area, which in turn follows onto huge glass doors, with a stunning view of the courtyard and countryside beyond. Could you get any better?
The site is home to five other barns, the biggest of which (The Great East Barns) sleeps 14 people, making it the perfect option for a family holiday.
The other barns host between 12 and four people, so they're pretty big too!
So what else is there to do at Barsham?
It's certainly the ideal place for a leisurely afternoon walk, given that the barns are surrounded in every direction with sprawling hills and fields. But if you want something to do aside from enjoying the peace and quiet of the Norfolk countryside, the barns also house a brilliant games room and a spa area on the complex. The latter is open from 9am - 9pm, with each barn able to book an hour slot, twice a day.
Within the spa boasts a vast, luxurious hot tub (complete with changing coloured lights, no less), a steam room, and shower facilities. And it certainly makes for the perfect way to unwind...
But there's plenty to do in the surrounding area too. If you luck out with the weather, beaches including Wells-next-the-sea, Holkham, Brancaster, and Hunstanton aren't too far away. The town of Fakenham is also close by, as are a range of golf courses, walking courses, and horse riding facilities. What more could you want in the countryside?
However, it's important that if you're planning a visit, you take a car. The area may be gorgeous, but it's secluded, and not in easy reach of public transport. Which really, only makes it all the more relaxing.
The self-catered barns come fully equipped with everything and anything you might need for a comfy stay, including kitchen utensils and an iron, but you'll need to bring your own towels if you're planning a beach trip. Also included in your price is complimentary WiFi. Admittedly, the speed is a little slow. But if you're embracing the idea of getting away from it all, who needs a fast internet connection?
A stay in the smallest of the properties, The Loose Box, for three nights in December will cost you £455, with a refundable £125 deposit for breakages. However, at the height of summer, in July, it will cost you around £695, with a £125 deposit.
Fancy booking a stay at the gorgeous Barsham Barns? Visit the website here. (opens in new tab)
What to see
1. Somerleyton Hall & Gardens Set in a beautiful 5000 acre English estate, Somerleyton Hall is widely acclaimed as one of the most beautiful stately homes in Britain, home to Lord and Lady Somerleyton. Visit the walled garden and iron and glass greenhouses designed by Joseph Paxton, architect of Crystal Palace. Don't miss the 70 foot long pergola, home to wisteria, roses, clematis and vines. Somerleyton is also home to one of the finest yew hedge mazes in Britain planted in 1846.
Adult prices: Hall & Gardens £10.95, Garden only £6.45
Child prices (5 - 16 yrs): Hall & Gardens £5.95, Garden only £4.45
Family ticket: £29 (2 adults, up to 4 children) & £19
0871 222 4244, visit.somerleyton.co.uk (opens in new tab)
IMAGE: www.alamy.com (opens in new tab)
2. Norwich Cathedral
Norwich's magnificent Cathedral is open to visitors of all faiths and none. In beautiful grounds it's an awe-inspiring, welcoming building with spectacular architecture, magnificent art and a fascinating history. One of the finest complete Romanesque cathedrals in Europe, with the second tallest spire and largest monastic cloisters in England, it houses more than a thousand beautiful medieval roof boss sculptures.
01603 218300, www.cathedral.org.uk (opens in new tab)
3. Holkham Hall
The jewel in Norfolk's crown, Holkham Hall, is a living treasure house of artistic and architectural history and one of the finest examples of Palladian architecture. The stunning grandeur and magnificence of the state rooms have made it a popular location for TV and film.
Located on the north Norfolk coast, the hall is surrounded by 3,000 acres of scenic parkland rich in wildlife. Discover the area with walks, cycle and boat hire. A children's woodland adventure play area with tree houses, zip-wire and a special toddler's area, is great for families.
The beautiful 18th century six-acre walled garden is undergoing a project to sensitively restore the garden to its former glory. Support from the Heritage Lottery Fund has helped the 'Beyond the Walls' project develop our plans to transform this beautiful and tranquil setting and conserve the garden for future generations to enjoy.
www.holkham.co.uk (opens in new tab)
4. Oxburgh Hall
Feast your eyes on the stunning sights of Oxburgh, a 15th-century moated manor house surrounded by 70 acres of gardens and woodlands. The castle-like manor house has been lived in by the same family for over 500 years. It contains a priest's hole, rooms where a King and Queen stayed and a striking Tudor gatehouse. Outside, stroll through tranquil woodlands, formal gardens and a walled garden where many heritage varieties of vegetables are grown.
Adult price: £9.60
Child price: £4.80
National Trust members free
www.nationaltrust.org.uk/oxburgh-hall (opens in new tab)
5. Norwich Castle
One of the city's most famous landmarks, Norwich Castle was built by the Normans as a Royal Palace 900 years ago. Now a museum and art gallery, it is home to some of the most outstanding collections of fine art, archaeology and natural history and is packed with treasures to inspire and intrigue visitors of all ages. In the magnificent Norman keep, models, computers, sound and video bring history to life.
Adult price: £8.35. Child price (age 4-18 yrs): £6.25. Family price (2 adults + all children): £23.50, (1 adult + all children): £17.50
www.museums.norfolk.gov.uk/Visit_Us/Norwich_Castle/index.htm (opens in new tab)
6. The Thursford Collection
Travel back to an old-fashioned fairground with majestic engines and rides from the Victorian era. This is a really fabulous attraction and the world's largest collection of original steam engines and organs. Ride on the carousels and gondala whilst mechanical organs play jaunty tunes. Robert Wolfe plays the Wurlitzer. Behind-the-scenes tours. Watch silent movies.
Adult price: £9.50. Child price (4-14 yrs): £5.50. Under 4 years: free
01328 878477 www.thursford.com/the-collection.aspx (opens in new tab)
7. Fairhaven Woodland & Water Garden
Located in the Broads Fairhaven Woodland & Water Garden offers 130 acres of beautiful ancient woodland, water gardens and a private broad at South Walsham 9 miles from Norwich. Enjoy over three miles of easy woodland walks with superb views, boat trips daily and great birdwatching. See many ancient trees including 950 year old King Oak. Accessible to visitors with mobility difficulties including wheelchair accessible boat. Sensory garden and bird hide for visitors with disabilities.
Adult price: £6.20. Under 16 price: £3.65. Under 5: free
01603 270449, www.fairhavengarden.co.uk (opens in new tab)
8. Blickling Estate
Four centuries of good husbandry have made Blickling's 55 acre garden one of the greatest in England. Visit in May and follow the winding paths through the great wood, and pass through the carpet of dainty English bluebells in spring. Don't miss the fragrant beds of the parterre and inspiring double borders. You'll find hellebores, daffodils and bluebells, azaleas and rhododendron, wisteria and peonies as well as quiet places to sit and enjoy the view.
Adult price: £12.65. Child price: £6.80. National Trust members free.
www.nationaltrust.org.uk/blickling-estate (opens in new tab)
9. Cryptic Estate
If you want a real time brain teaser, head to the live escape room in Norwich, located in a heritage building in the Cathedral Quarter. Your mission is to find your way out of a locked room using all your skill and ingenuity, along the way solving and deciphering a host of clues and puzzles. The live escape rooms in Norwich are designed to be played by 2-5 people.
2 players £40, 3 £50, 4 £60, 5 £70 suitable for adults and children
01603 762002, www.cryptic-escape.co.uk (opens in new tab)
When are you planning your trip to Norfolk?