Why Dawn French's New Drama Is Delicious!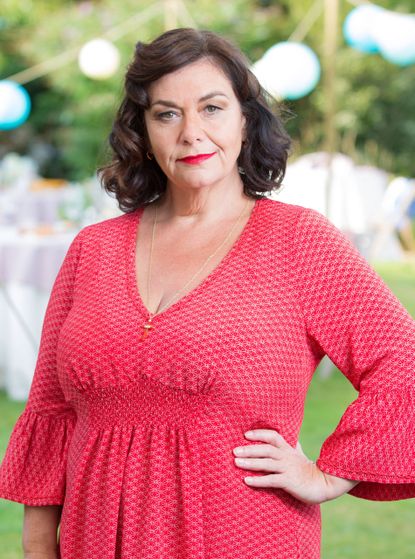 THE STORY
Written by Mr Selfridge's Dan Sefton and set in the Cornish countryside, Delicious tells the story of passionate cook Gina (Dawn French), who is divorced from chef and hotel owner Leo (Iain Glen), but when Leo's new wife, Sam (Emilia Fox), suspects he's having an affair and confides in her, it turns out to be Gina who's the "other woman". Sheila Hancock stars as Leo's mother, while Tanya Reynolds plays Gina and Leo's teenage daughter, Teresa, and Ruairi O'Connor plays Sam and Leo's teenage son, Michael.
DAWN FRENCH
Plays the ex-wife, Gina. Dawn, 58, is married to charity CEO Mark Bignell, and lives in Cornwall. She has a daughter, Billie, with her first husband, Lenny Henry.
I have to admit, I have no desire to be in front of the camera any more, but when [executive producer] Phillippa [Giles] sent me the script for Delicious, I was so intrigued that I had a moment of weakness. I was hooked by all these layers of female friendship, betrayal and forgiveness. But I'd just got home from touring with my one-woman show, so I told her it would have to wait until next year - and she just said, "Well, there's no reason why we can't shoot in Cornwall - we need to find somewhere by the sea anyway." How could I say no to that?
How would I describe my character, Gina? She's a complicated, flawed woman with a huge heart. She's got a troubled teenage daughter and a troubled relationship with her ex-husband's new wife - and she's trying to cope with the everyday muddle of life. Gina's incredibly fiery and a bit too quick to judge, which gets her into trouble, but one thing I love about her is that she's a real nurturer - she wants to feed in times of joy and in times of trouble!
I make a decent roast, but I'm nowhere near as good at cooking as Gina is, so I had a lot to learn for the role. I spent a lot of time watching our home economist, Lisa [Heathcote] - the way she uses her hands, her relationship with the food and the way she doesn't measure anything. She's unafraid of everything and that's embodied in Gina.
Maybe I'm biased, but I'm totally inside Gina's camp. I've thought a lot about how and why she makes the decisions she does and I see her vulnerabilities. I think sometimes when you present yourself as a strong woman as she does, people can mistake that for entire, utter strength across the board; they assume you have no hurting places, or emotional holes in you whatsoever. Gina has many of them, like we all do. I think that makes her incredibly likeable.
I have some pretty intimate scenes with Iain - now they were enjoyable to film! I'm always a little apprehensive about those kind of scenes because I want them to be real - and suddenly you're embracing someone you only met a week ago. But what a delight to be given permission to snuggle up with somebody who you like the look of in the first place, legitimately for your work! That's got to be a perk. There's one scene in a bathing hut that's particularly racy.
It's funny because I'm one of the oldest people on set, but I'm also the most excitable. Iain's very calm and always thinking about the next scene, while Emilia will get into the make-up van at 6am each day and is somehow never grumpy. Then you've got me who's always got so much gossip to catch up on with everyone - and I'm always thinking about what's for lunch!
I got to know Tanya [Reynolds], who plays my daughter, so well that it sometimes feels like she's my actual daughter. When you're introduced to someone on day one of filming, it can be difficult to fake that mother-daughter relationship, so before we began I invited her to my house. She's been back several times since - in fact, she'd be welcome forever!
EMILIA FOX
Plays Leo's new wife, Sam. Emilia, 42, has a daughter, Rose, six, with ex-husband Jeremy Gilley. She lives in London.
I don't want to give too much away, but I have some brilliant betrayed woman scenes in this series! I wouldn't describe Sam as mad in those moments (when she finds out Leo's been cheating with Gina, for example), but you see someone who likes to be in control and after containing her emotions for a long time and keeping up this façade of everything being okay, she's suddenly released from that. I certainly played those scenes with a lot of passion.
Sam and Gina aren't best friends by any means, but I do think it's possible for two women who have been with the same man to have a relationship - I've seen it in my own life. My mum and my dad's first wife absolutely got on. I'm not saying it's simple, particularly not for Sam and Gina, but family life is never simple, is it? I know that through my own experiences.
Dawn and I bonded early on over a delicious fruitcake at St Winnow church near Fowey. In fact, we've spent a lot of time talking about food! It somehow feels as though we've known each other for a long time, and the ease and fun we've had off-set just being ourselves made us feel confident enough to say what we truly felt about scenes and explore different way of doing them - I just hope we've pulled it off!
My character has a son, Michael, and one of my favourite scenes is his 18th birthday party. You see Sam and her family trying their hardest to make it work and have this wonderfully happy occasion, but ultimately, she gets it wrong. I found my own emotions surprisingly easy to tap into, particularly those to do with parenting and trying to keep everything together. It's that desperation to get it right, but not always quite achieving it - we can all relate to that, can't we?
I might not have had to learn to cook for the role (Sam is a terrible cook), but I did have to learn how to box! There's a scene where Sam is confiding in her best friend, Rosa, while they're sparring with each other. I'd only ever done a bit of martial arts for a TV series years ago, so it meant having a full day's training with a professional boxer - that was so much fun!
The biggest challenge I faced was trying to drive a vintage Triumph car. You can never predict what's going to happen when the cameras start rolling and, of course, the car wouldn't start at the right time! There are some very funny out-takes from it.
IAIN GLEN
Plays Sam's husband, Leo. Iain, 55, lives with his partner, actress Charlotte Emmerson, and their two daughters, Mary, nine, and Juliet, four, in London.
Leo's a charming rogue. He's very loving and a good father, but he's selfish. There's not a malicious bone in his body but he's like a lot of men, I think; he doesn't think about what he's doing when he's doing it and what the consequences might be. Viewers will hopefully like him, but perhaps not everything he does.
Unlike Leo, I'm not profoundly unfaithful! But I think I'm quite a sensual person, and I certainly enjoy the good things in life; good food, good wine, and I'm madly in love with the person I'm with. So I do relate to that.
Sam and Leo's relationship is a good one. People assume that if someone is unfaithful there must be something wrong. But that's often not the case. People are unfaithful for any number of reasons and, especially for men, it's not always a reflection on the relationship. Sam and Leo have been together for a long time, so I think all that's happened is that their relationship has plateaued. For them, it's a case of opposites attract - Sam's very organised and Leo's more chaotic, while his relationship with Dawn's character is one of similarities attract.
Emilia and I were friends already but it was the first time I'd worked with Dawn. Everyone told me what a gorgeous lady she is and they were right. She's great fun, talkative, very open and cares about everyone on the set. We hung out a lot during the day chatting about everything.
I'm definitely not a natural cook like Leo. I'm good at following recipes but I have no flair or instinct. When it comes to a role, the trick is to do whatever you're required to do within the scene and not think about anything else, so for Delicious I became an expert at chopping and whisking!
Delicious was a dream job. It was summer, it was Cornwall, I was eating great food and pretending to make love. It felt like a ridiculously good way to earn a living.
SHEILA HANCOCK
Plays Leo's mother, Mimi. Sheila, 83, lives in London. She has three daughters and seven grandchildren.
On the surface, my character is a bit of a bitch, but I also think she's the most sensible one! She says it how it is and she has a very modern outlook. There's this wonderful scene where somebody starts to be patronising towards her - we all know that when you get to a certain age, there are those people who start treating you like a child and put on a special voice - well, Mimi isn't having any of it. She gets very dirty and really shocks the person with her response.
One thing Mimi and I share is a love of puzzles. She does the very clever cryptic ones and gets awfully cross if they're too easy - whereas I look at the cryptic ones and if I do one clue, I'm ridiculously proud of myself! In fact, I once went on holiday with a dear friend, who's sadly passed away now, and we spent the entire holiday buying the Telegraph and trying to do it, then having to buy it again the next day to get the answer!
Mimi is the one character in Delicious who hates cooking, and it was a huge relief - because I'm dreadful at it! I once did a play called The Arab-Israeli Cookbook and I had to make two entire meals in front of the audience - one Israeli and one Arabic - and people were so close to me that they could see I wasn't chopping the ingredients up very well and I wasn't stuffing things properly - it was a total nightmare.
Deep down, I don't think Mimi is particularly fond of Gina or Sam because, ultimately, they've usurped her position. I know there will be viewers who can relate to that! She worships her son, Leo, and there are indications that he has always been the centre of her life, particularly as a little boy. I have daughters myself, but the relationship is much the same - when you look back, those moments with them tend to be the happiest times of your life.
I think the characters in Delicious fall in love and break up much too easily, much like people do in real life. If there's one thing you should take from the series, it's that relationships have to be worked at a damn sight harder than the people in this series do!
Doing the series with mates has been a real bonus. I've worked with Dawn and Iain before and I already knew a lot of Millie's [Emilia's] family, so I came into it feeling like I knew her. It's easy to become quite isolated as you get older, particularly when you're on your own, as I am now (or even get stuck with people who just want to talk about hip replacements!). Well, when I haven't been filming, I've been putting my boots on, picking up my sticks and going Nordic walking, so I'm not going to let that happen just yet!
Delicious starts on Sky 1 in December.
Natalie Whittle is a British journalist specialising in celebrity content in the women's lifestyle sector. She previously held the role of Celebrity Director at Woman & Home and has also worked at Prima, Red & Good Housekeeping.