What is the heartbeat bill? Restrictive abortion law passed in Texas devastates women across the globe
The law will restrict access for those seeking abortions at six weeks of pregnancy and beyond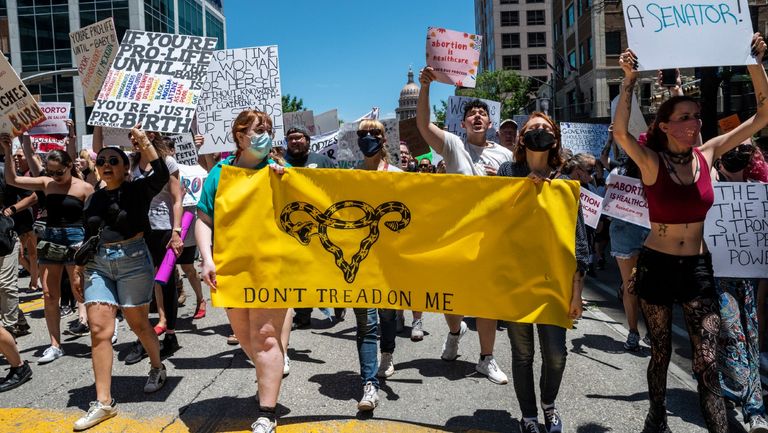 (Image credit: Sergio Flores/Getty Images)
By Rylee Johnston published
The heartbeat bill—a controversial piece of abortion legislation has been signed into law by Texas Governor Greg Abbott. The new Texas law will impact any woman seeking an abortion at the six-week point of her pregnancy and beyond.
In an emergency request, the law was sent straight to the Supreme Court, which was left divided over the legislation. In a 5-4 vote though, the law was passed, which prohibits the procedure from occurring after about six weeks of pregnancy.
Since then, this new piece of legislation has become named one of the most restrictive pieces of legislation in the US. Women and men across the world have taken to both social media and the streets in protest to voice their horror at the new bill with many calling it a "war on women".
---
What is the heartbeat bill in Texas?
Also known as the fetal heartbeat bill, the law was originally signed into effect back in May. It bans abortions from occurring at the six-week point in a woman's pregnancy and thereafter. What's so significant about the heartbeat bill is that most women don't normally know that they're pregnant at six weeks. And the bill does not exempt rape or incest cases.
In terms of new laws in Texas for September 2021, this one is the closest to directly challenge Roe v. Wade—the 1973 Supreme Court case which protects a pregnant woman's right to choose to have an abortion without excessive government restriction.
Abortion providers are reporting the heartbeat bill will restrict 85% of abortion procedures in Texas. Other states with similar legislation to the heartbeat bill include Georgia and Kentucky, which have been blocked by federal courts.
What is the penalty for abortion in Texas?
This heartbeat bill ultimately empowers citizens to enforce the ban as it allows them to take legal action against those involved with the abortion (from the doctor to the driver who brings women to their appointment). Citizens who take legal action will also be entitled to at least $10,000 if they win.
Women who go against the law won't be liable for a penalty but those who have helped her will be.
President Biden deemed the law as "outrageous" in a statement saying it, "deputizes private citizens to bring lawsuits against anyone who they believe has helped another person get an abortion, which might even include family members, health care workers, front desk staff at a health care clinic, or strangers with no connection to the individual."
How are abortion activists reacting?
In response to the heartbeat bill's enactment, many abortion advocacy groups took to the streets to protest it. One group compared it to the dystopian novel The Handmaid's Tale by Margaret Atwood by wearing the signature red dresses that the young women don in both the novel and the Hulu series of the same name.
Others also took to the streets holding signs and chanting their frustration with the legislation. While pro-choice pushed for change against the heartbeat bill, they weren't the only ones to march through the streets—pro-life groups also made their voice heard as well.
How did anti-abortion activists react?
Supporters for the bill celebrated its enactment, considering it a win.
"The Texas Heartbeat Act is now in effect! Texas is officially the first state EVER to enforce a heartbeat law! God bless Texas," tweeted activist group Texas Right to Life when the law went into effect.
Human Coalition Action Texas legislative director Chelsey Youman told USA Today that, "Today is a historic and hopeful day. Texas is the first state to successfully protect the most vulnerable among us, pre-born children, by outlawing abortion once their heartbeats are detected."
Can you go to another state for an abortion?
For women seeking out the procedure, if they cannot get one in Texas due to the law, then they can go to outside states like Kansas where abortions are legal after the six-week point.
One abortion clinic, Trust Women, has already seen an increase in Texas patients. The provider has two offices located in Wichita, Kansas, and Oklahoma City, and is welcoming anyone seeking care.
"Our clinics remain open and ready to provide quality, compassionate abortion care to everyone who needs it, regardless of ability to pay," the organization said in a press statement.
More and more groups are currently challenging the legislation which could mean it goes back to the Supreme Court.
When does the heartbeat bill go into effect?
The law went into effect on September 1st, 2021. On May 19, 2021, Gov. Abbott signed the bill into law during a signing ceremony. He posted the news on Twitter making the passage official. Though the law was created back in May, September 1st was when it went into full effect, which allowed businesses and citizens to prepare.
"The heartbeat bill is now LAW in the Lone Star State. This bill ensures the life of every unborn child with a heartbeat will be saved from the ravages of abortion. Thank you @SenBryanHughes, @ShelbySlawson, & #txlege for fighting for the lives of the unborn in Texas," he tweeted.
The heartbeat bill is now LAW in the Lone Star State. This bill ensures the life of every unborn child with a heartbeat will be saved from the ravages of abortion. Thank you @SenBryanHughes, @ShelbySlawson, & #txlege for fighting for the lives of the unborn in Texas. pic.twitter.com/aolhUKM9tvMay 19, 2021
See more
Does the heartbeat bill have exceptions?
Exceptions to the heartbeat bill are limited to medical emergencies, like if the mother's life is in danger. That means any victim of rape or incest who become pregnant because of it cannot receive an abortion under the law.
Rylee is a U.S. news writer for woman&home and My Imperfect Life who primarily covers lifestyle, celebrity, and fashion news. At times, she also reports on beauty, royals, entertainment, health, and travel. The latest fashion and beauty trends, along with any quirky travel destinations are her favorite topics to write about.
Before coming to woman&home and My Imperfect Life, Rylee originally studied journalism at Hofstra University where she explored her interests in world politics and magazine writing. From there, she dabbled in freelance writing covering fashion and beauty e-commerce for outlets such as the TODAY show, American Spa Magazine, First for Women, and Woman's World.
When she's not writing articles, you can find her testing out one of the many restaurants New York City has to offer and planning her next travel destination. Her other hobbies also include hiking, ballet, yoga, and reading practically any book TikTok recommends.