Una Stubbs woman&home interview: 'I'm the one Benedict Cumberbatch goes to for a hug!'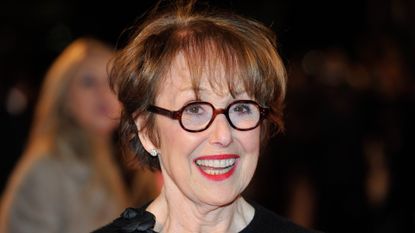 (Image credit: Getty)
Una Stubbs is single and has been married twice, with an adopted son, Jason, from her first marriage to actor Peter Gilmore, and two sons, composer Christian Henson and musician-composer Joe Henson, from her second marriage to actor Nicky Henson. She has six grandchildren ranging in age from three to 30. She plays Mrs Hudson, landlady to Sherlock Holmes, played by Benedict Cumberbatch, in the BAFTA award-winning series, Sherlock.
Una Stubbs woman&home interview
When I was offered my role in Sherlock six years ago, I admit I thought I was just doing another pilot. In fact, my actor friends said to me, "Gosh, it's a very small part you know." I don't think any of us imagined what a success it would be back then.
Now I get people telling me they love me in the streets! Fans even stay overnight in the bushes where we're filming, so they can give us bunches of flowers. My friends ask if that level of attention is difficult, but I tell them I think of it like a little village where people say hello to one another.
I'm sworn to secrecy about the plot of the new series, but one thing I can tell you is that my character has a lot more to do in it. The truth is though, I might have been acting for years, but I still always think I'm dreadful. There's this feeling as I get older that I should have learned everything by now, so I end up putting a lot of pressure on myself. Maybe it's also the fact that I know my three sons are watching this show; I never encouraged them to watch anything I did when they were growing up, but they saw the first series of Sherlock and said, "Mum, this is fantastic!"
My character, Mrs Hudson, is a bit of a mother figure to Sherlock and Watson - and there are a lot of moments where I think, "Gosh, I'm acting the way I do with my own sons here!" The producers never explained the role of Mrs Hudson to me and there was no description in the script. I just went home and worked out the best way to play her, and as the series went on, she started evolving into this quite maternal character.
There's one scene we did where Sherlock returns to the flat he rents and he and Mrs Hudson have a conversation. I said to Benedict, "When my sons visit they go straight to the fridge." So he did the whole scene eating from Mrs Hudson's fridge! I also asked if there could be a rack of beautifully ironed shirts on display because although Mrs Hudson professes not to be a housekeeper, she does love him and wants to do as much for him as she can - much like I do with my own children.
People often come up to me and ask if I'll get Benedict's autograph for them, which might make some men big- headed, but it hasn't changed him one bit. I've known Benedict since he was about four years old; I did films with his mother Wanda [Ventham] and we both lived in Kensington at the time, so I'd be out with my pram and Wanda and I would bump into each other. Poor little Benedict would stand there so patiently holding his mother's hand, while we were gossiping in the high street for hours. His manners are still as impeccable now!
Of course Benedict didn't remember me when we met again on Sherlock, but we've developed a very special bond. He's incredibly protective; for instance, we were filming a scene in this tiny room with masses of actors and it was so hot that I, along with a lot of other people, was getting quite dizzy. Benedict took a stand and said, "Look, something must be done here," and he got it sorted. It's similar to my relationship with my sons where you end up reversing roles and suddenly you're the one who's told to eat or rest!
Benedict and I are very affectionate with each other too and he often comes to me for a hug - there are quite a lot of those! That's when he's not teasing me with the other boys, Martin [Freeman] and Rupert [Graves, who plays DI Greg Lestrade]; they treat me like one of the boys and they expect me to give as good as I get! We had to spend a night in Bristol for the new series and we all went out for dinner, which was such fun - but poor old Benedict couldn't come because he had pages and pages to learn. His dedication is admirable.
I have to say, I'd like it if they made Mrs Hudson a little more fashionable. I adore clothes, but I don't have much choice in that particular role! Vivienne Westwood once said, "Buy well, choose well, make it last," which is the mantra I live by now. I only have a small wardrobe, which means I actually wear the stuff that's in it. I have a particular soft spot for Comme Des Garçons and Margaret Howell clothes.
What would you find me doing on a day off? Sleeping in, that's for sure! Then I'd go to Dover Street Market for a snack, before heading to a lovely art exhibition. And I might meet some friends at a nice restaurant - it doesn't need to be somewhere particularly luscious - Pizza Express would do! If it's a Saturday or Sunday though, I'd have to be at home watching The X Factor and Strictly Come Dancing. My friends and I text in-between saying, "What did you think of that?" and "That wasn't very good!" If I'm honest, my life isn't much different to how it was 20 years ago - but why should it be?
THE JOY OF GRANDCHILDREN
I've got six grandchildren now (five girls and one boy) whose ages range from three to almost 30 - I'm always laughing when they're around. The eight-year-old recently said to me, "Granny, I love you very much, I hope you never die. But when you die, I will miss you." Then there's the 15-year-old who told me I need to get a new bra. I asked, "Why darling?" and she said, "You're getting a bit droopy." They're all on moustache patrol too!
What kind of a grandmother am I? Both a strict and a daft one! My sons live all over the place - one is in Edinburgh, another in east London and another in Spain, but I never miss an opportunity to see them. The only condition the boys have given me is that I don't arrive with gifts because then the kids would look forward to the gifts and not seeing me. I am allowed to play hide and seek though, which the kids adore - and so do I!
Natalie Whittle is a British journalist specialising in celebrity content in the women's lifestyle sector. She previously held the role of Celebrity Director at Woman & Home and has also worked at Prima, Red & Good Housekeeping.