Tyler Perry to be honored with a humanitarian award at this year's Oscars
Tyler Perry will receive the Humanitarian Award at this year's Oscars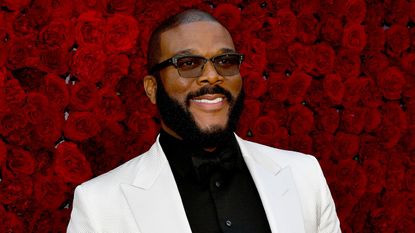 (Image credit: Getty / Paras Griffin)
Actor, director and screenwriter Tyler Perry will be awarded the Jean Hersholt Humanitarian Award at the 93rd annual Oscars Academy Awards thanks to his repeated humanitarian efforts.
The Oscars will be a different affair this year, taking place via a live broadcast on 25th April. We've all become accustomed to staying in curled up with a new Netflix series or our best eReader in 2021 - and it's no doubt that awards season will put some films, TV shows and even books firmly on to our lists.
We are excited to announce this year's Jean Hersholt Humanitarian Awards recipients - @TylerPerry and the @MPTF! https://t.co/F71ftGfktVJanuary 14, 2021
See more
The award follows Tyler Perry's exemplary work during the pandemic and charitable contributions to fellow American citizens in need.
Originally from Louisiana in New Orleans Tyler Perry became a household name following his filmmaking capabilities with many successful movies such as Gone Girl, Diary of a Mad Black Woman and the two-time hit Why did I get married? Perry is set to receive the honor alongside the Motion Picture Television Fund as the Academy announced last Thursday.
Breaking tradition, the Academy will honor two recipients this year following their excellent contributions in aid of humanities progression and survival.
Academy president David Rubin says, "There has been such widespread generosity in our industry that limiting the Hersholt Humanitarian Award to one recipient, this year, in particular, was impossible. So, we are breaking with tradition and giving two awards to honour that spirit."
Continuing to add, "Tyler's cultural influence extends far beyond his work as a filmmaker. He has quietly and steadily focused on humanitarian and social justice causes from the beginning of his career, caring for people who are most often ignored."
The gold-plated Oscar statuettes are a great honor for those in society that positively impact the community. Therefore, Tyler Perry and the MPTF will be recognized for their brilliant work during a live broadcast on, April 25, 2021.
This will be slightly different this year - there won't be a red carpet where we can sot the best Oscar's dress - but it's still set to be a night full of glamour. Watch this space?
Kudzai previously wrote for woman&home as a trainee news writer.
She covered fashion, entertainment, and beauty.

She is a fully qualified Journalism and Media graduate from De Mont Fort University, having graduated in the summer of 2020. Previously Kudzai worked as a freelance fashion wardrobe stylist.