This Morning host Eamonn Holmes shocks viewers with on-air rant over him and wife Ruth Langsford being axed on last day
This Morning host Eamonn Holmes and wife Ruth Langsford are being replaced by Dermot O'Leary and Alison Hammond on Fridays.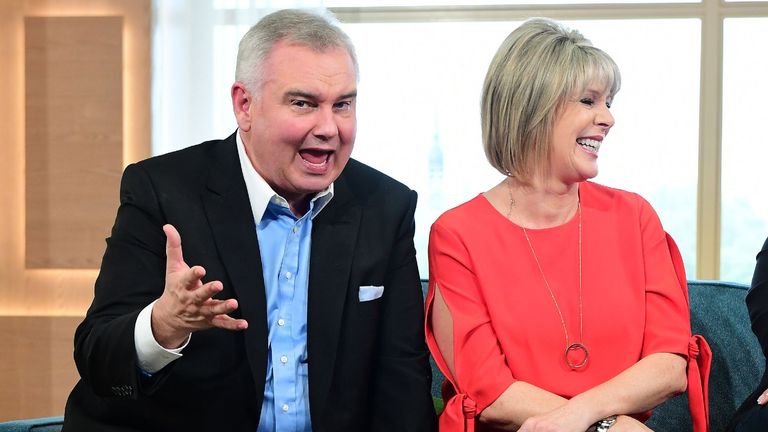 (Image credit: Ian West/PA Archive/PA Images)
This Morning host Eamonn Holmes surprised viewers with an on-air rant about being axed as he and wife Ruth Langsford hosted their last-ever Friday show.
The 61-year-old broadcaster said ITV bosses were "getting rid of us" as he linked getting the chop to seeing half-price Christmas trees outside his local opticians.
Eamonn told Ruth, 60, "Do you know what I saw yesterday? Outside the opticians was a man selling Christmas trees, discounting them by half price."
His wife replied, "They're struggling to get rid of them, I suppose."
READ MORE: Ruth Langsford breaks silence after Alison Hammond and Dermot O'Leary are confirmed as new This Morning hosts
Eamonn told her, "I would say so, darling. That's the obvious conclusion. Which is why they're getting rid of us on a Friday now - after all this sort of chat."
She added, "Oh stop it" before continuing with the rest of the show,
And fans are shocked at his outburst. One fan tweeted, "Eamonn has gone rogue on his last day @thismorning" another put, "Gutted that it looks to be and last for a while. They're great hosts and their partnership is brilliant. You'll be missed on Fridays! #ThisMorning @EamonnHolmes @RuthieeL @thismorning'
And a third added, "@EamonnHolmes is getting stick for his so called outburst today, well can you honestly blame him. Still allowed to speak your mind @thismorning."
READ MORE: Ruth Langsford shares 'awkward' exchange with This Morning's Alison Hammond
Ahead of their last show, Eamonn tweeted thanks to fans for their support, it read, "We bow out of 15 years of our Friday slot on This Morning today. Thanks for the memories hope we made some for you too. Until February, may it be a happy Christmas to you all."
The pair are set to cover Holly Willoughby and Phillip Schofield during the February half-term when they will return to the sofa to host the daily show.