The lightbulb moment that changed these three women's lives for ever
Meet three women whose lives pivoted in a way they could never have imagined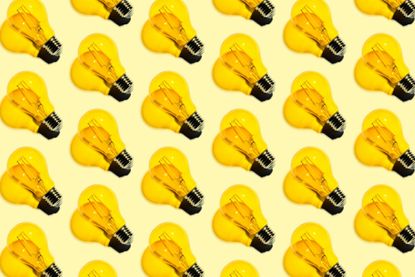 (Image credit: Getty)
We spoke to three women about the eureka moments that changed the direction of their lives for the better.
'Volunteering in Zimbabwe was my "eureka" moment'
Julie Lovegrove, 61, is a professional photographer with a passion for wildlife, fascinating places, and landscapes. She leads photographic holidays, lives in North Somerset, and has three grown-up children.
I didn't ever know what I wanted to be when I grew up so, for pretty much all my adult life, I've fallen into jobs, including admin and bookkeeping, which have mostly been fine, but that's all.
I'd always had a hankering to travel to exotic and far-flung places, and 'do something' with animals. I used to dream of being brave and adventurous like Joy Adamson, Jane Goodall or Dian Fossey. The film Born Free had grabbed my imagination as a young teen. Ever since then, I'd wanted to go to Africa and sit on the rock where Elsa the lioness sits with her cubs at the end of the film.
About 20 years ago, my then-husband was a professional photographer and I began going along to weddings with him as his assistant. One day, he handed me a spare camera and told me just to take photos. The happy couple ended up buying a lot of the images I'd taken, which made me realize that maybe I was actually good at it! It was a steep learning curve, but I used my eye and intuition, and the great feedback I received made me want to keep going.
We began marketing ourselves as a husband-and-wife team, and I started earning money from it and then, eventually, doing my own jobs. Life was busy as a full-time mum, joint business owner and wedding photographer, but in 2011, my life really changed.
In December 2010, after seeing Born Free again on TV and talking animatedly about it, my son said 'So go and do something with lions'. He went online and found a volunteer program doing wildlife conservation in Zimbabwe.
Around that time, I'd been feeling as though I'd lost my identity—as much as I loved my children, I felt like someone's mum or wife, and not a person in my own right. I had a strong desire to do something on my own, just for me. So, with the full support of my family, in May 2011, at the age of 51, off I went.
It was a pivotal trip for me. I met different people from all over the world and found a renewed sense of self-confidence. Being in my 50s didn't matter one jot as I just got stuck in with everybody else. So many people describe something that happens to them as life-changing, but in reality, for most people it only changes something in their life for a short period of time. This really did change mine. It was completely exhilarating and gave me so much confidence. It was a groundbreaking 'eureka' moment.
Since then, I've done more and more volunteering and traveling on my own, which led to me working in South Africa, teaching photography for three months at a time. I've now progressed to leading photography holidays, especially to Namibia.
I never grow tired of capturing the Milky Way in all its glory—a magical blanket of stars stretched across the dark night sky—or seeing leopards in the wild, draped over tree branches in iconic poses.
One of my trips to Namibia has been postponed twice because of Covid, but we're now due to go in November this year and I can't wait. I finally feel that this is what I'm meant to do. It makes me feel alive. Life is too short to settle for less than great.
Learn more about Julie Lovegrove photographic holidays at juliesadventures.co.uk
---
'A cancer diagnosis brought my faith to the fore'
Reverend Dr Jenny McKay, 53, is a veterinary pathologist and, in 2019, became a Church of England minister. She lives in Cheshire with her husband, Dave.
The moment I knew my life had to change for the sake of my health—for my continued existence—came in February 2008, when I learnt the truth about the lump I'd found months earlier in my breast. This diagnosis of a grade 2 malignant breast carcinoma was shattering.
I had wanted to be a vet since childhood and had spent years studying and working night and day to reach the top echelons of my profession. The first vet in the UK to acquire the Diploma of the European College of Veterinary Pathologists, I had numerous scientific publications under my belt—my work was my life.
Aged 40, I found myself signed off indefinitely and plunged into rounds of treatment. I underwent surgery, then six months of chemotherapy followed by radiotherapy. The moment of my diagnosis stopped me in my tracks. I'd thought that nothing like that could ever happen to me—I was wrong.
When your career is all-consuming, it defines you, leaving little time for much else. When that is stripped away, you are left with a million questions about who you are, what you are doing here, and what really matters in life. During my treatment, there was a lot of time to reflect. I felt that I'd been given a second chance and that I was being called to do something else with my life, but what exactly?
I had only ever wanted to be a vet and had thrown myself into that career. I had never even considered another path, certainly not the church. I grew up in Northern Ireland, where my father was a church organist, but, after going to university, I became an infrequent churchgoer. However, faced with a life-threatening disease, my faith came to the fore and the idea of doing something with it began to percolate.
It took years for this to come to fruition. I went back to work at the end of 2008. Four years later, I signed up to an evening course at the University of Chester called The Foundations for Ministry. I enjoyed it, but I loved my job, and I couldn't imagine swapping a life of microscopes and laboratories for sermons and coffee mornings in the church hall.
Then, a guest speaker arrived—a minister in secular employment. Hearing him explain his role as a priest continuing with his work, but also attached to a parish church, I had another light-bulb moment. I realized I could be a vet and a priest—an unpaid curate attached to a parish church but walking alongside people in real life, speaking to people of no faith or those perhaps questioning their beliefs.
The transition was difficult. The Bishops' Advisory Panel didn't recommend I go forward for training and couldn't understand there could be someone doing scientific work but also the work of God. In fact, looking in microscopic detail at the perfection of organisms makes me more certain of a higher power. Luckily, the Bishop of Chester was supportive and it was a great day when I was accepted into the church.
I have now been cancer-free for 12 years. I work as a veterinary pathologist—I wear my dog collar in the lab and I'm recognized as a priest—plus I devote spare time to the community. I try to make faith more accessible to people and I'm particularly enjoying harnessing the power of social media as a way to connect to people as @TheReverendVet.
Although difficult, my journey through cancer is really helpful to understanding those in a similar situation. It's really important as a priest to be rooted in the real world.
---
'Equine therapy was life-changing'
For over 20 years, Phillipa Sage, 52, worked in the motoring industry on live events, becoming a member of the production team for Top Gear Live. In 2018, she made a U-turn and trained as an equine therapist. Phillipa lives in Hertfordshire with her son, Alfie, 15.
Working on Top Gear Live for 12 years, I lived a fast-paced life filled with travel, five-star hotels, superyachts and private jets. It was a crazy time and also one of contrasts, as I'd be part of that jet-set world, and then return home, a single mother to a young son.
I wasn't usually away for more than a week at a time, and I had a live-in childminder who took care of Alfie when I was away. But I was spreading myself too thin, juggling everyone else's needs with little consideration for myself. I was trying to accommodate work, a relationship with Jeremy Clarkson and, most importantly, my son. I craved stability, and I was missing time with my precious only child.
In 2016, my relationship with Jeremy broke down. At the same time, my father had a life-changing accident. It felt as though my world had come crashing down around me. It was the worst and most painful time of my life but it was actually the start of finding the real me.
During that difficult period, I had the opportunity to sample a taster day of equine therapy, at a centre on a farm near my home. Equine therapy is a form of psychotherapy using horses as a tool for healing. The premise is that horses respond to human behaviour and emotions, which therapists observe carefully, thus giving them an insight into a client's psychological state and leading them to ask suitable questions of their client.
Having grown up with horses, being around them is where I'm at my happiest. Little did I know that my saviour, and the beginning of a new, improved and more resilient me, would be a beautiful pony called Bow. As soon as I went to cuddle her, she swished her tail—a sign of agitation. The therapist knew I was comfortable around horses, so it wasn't nerves. She asked what I'd been going through recently, whether there was anything agitating me, and I broke down in tears, all my emotions flooding out.
It had such a powerful effect on me that I went on to have individual therapy sessions at the center, as well as taking part in their group programs. As I ploughed through baggage from my past, there were many tears and a lot of healing. It was, quite simply, life-changing. So much so that it inspired me to train to become a therapist myself.
In the events world, I'd experienced burnout previously, and I didn't want to be on the merry-go-round anymore. So, I undertook the required training to become an equine-facilitated coach, qualifying in 2019. I now work at the center, helping to train others, and working with children and adults with mental health issues, trauma, and social and emotional difficulties, or those looking for personal development with the aim of a stress-free, fulfilled life.
The job has been so empowering, and I've learned so much about myself. I feel I've reached my destiny, now being able to help others with the magical power of horses. Perhaps it should have been obvious from the beginning—Phillipa means lover of horses and Sage is synonymous with healing—I just wish I'd worked that out sooner!'
---
Stephanie Clarkson is a successful childrens' author of Hello Happy, Be Kind, and Super Milly and the Super School Day.
Stephanie graduated from the University of Leeds with a degree in French and Italian, before training as a journalist. She was then a staff writer at The Daily Mail and Deputy Features Editor on woman&home magazine until 2006 when she turned freelance. She continues to write regularly for the British press.
When she's not writing, she enjoys working with schools to promote literacy and the love of reading.