I Taught Ryan Gosling How To Play Jazz Piano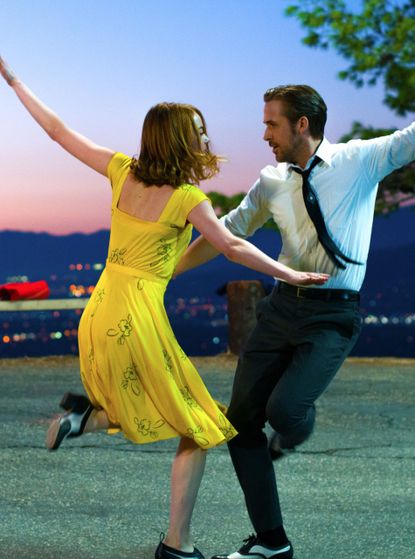 (Image credit: Press)
ABOUT THE FILM: Written and directed by Damien Chazelle (Whiplash), this big-screen musical tells the story of dedicated jazz pianist Sebastian (Gosling), and aspiring actress Mia (Emma Stone), who fall in love and try to manage their conflicting dreams. With original songs and elaborate dance numbers, it will leave you feeling utterly mesmerised.
Liz is married to professional woodwind player, Dick Mitchell, and lives in Los Angeles. She has two sons, Eric, 21, and Kevin, 23. Liz has been playing jazz piano since she was a teenager and now runs classes at a local school, as well as producing her own music.
When I received an email asking if I'd be interested in teaching Ryan Gosling to play the piano for a new film - well, how could I say no? It turned out I'd been recommended by The Colburn School, where I teach classes. I was looking forward to meeting him, but before anything was made official, I actually had to have my own "audition" with Ryan.
I was invited to meet him at his home in Los Angeles, and I didn't tell anyone I was going - not even my husband. When I arrived, he made me some coffee and we talked for 45 minutes about everything from our families to how we could approach the music. He was incredibly honest and laidback and at one point, I remember saying, "Isn't having kids just great?" and he just said, "It's just the best!" We established a great rapport and the day after I got a call to say, "Let's get started." That's when I received the script and the recordings of the 14 songs we'd be working on.
Ryan is very musical, but he'd played very little piano before we met and had no training. So he asked if we could practise two hours a day, five days a week. Of course, Ryan couldn't read music and we only had around three months to practise, so he decided to learn all the songs by memory. We'd sit together at an upright piano in his living room, him on a stool and me on a chair next to him, and take it in turns to play - I'd show him how to play something, he'd try to duplicate it, then I'd make corrections. We didn't even stop for breaks - he was a very conscientious student.
Ryan was so dedicated that when filming began, he'd often ask me to meet him in his trailer with my keyboard on his lunch breaks, so he could practise. We had an ongoing joke where whenever he'd tell me he was going to a dance lesson or to rehearse an acting scene, I'd go, "What? There's actually something besides the piano?"
The biggest challenge was mastering one of the opening scenes. Ryan's character is this hardcore jazz musician who finds himself playing Christmas carols in a restaurant just so that he can pay his rent (I've been there myself!), and during this scene, he starts playing Deck the Halls on the piano before it morphs into the most elaborate jazz piece (he's daydreaming at the time). The director, Damien [Chazelle] wanted to do it in one continuous take without any cuts, so Ryan and I worked on that piece more than anything else. And when he pulled it off with all these extras and cameramen standing around watching, the whole room just applauded. That was the moment where I thought, "We can do this!" - in fact, I think everyone breathed a sigh of relief at that point. I later found out that the original plan was to have a hand double.
I have to admit, I became quite attached to Ryan's family while I was working with him. His eldest daughter was just starting to walk and she was completely charming and his partner couldn't have been more hospitable. Then there was Ryan's dog, who would be lying right there with us almost every time we had a lesson. I still miss them all now.
Just before we finished working together, Ryan told me there were a couple of things he still wanted to learn. One of those was Eva's favourite piece of music, which he wants to surprise her with. So I told him, "You know how to reach me" - and I hope he does.
THE MUSIC PUPIL
Ryan Gosling, 36, lives in LA with his partner, Eva Mendes, 42, and their daughters, Esmeralda, two, and Amada, born last April. This is what he had to say about the role:
I was really intrigued by the fact that Damien wanted to make a film in the style of the Fred and Ginger and Gene Kelly eras because those are the musicals that moved me. The fact that he wanted this film to have that kind of aesthetic and spirit of playfulness was fantastic because it was also a secret wish of mine to make a film like that.
My character, Sebastian, has dedicated his life to being a great jazz pianist, but in his mind the world around him is saying those days are over. His heroes were born 70 years ago, and in this day and age, a great piano player playing real jazz is destined to work in bars where people don't even stop their conversations to listen to you. So how much do you compromise to be the artist you want to be?
I think Sebastian is struggling with the difference between being a purist and being a snob. Ultimately, he faces a question lots of creative people are faced with at some point in life: do I keep pursuing this work that actually nourishes me, or do I have to accept that this is just a job and I have to pay my bills? It's easier for him to get on board with Mia's dream than it is with his own. He just thinks Mia needs to create her own opportunities and stop waiting for people to give her permission to do what she loves to do.
Piano is something I always wished I had the time to learn. So I had this great opportunity to sit in front of a piano for three months and just play - and I took advantage of it. It was really one of the most fulfilling preproduction periods I've ever had. I practised some of those pieces four hours a day for three months - so I should technically never want to hear them again. But every time I hear them I'm still moved by them and I think they are really, really beautiful. We're so lucky to have this really special score.
La La Land is released in cinemas on 13 January.
Natalie Whittle is a British journalist specialising in celebrity content in the women's lifestyle sector. She previously held the role of Celebrity Director at Woman & Home and has also worked at Prima, Red & Good Housekeeping.