Use of the word 'gynaecologist' in front of Kate and William 'banned' reveals Strictly star
One particular Strictly star says she was stopped from using the word 'gynaecologist' in front of Kate Middleton and Prince William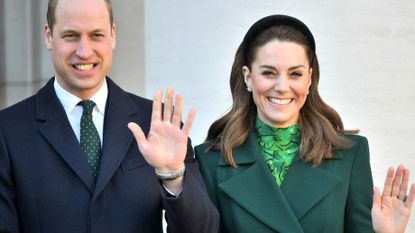 (Image credit: Photo by Samir Hussein/WireImage/Getty Images)
Judi Love has revealed that she was banned from saying the world "gynaecologist" in front of Prince William and Kate Middleton when she performed at the Royal Variety Performance.
Comedian and Strictly 2021 star Judi Love performed a set for Prince William and Kate Middleton at the Royal Variety Performance back in November.
She has revealed the bizarre word she was told to remove from her routine before she stepped on stage in front of the Cambridges, confessing she has no idea why it had to be removed.
This royal news comes after Prince Harry was awkwardly asked about his sex life—and gave the best response.
---
Opening up about appearing at the Royal Variety Performance, which will air on ITV later this month, Loose Women panellist and comedy star Judi admitted that there were some rules she had to follow while doing her set in front of the future King and Queen Consort, who was wearing her most stunning Missoma earrings on the night.
Chatting to Jonathan Ross, Judi shared how thrilled she was to be asked for the prestigious royal event.
"I was like, do they know who they've booked?! It was such an amazing feeling," Judi told Jonathan.
She went on to add that she was told to remove a certain word from the set, that being "gynaecologist".
"I had to kind of clean that up a bit. I wasn't allowed to say the word gynaecologist. I don't know why."
Judi also shared that there was a certain topic that had Prince William chuckling.
"I was talking to him about Boris. I was cussing out Boris… my Boris joke he really liked it," Judi joked, before going on to praise the Duke and Duchess for their lovely nature and appearance.
"I was telling him he was slick and he looked good. Kate, she's so stunning, so naturally beautiful.
"William is cute you know. Kate you are lucky."