The Queen is reportedly planning legal action over Harry and Meghan's 'hurtful attacks'
The Queen's legal team is reportedly seeking guidance from libel and privacy experts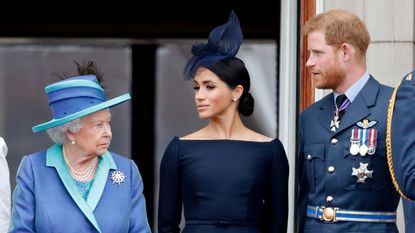 (Image credit: Getty Images )
The Queen is planning a "legal fightback" following Prince Harry and Meghan Markle's "hurtful attacks", says a royal insider.
Her Majesty is reported to have ordered senior aides at Buckingham Palace to plan legal action following repeated criticisms from Meghan Markle and Prince Harry.
The Palace's legal team are also reported to be levelling up ahead of Prince Harry's impending memoir about growing up royal.
This follows royal news that Prince Harry is risking 'never speaking to William again'.
---
Buckingham Palace have remained tight-lipped regarding Prince Harry and Meghan Markle's criticisms of 'The Firm', but according to new reports from royal insiders, The Queen is now planning a "legal fightback".
As per The Sun, Buckingham Palace's legal team are consulting with libel and privacy experts following repeated criticisms brought against the Royal Family by Prince Harry and Meghan Markle, with a source claiming that the Palace have reached their "limit".
"The feeling, coming right from the top, is that enough is enough," the Palace source told the tabloid.
"There is a limit to how much will be accepted and the Queen and Royal Family can only be pushed so far."
They added, "They are getting lawyered up. Harry and Meghan will be made aware and know repeated attacks will not be tolerated."
The source, who the paper described as "well-placed" within the Palace, also alleged that the royal legal team are considering issuing a warning to Penguin Random House ahead of Prince Harry's "accurate and wholly truthful" royal memoir.
They claimed that the Palace's lawyers are considering requesting an advance warning of the book's content, as well as a right to reply.
"If someone were named in the book and accused of something directly that could be a libel and also infringe their rights to a private family life," they said.
According to a statement released by Prince Harry on the Archwell website, the book, which is scheduled for release late next year, will be a "firsthand account" of the prince's life in the Royal Family.
"I'm writing this not as the prince I was born but as the man I have become," Harry said of his debut book.
Buckingham Palace declined to confirm or deny whether they were seeking legal action regarding the Sussexes' criticisms
Kate is a freelance contributor to woman&home, covering everything she loves most: fashion, fiction, and fancy face cream. If she's not working, she's probably reading, feeding her online shopping addiction, or judging the taste level of celebrity houses (10/10 for Dakota Johnson, 2/10 for Tan France).

She graduated from Central Saint Martins in 2020 with a BA in fashion journalism, and her byline has also appeared in British Vogue, The Times, and Marie Claire.