The One Thing You Won't See At Buckingham Palace Anymore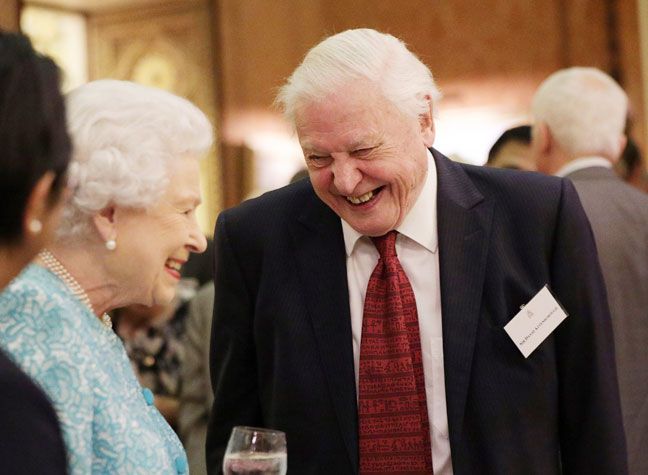 Fresh on the heels of the EU's urgent plan to eliminate single-use plastics by 2030, Queen Elizabeth II is now taking action against waste by imposing a ban on plastic straws and bottles on all royal estates.
The Queen is thought to have become personally interested in the issue after working with Sir David Attenboroughon a conservation documentary focusing on wildlife in the Commonwealth. The pair, who are both 91, were filmed laughing and joking together, before beginning their discussion on plansto create a network of national forested parks across the 52 countries of the Commonwealth.
Her Majesty's "strong desire to tackle the issue" means that Buckingham Palace will impose new waste plans in a bid to reduce the use of plastics "at all levels".
A spokesman for Buckingham Palace said, "Across the organisation, the royalhousehold is committed to reducing its environmental impact. As part of that, we have taken a number of practical steps to cut back on the use of plastics."
The new rules will prohibit plastic straws and bottles, reducing their use inpublic cafés on royal estates and completely eliminating them in staff dining rooms. Caterers at Buckingham Palace, Windsor Castle and the Palace of Holywoodhouse in Edinburgh will only be allowed to use china plates and glasses, or recyclable paper cups.
Takeaway food items in the Royal Collection cafés are all to be made of compostable or biodegradable packaging.
And the Queen isn't the only royal family member with concerns about our use of plastic. Prince Charles regularly speaks about the environmental damage caused by plastic consumption.
"The nightmare result of 8 million tons of plastic entering the ocean every year is set to get worse rather than better," he told a conference last month.
"We cannot, indeed must not, allow this situation to continue."
Reports show that Buckingham Palace has already made progress in reducing waste. From 2016 to 2017, waste was reduced by 5.1%.
Buckingham Palace employees are also sent 'green newsletter' reminding them to reduce waste.
Richard Harrington, of the Marine Conservation Society, said in response to the changes, "This shows real leadership and sets a great example. It will also incentivise businesses to reduce the amount of plastic they routinely use."