How Sophie Wessex is following in Princess Anne's footsteps when it comes to royal duties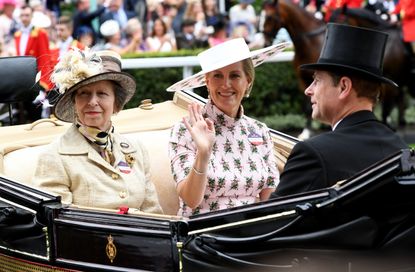 Sophie Wessex is following in the footsteps of her sister-in-law, Princess Anne, when it comes to her role in the monarchy.
A royal commentator has revealed the inspiration that the Countess of Wessex takes from Princess Anne's role as a working royal.
The Princess Royal's 'no fuss approach' to royal engagements and duties has rubbed off on Sophie.
How is Sophie Wessex following in Princess Anne's footsteps?
Sophie Wessex and her husband, Prince Edward, are 'very much following in the same footsteps' as Princess Anne, according to royal commentator Richard Fitzwilliams.
He told Express.co.uk, "I think over the decades there's been enormous public respect for her work ethic.
"That's basically what people expect from her, and that's what she does.
"The Wessexes are very much following in the same footsteps.
"The Wessexes and Princess Anne are examples of the monarchy at its best."
He added of their royal duties, "But also they're allowed because of their place in the pecking order to be less high profile, and that's the way they like it.
"The royals do so many engagements each year, usually around 3500, it's a huge number.
"The vast majority of them aren't news as we usually see it.
"It's tremendously important because it's useful for so many charities, and it means so much to have royal endorsements.
"It gives you a cache, it attracts people, it means certain venues open up.
"Sometimes the royal is able to attend and so forth so it really is meaningful.
"If you're talking about a slimmed down Royal Family, which is what Prince Charles is meant to want, it does mean that there'll be fewer engagements, and that will affect those who don't have royal patronages."
Robyn is a celebrity and entertainment journalist and editor with over eight years experience in the industry. As well as contributing regular to woman&home, she also often writes for Woman, Woman's Own, Woman's Weekly and The Sun.