Duchess of Cambridge and the Queen both suffer from travel sickness in this unusual mode of transport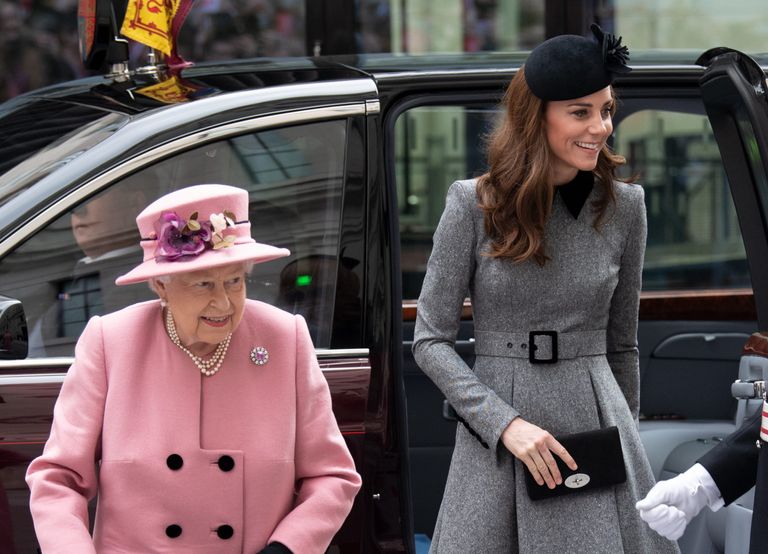 By Amy Hunt
The Queen and the Duchess of Cambridge lead pretty similar lives - both completing royal engagements, charity visits, tours abroad, and welcoming important visitors on an almost daily basis.
And for the two royal women, their duties often involve riding in horse-drawn carriages, whether it be on their way to a state visit, or a day out, such as Royal Ascot.
While it's certainly not an everyday occurrence for most of us, a ride in a horse-drawn carriage happens much more regularly for the Queen and Duchess of Cambridge - but it's actually something both of them struggle with.
According to the Sunday Mirror, the Duchess of Cambridge was uncomfortable riding in the carriage during Trooping the Colour, because she suffers with travel sickness.
A source told them, "The truth is the Duchess of Cambridge gets very seasick and doesn't enjoy the rocking motion of carriages.
"Worrying she may be ill on such an important occasion as Trooping the Colour added to her stress. Protocol meant she had no choice but to go by state carriage."
During Trooping the Colour, which also marks the Queen's official birthday every June, all senior members of the royal family are required to travel the procession by horse-driven carriages, as has been royal tradition for decades now.
The Queen is said to relate to Catherine's problem too, having previously described her tw-hour carriage ride on the day of her Coronation back in 1953 as 'horrible'.
On Trooping the Colour, where the royals travel in the carriages for some time, the monarch reportedly suggested that the Duchess take some anti-sickness medication, to help tackle the problem.
Most recently, Queen and Duchess of Cambridge rode in one such carriage for Royal Ascot all the way from Windsor Castle, winding through Windsor Great Park to get there. The pair looked pretty happy once they arrived at the races, so hopefully no one was feeling to unwell then!
While the Queen attended all six days of Royal Ascot, the Duchess of Cambridge attended just the first day alongside her husband Prince William.
During the rest of the week, the monarch was joined by the likes of Sophie Wessex, Princess Eugenie, and Mike and Zara Tindall.