The only time Princess Margaret saw the Queen cry
Queen Elizabeth was only ever seen crying by her sister Princess Margaret once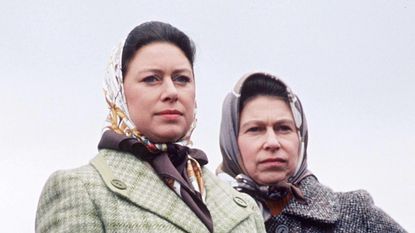 (Image credit: Tim Graham Photo Library via Getty Images)
A documentary revealed that Princess Margaret saw her sister the Queen Elizabeth cry only once, and it was over her feud with then-Prime Minister Margaret Thatcher.
The Queen reportedly was seen crying only once by her sister Princess Margaret, and it was due to her complicated relationship with Margaret Thatcher.
This tricky relationship was played out in The Crown Season 4 on Netflix, with storylines leaving many viewers asking, how true is The Crown?
In a Channel 5 documentary Elizabeth: Our Queen, Princess Josephine Loewenstein (a close friend of Princess Margaret) said that the Princess once told her,
"I've only seen my sister cry once. It was when the press put out all the articles about her not getting on with Margaret Thatcher."
The documentary told of how the Prime Minister was so afraid of the monarch that she would "down whiskey in Buckingham Palace to destress after their weekly meetings."
The two women reportedly had a run-in at Balmoral, with the Queen saying, "Can't that woman just sit down?"
This is not the first news of a rift between the Queen and Mrs Thatcher
In 2015 a book, The Queen and Mrs Thatcher: An Inconvenient Relationship, detailed the many times the two powerful women were at loggerheads.
In fact, the author Dean Palmer claims that they "met and disliked each other on sight."
On one occasion, the Prime Minister suggested to Buckingham Palace that she and the Queen should coordinate outfits, and was met with the cold response that, "The Queen does not notice what other people are wearing".
The Queen and Prime Minister would meet every Tuesday for their weekly audience, and Mrs. Thatcher would apparently greatly annoy her Majesty by arriving too early, refusing to listen, and "lecturing"—which did not go down well!
According to the book, there were fundamental issues relating to the two women's personalities. The Queen has a dry sense of humor, whereas Thatcher "did not have one". Mrs. Thatcher was also unable to comprehend the idea of leisure, something which greatly confused the Queen.
However, as time went on, and the two women were required to spend less time together, their relationship apparently improved—the Queen even attended Mrs Thatcher's funeral in 2013.
How is the relationship between the Queen and Margaret Thatcher portrayed in The Crown?
Now the infamous relationship is being played out once again in Netflix's The Crown. Here Margaret Thatcher is played by Gillian Anderson opposite Oscar-winning Olivia Coleman as Queen Elizabeth II.
The Prime Minister is first introduced in The Crown Season 4, which focuses on her premiership and the relationship between Prince Charles and Lady Diana Spencer.
Since the season premiered on Netflix earlier in November, many viewers have been more interested than ever in Mrs Thatcher's complicated relationship with the Queen.
But with the Royal Family famously not endorsing the show's fictionalization of their lives and refusing to comment on accuracy, it's unclear how much can be believed.
Regardless of whether the relationship is portrayed exactly as it was, however, The Crown nonetheless makes for compelling viewing.
Mollie worked as a junior reporter across Women's Lifestyle brands, focusing on news, with a particular fascination with all things royal.
Mollie started out doing work experience across digital websites, before taking up a role as a digital intern, working mainly on woman&home, where she excelled at sourcing original stories for the woman&home audience, but also wrote up fashion, beauty, and general lifestyle features. She now works in marketing for a creative media recruitment company.
Mollie is a candle, film, and food fanatic, who also makes a mean margarita.