Princess Mako of Japan renounces title for love and other royals who chose love over royalty—including one you won't believe
Princess Mako of Japan chose to marry her 'commoner' partner despite losing her title in the process, but she's not the first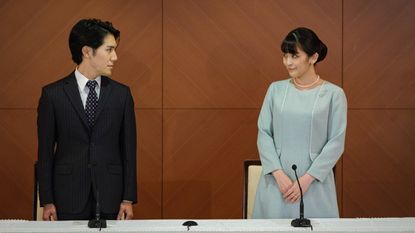 (Image credit: Nicolas Datiche - Pool/Getty Images)
Princess Mako of Japan chose to renounce her title in favor of true love, by marrying her 'commoner' husband. The decision changes the Japanese royal family tree and although it's a big decision—she isn't the first royal to choose romance over royalty.
Whether it's Kate Middleton's wedding dress, Prince Charles and Princess Diana's wedding cake, or the national celebration when they walk down the aisle—there's always a big fuss when members of royal families marry.
However, Princess Mako marrying her college sweetheart, Kei Komuro, didn't get the royal seal of approval. This is because, in doing so, the princess lost her royal status.
Under Japanese law, per BBC News (opens in new tab), female imperial members forfeit their status if they marry a 'commoner.' This law doesn't apply to male imperial family members.
As well as forfeiting her status, she and Kei skipped the usual rites reserved for royal weddings and the lump sum offered to royal women who leave the family. Princess Mako has made greater waves as she is the first female member of the royal family to decline both.
In Japan, there were protests over the couple's news and the couple held a press conference to apologise for any trouble caused by her marriage. She also said, "For me, Kei is irreplaceable—marriage was a necessary choice for us."
Her husband added, "I love Mako. We only get one life, and I want us to spend it with the one we love."
The newlyweds are expected to move to the US, where Kei works as a lawyer. This move means that many are dubbing the couple as, "Japan's Meghan Markle and Prince Harry."
Negative press and backlash from the Japanese public led to Princess Mako suffering greatly in both her mental and physical health. After Prince Harry and Meghan Markle's interview with Oprah revealed the royal couple's mental health struggles—it's clear the comparison isn't only geographical.
Neither royal couple are, however, the first to make the move away from their birthright and towards the one they love.
Edward VIII and Wallis Simpson
Perhaps one of the most famous royal couples, whose union changed the course of history, is that of the then King Edward VIII and Wallis Simpson.
In order to marry Wallis, a twice-divorced American socialite, he abdicated in December 11, 1936. This meant his brother Prince Albert became King George VI, and paved the way for Queen Elizabeth II to be the head of the British royal family today.
Edward, who was awarded the title of HRH Duke of Windsor by his brother, made his abdication speech over BBC radio. His decision, to renounce the throne and go into self-imposed exile, sent shockwaves across the globe.
In the famous speech he uttered the unforgettable line, "You must believe me when I tell you that I have found it impossible to carry the heavy burden of responsibility and to discharge my duties as King as I would wish to do without the help and support of the woman I love."
They didn't make woman&home's most iconic couples list for nothing!
Prince Philip and Queen Elizabeth II
Prince Philip died aged 99 in Windsor Castle. Although the couple are remembered for their 73 year-long union, when Prince Philip married the Queen, he actually renounced one of his titles.
He was born Prince Philip of Greece and Denmark and he had to drop his claim to the throne in both countries to marry his beloved Lilibet.
In doing so, the Prince didn't exactly become a commoner because aheaf of their wedding, in November 1947, Philip received the title His Royal Highness and was made the Duke of Edinburgh, Earl of Merioneth, and Baron Greenwich. After the Queen's coronation in 1952 he became a British prince too.
Prince Friso of Orange-Nassau and Mabel Wisse Smit
Prince Friso, the second son of Queen Beatrix of the Netherlands, abdicated his claim to the throne in 2004 to marry his true love Mabel Wisse Smit.
The Dutch Parliament was opposed to the union as the couple did not disclose the extent of Mabel's friendship with the notorious drug baron Klaas Bruinsma when she was in university.
This "breach of trust" led to the then Prime Minister of the Netherlands refusing to approve her entry into the royal family—but they married anyway. This meant that he renounced his place in line to the throne.
Despite the controversy surrounding their marriage, Mabel received the title of princess as a courtesy from the Dutch royal family.
The prince and princess settled in London and had two daughters, countesses Emma Luana and Joanna Zaria.
Devastatingly, less than a decade after their marriage in 2004, tragedy struck. After being struck by an avalanche while skiing off-trail in Lech Austria, Prince Friso died.
Town&country (opens in new tab) reports that in the years since the tragedy, Princess Mabel has dedicated herself to charitable interests.
Aoife is Junior News Editor at woman&home.
She's an Irish journalist and writer with a background in creative writing, comedy, and TV production.
Formerly Aoife was a contributing writer at Bustle and her words can be found in the Metro, Huffpost, Delicious, Imperica, EVOKE and her poetry features in the Queer Life, Queer Love anthology.
Outside of work you might bump into her at a garden center, charity shop, hot yoga studio, lifting heavy weights, or (most likely) supping/eating some sort of delicious drink/meal.