The most iconic couples of all time—our official list
The most iconic couples of all time revealed, from modern-day celebrity romances to legendary lovers of the past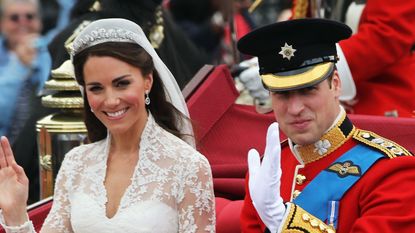 (Image credit: Sean Gallup/Getty Images)
These iconic couples make us believe in romance again. Whether it's Hollywood newlyweds or royal soulmates, we can't get enough of feel-good love stories here at woman&home.
The past one hundred years have brought us so many A-list couples that it can be hard to keep track, and it doesn't help that La La Land is notorious for its high rates of celebrity splits. Romances in showbiz often begin and end faster than a director can yell 'Cut!', with lasting relationships now the exception rather than the rule. In fact, a 2017 survey found that 52% of celebrity nuptials in the US ended in divorce, and of this figure, the average length of the marriage was just six years.
With all these grim statistics, it can be easy to lose faith in the gods of love. In celebration of the couples that are still an item—as well as those that were undeniably in love when together—we thought we'd draw up a list of the most memorable celebrity duos in history.
Some of these candidates are still basking in their happily ever after, staying together for the long run, and standing the test of time. Others haven't been so lucky, having lost the relationship to tragic accidents or illness. A few have even ended in divorce, but their intense passion for each other whilst together should never be forgotten.
What they all do share, however, is the enviable status of #couplegoals long before the hashtag even existed. Mark our words—each of these pairings will go down in the history books as certifiably iconic.
---
Read more from woman&home:
---
1. Elvis and Priscilla Presley
Let's dial back the clock a few decades, shall we? Whether you were around for swinging '60s or not, you've almost definitely heard of the legendary pairing that was Elvis and Priscilla Presley.
The King of Rock'n'Roll first met Priscilla, who was ten years his junior at just 14, at a party in Germany in 1959. Their large age gap complicated things between the two, with Priscilla's status as a minor making a sexual relationship both inappropriate and illegal. They finally married in Las Vegas in 1967, when Priscilla was 21. Nine months later, the couple welcomed their first and only child, Lisa Marie Presley.
Unfortunately, things took a turn for the worse after the birth of their daughter. The marriage imploded when Elvis slept with another woman, prompting Priscilla to have an affair of her own. The couple ended up divorcing in 1973, four years before Elvis died from a heart attack.
2. Prince Edward and Wallis Simpson
If you thought it was controversial for Prince Harry and Meghan Markle to 'step back' as senior members of the Royal Family, you've seen nothing yet. Prince Edward and Wallis Simpson were known as the British monarchy's most rebellious couple in the early 20th century, choosing to up-sticks and emigrate to France together. It's a pretty complicated tale, but here's a very brief rundown of their outrageous relationship:
He was the King of England and she was a divorced American socialite. The government refused to accept her as his Queen, so he abdicated from the monarchy in 1936. You couldn't write a better love story!
3. Kurt Russell and Goldie Hawn
They might be a couple of golden Hollywood oldies, but this loved-up duo has a relatively modern approach to romance—refusing to marry despite being together since 1983. The powerhouse partners see no reason to express their love with a legal document, which they believe would bring little to their relationship.
"For people like us, the marriage certificate wasn't going to create anything that otherwise we wouldn't have," Kurt told People magazine in 2020.
4. Paul and Linda McCartney
Linda and Paul were the perfect match, but unfortunately, their romance was cut tragically short in 1995 when Linda died of breast cancer.
The Beatles' frontman met Linda at a club in London in 1967 and the pair instantly hit it off. They married two years later and shared many happy years creating music and raising their children. Linda, often hailed for being Paul's muse, is credited as the reason why he returned to music after the split of The Beatles.
5. Kate Moss and Johnny Depp
The Depp-Moss romance may have ended a long time ago, but during their heyday in the 90s Johnny and Kate were the 'It' couple. They met through a mutual friend at a café in London, and quickly embarked on a passionate—and reportedly volatile—relationship. After four tumultuous years, they eventually parted ways in 1997.
6. Prince Harry and Meghan Markle
Love them or hate 'em, Prince Harry and Meghan Markle are undeniably one of the most talk-about couples in the world.
The American actor met the Duke of Sussex in London in 2016 through a mutual friend and quickly began a long-distance relationship with him from Toronto. The couple married in a high-profile wedding ceremony in St. George's Chapel at Windsor Castle on May 19, 2018, and welcomed their first child, Archie, the following year. Meghan Markle's Suits career came to an end shortly before she married Harry and she committed to her role as a full-time working royal.
However, it didn't take long for trouble to brew behind the gates of Kensington Palace.
After a difficult year and a half as newlyweds in the public eye, Meghan and Harry announced their withdrawal from their roles as senior royals in January 2020. They emigrated to California shortly after, where they reside today with their two-year-old son and newborn daughter, Lilibet.
7. Jay-Z and Beyonce
Often hailed as hip-hop royalty, Beyonce and Jay-Z are possibly the most powerful couple in the music industry today.
Their relationship spans over two decades, having first met each other back in 2000. They tied the knot in a private wedding ceremony in 2008 and have since become parents to three adorable children.
Their marriage hasn't always been smooth-sailing though. Rumors of infidelity in the relationship erupted in 2016 following the release of Lemonade, Beyonce's sixth studio album. The Grammy award-winning vocalist implied in multiple song lyrics that her husband had cheated on her, an allegation that was later confirmed to be true by Jay-Z himself.
Fortunately, the couple seems to have overcome their marital issues. They released a joint album, Everything is Love, in 2018, and even went on tour together to promote it. Looks like nothing can get in the way of this unstoppable couple's enduring bond.
8. David and Victoria Beckham
They started as a cute celebrity couple in the late 90s. He was Manchester United's hotshot striker and she was one-fifth of a chart-topping British girl group. Fast forward 20 years, and they are one of the most powerful celebrity couples in the world.
9. Catherine Zeta-Jones and Michael Douglas
They may be 25-years apart in age, but when it comes to their marriage, Catherine Zeta-Jones and her Michael Douglas couldn't be closer. They met in 1996 at a film festival in France and went on to tie the knot four years later. Over two decades have now passed and, despite experiencing some marital bumps along the way, the couple is still going strong. Catherine has credited plenty of quality time as the foundation of their relationship, as well as "constant love and respect." The pair also share two children, Dylan, who was born in 2000, and Carys Zeta, born in 2003.
10. Kate Middleton and Prince William
This list certainly wouldn't be complete with Prince William and Kate Middleton. The Duke and Duchess of Cambridge have been in each other's lives for twenty years now, having first met in 2001 when they were students at St. Andrew's University in Scotland.
They dated for a whole decade before finally exchanging marriage vows in an iconic wedding ceremony at Westminster Abbey in London in 2011. Fast forward another ten years and the couple are now the proud parents of three sweet children, George, Charlotte, and Louis.
11. Ellen DeGeneres and Portia de Rossi
Ellen DeGeneres and Portia de Rossi are another couple whose relationship can be traced back to when video tapes were still a thing. The Hollywood duo were first introduced to each other at a party in 2000, but didn't start dating until 2004. At the time of their initial meeting, Portia wasn't open about her sexuality and worried that being gay could damage her reputation as an actor. Luckily, she bumped into Ellen four years later at an awards show and the spark was instantly reignited. They married in 2008 at their Beverly Hills mansion in a small ceremony attended by their moms and 17 other guests.
12. Elton John and David Furnish
Elton John and David Furnish have been an item for almost 30 years, having first set eyes upon each other in 1993. The newly sober musician had asked a friend to rally together a group of people for a meal in London, and David just so happened to be on that guest list.
Elton was instantly attracted to the advertising executive, who, despite being 15 years younger than him, was noticeably independent and mature. They reconnected the following evening for a casual Chinese takeaway and fell in love not long after. Their 2005 civil partnership was converted into a marriage when same-sex weddings were legalized in Britain in 2014, and they have lived together in happy matrimony ever since.
13. Barack and Michelle Obama
Barack and Michelle Obama haven't exactly had the easiest of marriages, having served as President and First Lady of the United States for eight years. The couple faced intense pressure during their time in office, with every aspect of their relationship scrutinized and torn apart by the media. Luckily, the pair are still together and seem as tight as ever.
14. John F. Kennedy & Jacqueline Kennedy Onassis
The 1960s were a time of excitement and hope in America—and no one typified this more than the handsome U.S. President, John F Kennedy, and his elegant wife, Jacqueline. Tragically, their marriage came to an untimely end when JFK was assassinated in Texas in November 1963. Jackie, who had lost a baby the previous summer, was left widowed at the age of 34. She received worldwide respect for her enduring dignity during this time of grief and for later using his legacy to inspire philanthropic projects.
15. Tom Hanks and Rita Wilson
If anyone ever tells you Hollywood marriages are doomed for failure, whip out the Tom Hanks card. The Oscar-winning actor recently celebrated his 33rd wedding anniversary, having married his wife Rita Wilson back in 1988.
The couple met on the set of the Bosom Buddies in 1981 when Tom was just starting off in his career. Rita, who was guest starring on the ABC sitcom, immediately caught the up-and-coming actor's attention—and the rest is history. Today, the couple has two sons, Chet and Truman, and they alternate between their Los Angeles and Idaho homes.
Emma is a Lifestyle News Writer for woman&home. Hailing from the lovely city of Dublin, she mainly covers the Royal Family and the entertainment world, as well as the occasional health and wellness feature. Always up for a good conversation, she has a passion for interviewing everyone from A-list celebrities to the local GP - or just about anyone who will chat to her, really.
Emma holds an MA in International Journalism from City, University of London and a BA in English Literature from Trinity College Dublin.