Princess Eugenie looks back on her and Jack Brooksbank's wedding day with this lovely message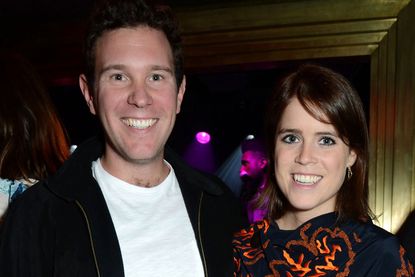 Princess Eugenie shared a touching message on social media about her wedding day, expressing how much she loved her dresses.
The message is shared as Princess Eugenie's wedding dress is displayed at Windsor Castle as part of the exhibition, 'A Royal Wedding, HRH Princess Eugenie and Mr Jack Brooksbank.'
MORE:Sarah Ferguson reacts to speculation that Princess Eugenie is pregnant
Along with pictures from the exhibition, Princess Eugenie shared with fans how much she enjoyed her wedding day saying, 'So proud and happy to see these again...I wish I could wear them every day. Brings back all the joy from my most special day. @peterpilotto@zacposen @royalcollectiontrust'
Fans of the loved-up couple were keen to share their love and support on social media with one person saying, 'My favourite royal wedding, you could sense the love, very beautiful x' while another said, 'Dear Princess Eugenie, you looked radiant on your wedding day! Best wishes for you and your wonderful husband!!'
The couple married on 12th of October 2018 and Princess Eugenie wore two dresses on her big day, both of which are displayed at the exhibition.
Peter Pilotto and Christopher De Vos designed Princess Eugenie's wedding dress. The daughter to Prince Andrew requested a low back to ensure her scar, which was a result of surgery she had when she was 12 years old to correct scoliosis, could be seen.
The 28 year old's evening dress was a Zac Posen design. The pale pink silk dress has a train and full length sleeves.
We're not surprised Princess Eugenie wants to wear her dresses every day - they are stunning!
The Queen's granddaughter's loyal fans agreed Princess Eugenie looked gorgeous on her wedding day.
One person said, 'You were stunningly beautiful on your special day Princess Eugenie.'
A final person said, 'I think you looked absolutely beautiful in both of your dresses, they where the most beautiful gowns I've seen to date! X'
Other outfits on display include Jack Brooksbank's wedding outfit and the adorable bridesmaid's dress designed by Amaia Kids.
The exhibition launched on the 1st of March and you can have the pleasure of viewing these striking outfits until the 22nd of April.
Rachel Howatson is a digital writer who works across a range of publications. Whatever your passion, whether it's hillwalking, cooking, gardening, running, socialising or even sleeping, she'll likely have written about it.