Royal fans show their support as Princess Eugenie returns to university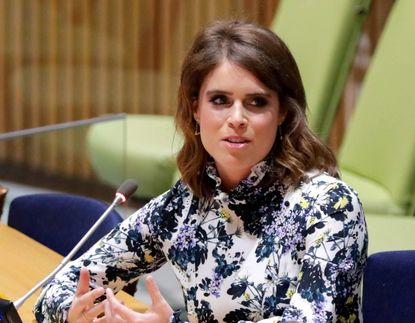 Princess Eugenie took a trip back to university last week to visit the Data Science Institute at Imperial College London.
Loyal fans sent the Queen's granddaughter a number of lovely messages as they showed their support for the impressive work she has been involving herself with.
MORE:Sarah Ferguson discusses her bullying fears for daughters Beatrice and Eugenie
The Princess posted a picture of herself on social media with the message, 'Last week I visited the Data Science Institute at @imperialcollege which was created to address some of the most important issues facing the world today. I met those who are pioneering research into the visualisation and interpretation of Blockchain. Thank you @imperialcollege for having me (for a moment) as a student! #student#blockchain'
Royal fans were quick to share their love and support for the Princess. One person said, 'Thanks for all that you do, so proud of you. You also look great!'
Another person said, 'Brava young lady! I love and admire all of your efforts to change the world for the better. You are a beautiful light.'
Other supporters sent encouraging messages including, 'Keep up the good work Princess!' and 'Great representative for royal family.'
A final person commented, 'What a beautiful photo of princess Eugenie.'
The Princess looked very smart and stylish in a chic blazer and floral scarf.
Returning to university must have been an interesting experience for Princess Eugenie who was once a university student herself.
Princess Eugenie graduated from Newcastle University in July 2012. The daughter to Prince Andrew graduated with a degree in English literature and history of art.
This seems to be a pattern with the Royal family with the Duchess of Cambridge also having studied history of art. Catherine studied at St Andrews University where she met her husband, Prince William.
The Duke of Cambridge initially studied art history however he changed course and decided to study geography instead.
We are sure it won't be long before we see Princess Eugenie engaging herself with even more important work.