Princess Diana would have made Prince Harry's exit from royal family pan out differently if she was alive today, her close friend claims
Princess Diana would have stopped Prince Harry and Meghan Markle from doing the Oprah interview, her friend thinks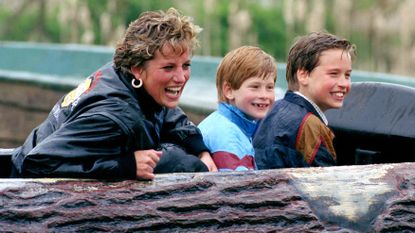 (Image credit: Photo by Julian Parker/UK Press via Getty Images)
Princess Diana would have stopped Prince Harry from speaking to Oprah Winfrey with Meghan Markle, if she was still alive today, her close friend Dr James Colthurst has claimed.
---
James believes that the Duke and Duchess of Sussex's departure from the royal family would have panned out differently if Prince Harry's mother was still around to guide him.
He has explained that he feels as though the late Princess of Wales would have stopped the explosive fall out between Prince Harry and his close family members.
Speaking to Radio Times, James said, "I'm not sure he would have got to the interview stage.
"I believe she might have cautioned him beforehand to solve things in some other way."
It's thought that Prince Harry's rift with his father, Prince Charles, and his brother, Prince William, worsened following the release of the globally-watched interview, during which Harry said he sees the two of them as "trapped within the system" of the monarchy.
The sit down Oprah chat also saw Meghan share details of her experience within the royal spotlight, with the Duchess admitting that she felt suicidal during her time in royal fold.
She also claimed that an unnamed member of The Firm had "expressed concern" about "how dark" her and Harry's son Archie's skin would be, before he was born.
Prince Harry also admitted that he and his brother are on "different paths" despite once having a close relationship.
Following the birth of Harry and Meghan's daughter Lilibet Diana this month, it was recently confirmed by Kate Middleton that she and William are yet to meet their new niece via video call.
When asked about Lilibet last week, Kate said, "I wish her all the very best. I can't wait to meet her because we haven't met her yet, so hopefully that will be soon."