Princess Catherine's 'genius' hair trick that keeps her up-dos looking perfect
Princess Catherine uses a 'genius' hack to keep her hair in place when it's up, a royal hairstylist revealed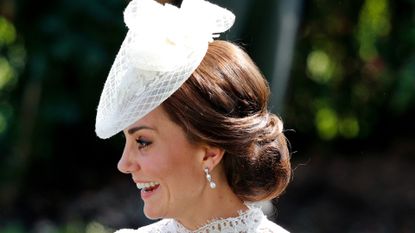 (Image credit: Getty)
A royal hairstylist has revealed the handy hack Princess Catherine uses to keep her up-dos in place all day.
Princess Catherine uses a hairnet to keep her up-dos looking perfect all day.
The hack also helps protects her hair from the weather while attending royal events and engagements.
---
Kate Middleton's hair has always been a thing of wonder but now one of the secrets to her stunning styles has been revealed, Princess Catherine uses a hairnet to keep her up-dos in place, according to royal hairstylist.
Taking to TikTok to reveal Catherine's hair hack, the account, named @bekah_and_co shared several photographs of the Princess of Wales' hair up close to confirm the hair styling trick.
The hairstylist even made a TikTok video to show royal fans how they can achieve a similar hairstyle to the Princess of Wales.
Bekah said, "It's safe to say that she definitely utilizes hair nets in her hair-up styles, especially those low buns." She added that the hairstyling trick was "genius".
The stylist continued, "Someone like her, who's in the spotlight all the time and is picked apart head to toe, any little hair out of place is going to make the front page news. Use a hairnet, keep everything in place and looking good."
Revealing that Catherine's beloved hairnets also protect her locks from bad weather, Bekah added, "Even though she is practically perfect in every way, using a hair net will help maintain those sleek, smooth styles all day long.
"Wind, rain, shine, whatever, it will stay in place. She doesn't always use it, but I would say the majority of the time when she wears those low buns, she is definitely wearing a hair net."
Kate's hair hack comes after King Charles delighted royal fans with a new photograph showing himself and Camilla, Queen Consort, posing alongside the new Prince and Princess of Wales at Buckingham Palace.
The striking new photograph, issued by Buckingham Palace, shows Camilla, Queen Consort and King Charles III standing alongside Prince William, Prince of Wales, and Catherine, Princess of Wales, as the foursome pose for a photograph ahead of their Majesties the King and the Queen Consort's reception for Heads of State and Official Overseas Guests. The photograph was taken on 18 September at Buckingham Palace, ahead of the Queen's funeral.
Robyn is a celebrity and entertainment journalist and editor with over eight years experience in the industry. As well as contributing regular to woman&home, she also often writes for Woman, Woman's Own, Woman's Weekly and The Sun.