Princess Beatrice and Sarah Ferguson unite in support of special cause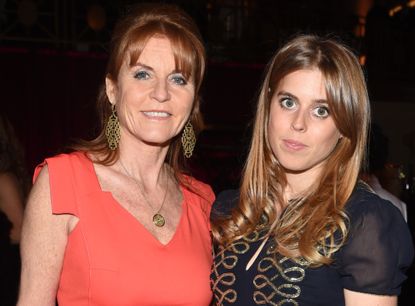 It's not often we see Sarah Ferguson and Princess Beatrice at the same event, but last night the pair were photographed together as they showed their support for a cause they both feel very passionate about.
Sarah Ferguson and her eldest daughter Princess Beatrice attended the Education in Emergencies panel discussion at the House of Lords last night, in support of the charity Street Child.
The charity's main aim is to get children suffering from poverty off the streets and into schools where they can be supported and educated.
MORE:Prince Andrew & Sarah Ferguson the history of their relationship
Sarah, Duchess of York is a Founder Patron of Street Child and both of her daughters, Princess Beatrice and Princess Eugenie, are Global Ambassadors.
Sarah attended the panel discussion with daughter Beatrice alongside CEO and founder of Street Child, Tom Dannatt.
Sarah's youngest daughter, Princess Eugenie, has also been involving herself with charitable work this week.
The 28 year old met with an organisation which aims to bring an end to human trafficking.
The daughter of Sarah Ferguson posted, 'I co-founded @the_anti_slavery_collective to bring together change-makers to raise awareness for modern slavery as a global epidemic. Today I met an incredible organisation, @stopthetraffik, who are empowering people to take action against #humantrafficking. Their intelligence led STOP APP is the only one of its kind to combine community empowerment, big data management and anti-trafficking expertise to disrupt this horrific crime. #enditmovement'
Her loyal fans were quick to show their love and support. One person wrote, 'We love u keep showing what a real princess does this generation will change the world.'
Another person said, 'Great work great cause you are the best.'
A final royal fan sent an emotional message to Princess Eugenie and her sister writing, 'Given you are not a full time working royal, your efforts to promote such important causes is exceptional. Not only do you tackle confrontational issues, but you do it with dignity and care. You (and you sister for the same reason) should be very proud of who you are. It is noticed.'
We are sure Sarah is very proud of her lovely daughters!