Princess Beatrice to announce special award at the Oscar's Book Prize ceremony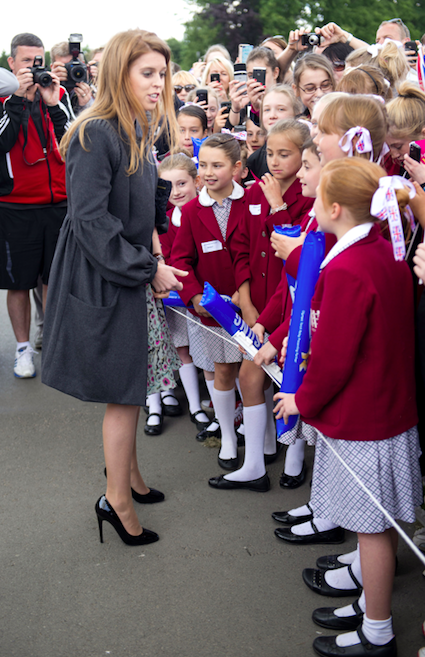 (Image credit: Rex)
It's been just a few days since the Duchess of Cambridge welcomed her third child into the world and royal fans are already speculating over everything from the little prince's name to Catherine and William's choice of godparents.
And while we already know that the Duchess's second son will have plenty of playmates in the form of sister Charlotte, brother George and cousin Mia Tindall, there is one royal who could be perfect for the role of the prince's favourite cousin – Princess Beatrice.
As a patron of the Oscar's Book Prize the Princess will announce the best book for under-fives at a glittering ceremony held at St James Palace on May 14th.
With the shortlist featuring sea-faring adventures and tales of a goose, a pig and a babysitting bear, we're sure Beatrice will have got plenty of practice in for those all important bed-time stories.
HRH is also no stranger to building up a rapport with little ones as she focuses the majority of her charitable work around children's welfare, and education and is the Patron of organisations including The Edinburgh Children's Hospital Charity and the Teenage Cancer Trust.
As well as her official royal duties the 29-year-old has also shown that she isn't afraid to tap into her inner child. Back in 2012 the eighth-in-line to the throne took TV's Andrew Marr on a tour of the 'most glamorous Wendy house ever', where her grandmother the Queen, her sister Margaret and the Queen's grandchildren spent many happy afternoons playing.
Beatrice was at the helm of the Wendy's house 12-month renovation, and we imagine Catherine will be calling on her expertise should they consider building the ultimate play den for the new prince and his siblings in the grounds of their Kensington Palace home.
But with her sister Eugenie's wedding to prepare for on October 12th it may be some time before we see Beatrice fully step into her role as adoring cousin.
Watch this space…