Prince William and Prince Charles shared a lovely father-son moment during their joint royal engagement this week
Aw!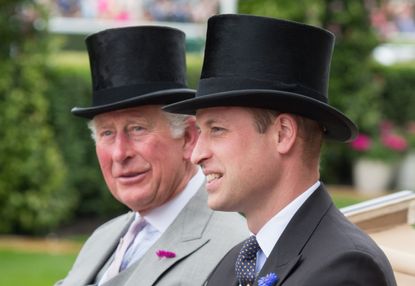 (Image credit: Getty)
Prince William and his father, Prince Charles, were captured on video in the midst of a sweet father-son moment.
The future Kings and their wives, Duchess Camilla and Duchess Catherine, spent yesterday on a joint public engagement.
The foursome paid a visit to the Defence Medical Rehabilitation Centre (DMRC) in Loughborough, where they met with patients and staff of the armed forces.
Showing off his sporty side, Prince William had a go at playing wheelchair basketball, attempting to shoot a few hoops.
As William missed shot after shot, Prince Charles took it upon himself to give his son a helping hand.
In a hilarious clip, the Queen's eldest son approached Prince William from behind and pushed the wheelchair forward and closer to the hoop, before giving him a supportive pat on the shoulders.
The Duke of Cambridge attempted a couple more shots, finally landing the ball in the net, prompting a proud celebration from his dad, his wife, his mother-in-law and the crowd of onlookers.
READ MORE:The poignant message behind the Duchess of Cambridge's outfit during 'new Fab Four' outing (opens in new tab)
Plenty of royal fans took to social media to react to Prince Charle's kind gesture.
'Ok, that was sweet,' penned one.
Another chipped in ,'It's so cute how bouncy and giddy he was when his dad started pushing the wheelchair closer, lol. Soooo cute!'
'Beautiful moments ❤️👏,' added another, while a third was happy to see the princes and their wives spending time together.
'Wow! Great to see them all together. 👏👏👏,' they Tweeted.
'Great to see father and son out together - the photo on the royal family Instagram of them both at this event is wonderful!' wrote another.