'I really want to do it' Prince William reveals he's planning to train for a new job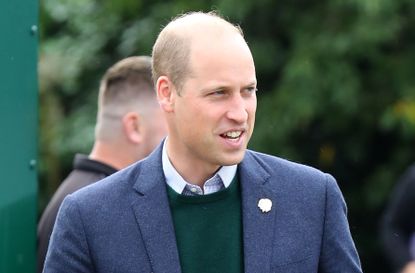 (Image credit: Getty Images)
Prince William has revealed that he plans to train as a counsellor so that he can support people working in the emergency services.
Prince William has confirmed that he has plans to train for a new title.
He is hoping to become a counsellor for text crisis service, Shout, in order to support staff in the emergency services.
This follows royal news that Kensington Palace shared an adorable throwback picture of Prince William and Prince Harry with Princess Diana to mark 999 day.
The Duke of Cambridge, Prince William, has confirmed that he has plans to train as a counsellor for the text crisis service Shout.
This comes as the supportive organisation have announced that they are teaming up with the emergency services to help 'bluelight' staff get the care they need.
Chatting about the initiative to some of the service's volunteers, the Duke explained how he is hoping to get involved, saying: 'I'm aiming to set myself up for it, I really want to do it. Even if I can only do an hour on my laptop. I want to do the training and be able to help.'
Shout was developed with the Royal Foundation in conjunction wit the Heads Together mental health campaign.
READ MORE:The Crown writer reveals that the Royal Family are told how they're portrayed so they can "brace themselves"
Now, members of the British emergency services are able to seek support by texting BLUELIGHT to 85258 to start a conversation with a trained volunteer.
Giving his praise to the work that members of staff in the emergency services do and the help that they provide to those in need in light of national 999 Day, William said: 'What I always find with the blue light community is that you put the hat and the uniform on day in day out and you see whole families being torn apart.
'You try and compartmentalise, you try not to bring it back to your own family but after a while one or two jobs catch up with you.'
Continuing to detail the importance of Shout's new operation, the future King, who has previously worked as an air ambulance and search and rescue pilot, said: 'If the blue light community can be more open about the things that bother them, then others can as well.
'We are not robots and, if you are in the emergency services for long enough, you see really distressing things. All that weighs upon you, and if you have something going on at home - family, illness - it all gets on top of you, too many things to keep a lid on.'