The special Christmas tradition Prince Philip will do at Sandringham for the rest of his life
How sweet!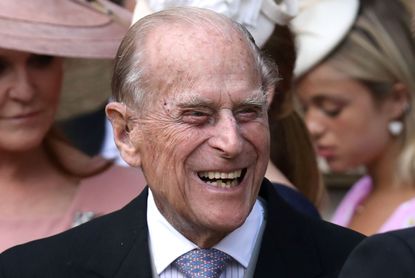 (Image credit: AFP via Getty Images)
With Christmas around the corner, the Queen, Prince Philip and the royal family will soon be heading to their Sandringham Estate in Norfolk, where they will celebrate the festive season.
Christmas at Sandringham is a long running tradition for the royals and of course involves plenty of festive family rituals, with Prince Philip reportedly taking control of one in particular.
When members of the family arrive at Sandringham on Christmas Eve, they all gather together to help decorate the main house's huge Christmas tree.
According to Channel 5's Sandringham: The Queen At Christmas, the royal Christmas centrepiece is a 20 foot spruce cut from the Sandringham Wood, and the Duke of Edinburgh is said to take great pride in topping off the impressive plant, insisting that he places the golden star on top of the tree every year.
"Prince Phillip will always put the gold star on top of the tree and will probably continue to do so for the rest of his life," said royal author, Claudia Joseph.
"He's quite a stalwart and wont let anyone else take control," she added.
READ MORE:The Duke and Duchess of Sussex confirm they won't be spending Christmas with the Queen at Sandringham this year (opens in new tab)
Of course, little ones, such as the Queen's great grandchildren, Prince George, Princess Charlotte and Prince Louis play a part in the special moment.
"When any young children come they put their own little decorations on," Claudia explained, before continuing to add that a very important family heirloom adds the final touches.
"Of course, Queen Victoria's glass angels take pride of place and are very important to the royal family because of course they're inherited and traditional."