Royal fans are loving this resurfaced video of Prince Harry being told off by Princess Diana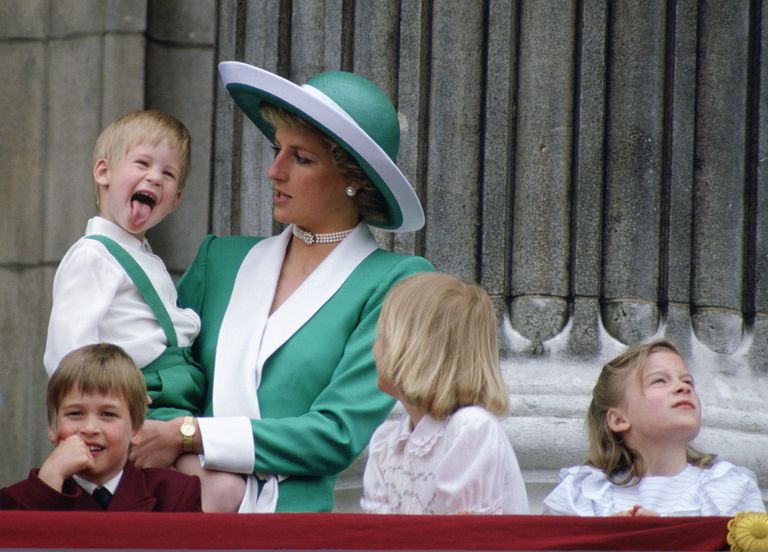 An old video of Prince Harry being told off by Princess Diana has resurfaced on social media, and royal fans are loving the funny moment.
Prince Harry has always been known as the cheeky prince, and he lives up to the reputation in a resurfaced video.
After being naughty with his cousin, Princess Beatrice, Harry is seen getting a telling off from his mother, Princess Diana.
We've always known Prince Harry liked being mischevious when growing up, and now a resurfaced video illustrates just that.
The old video was shot on September 15, 1990, as they watched The Battle of Britain Anniversary Parade - which also happened to be little Prince Harry's sixth birthday.
It was shared by a fan account on Instagram, and shows Princess Beatrice - who's in her mum Fergie's arms - poking Prince Harry.
READ MORE: The royal family will be featured in a brand TV new show and Prince George is the star
The young prince did not hold back and nudged her back, which prompted his mum, Princess Diana, to make him move away from his young cousin and give him a telling off.
However, the cousins soon made up as it was the same royal engagement when Prince Harry was seen covering Princess Beatrice's mouth and lifting her up - how cute!
Royal fans found the clip hilarious, with one commenting, 'Harry no backing down from day dot 🤣'.
Another said, 'This is precious! ❤️'
READ MORE: Is this the real reason behind Prince Harry's decision to step away from royal family?
The throwback video comes not long after it was announced that Prince Harry and his wife Meghan have stepped back from their roles as 'senior' members of the royal family.
Before leaving the UK to start his new life in Canada, Prince Harry delivered a moving speech about his decision, where he said he wished things were different.
"Our hope was to continue serving the Queen, the commonwealth, and my military associations, but without public funding.
"Unfortunately, that wasn't possible. I've accepted this, knowing that it doesn't change who I am or how committed I am. But I hope that helps you understand what it had to come to, that I would step my family back from all I have ever known, to take a step forward into what I hope can be a more peaceful life.
"I was born into this life, and it is a great honour to serve my country and the queen. When I lost my mum 23 years ago, you took me under your wing. You've looked out for me for so long, but the media is a powerful force, and my hope is one day our collective support for each other can be more powerful because this is so much bigger than just us."