Here is the itinerary for Prince Harry and Meghan Markle's trip to Morocco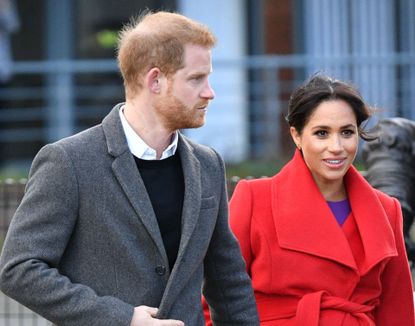 The itinerary for Prince Harry and Meghan's trip to Morocco has been revealed.
The visit to Morocco will take place from Saturday the 23rd to Monday the 25th of February and is at the request of Her Majesty's Government.
Royal commentators have revealed the itenerary for the couple's trip.
On Saturday 23rd of February, The Duke and Duchess will arrive at Casablanca Airport where they will be given a Guard of Honour.
The following day will see the soon-to-be parents visiting schools, including a boarding house run by Education For All; a Moroccan organisation which helps females from rural communities continue their education.
On Saturday evening, there will be an evening reception in Rabat hosted by Thomas Reilly, the British Ambassador to Morocco.
On their final day, the pair will visit the Royal Federation of Equestrian Sports as well as taking part in a cooking demonstration where they will meet under-privileged children who will be learning to cook traditional recipes.
The packed weekend is primarily focused on issues surrounding gender equality and education.
Kensington Palace announced the trip on social media saying, 'The Duke and Duchess of Sussex will visit Morocco from Saturday 23rd February to Monday 25th February 2019. This visit is at the request of Her Majesty's Government...'
Some Royal fans were concerned for Meghan's safety with one person writing, 'Morocco? Heavily pregnant? Hope everything will be OK!!!'
Another person asked, 'Is it safe for Meghan to fly so late in her pregnancy?'
Meghan is heavily pregnant however is able to take part in the small tour. Her exact due date is unknown however it is predicted the Duchess of Sussex will give birth in April.
Other fans however shared their excitement. One person said, 'Woohoo! Looking forward to their engagements there' and other person said, 'Amazing!'
A final person said, 'Road trip! Morocco is beautiful and culturally lush. Enjoy the trip, YRH!'
Prince Harry and Meghan have had a busy month and don't appear to be slowing down ahead of the birth of their first child.
As well as official visits, the pair have some more exciting news!
It was announced the couple will be moving from Kensington Palace to Frogmore Cottage. Reported by ITV News, it is thought this move will take place in March.
You can read more about Frogmore Cottage here.
The parents-to-be will be able to settle in before welcoming their child into the world. What an exciting couple of months ahead for the lovely pair!