Prince Edward reveals sad thing that makes the Queen struggle to suppress her heartache
Prince Edward has said his mother, the Queen, has found recent times "staggeringly difficult"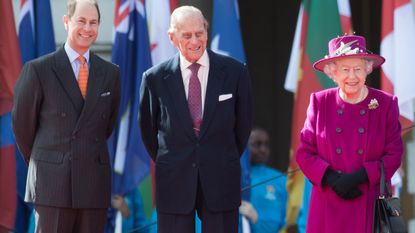 (Image credit: Photo by Samir Hussein/Samir Hussein/WireImage/ Getty Images)
Prince Edward has revealed the sad reason his mother, the Queen, found lockdown "staggeringly difficult".
Prince Edward has revealed that the Queen has found recent times "staggeringly difficult" because she is unable to stop herself "dwelling" by throwing herself into royal work.
Like many of us, the Queen has had to take a step back from her busy schedule due to the pandemic, all while facing the heartbreak of losing her husband, Prince Philip.
---
Prince Edward has revealed that his mother and father, the Queen and Prince Philip, found the Covid-19 lockdowns "staggeringly difficult" and hinted that Her Majesty could struggle to move on from the heartache of losing her husband if she is unable to work.
The monarch swapped Buckingham Palace for Windsor Castle when the UK first went into lockdown in 2020 and has exchanged nearly all of her in-person royal appearances for virtual ones ever since.
Sadly, due to the ongoing health crisis, Her Majesty has been unable to carry out her job as sovereign in the same way she has for the entirety of her reign. Prince Edward, the youngest of Queen Elizabeth's children, explains that keeping occupied is what prevents her from "dwelling" on things for too long.
Edward also highlighted just how important social contact is for the Queen, telling The Telegraph, "It's so much about people and then suddenly that all stops."
Sophie, the Countess of Wessex, also shared details of the sad way she and Edward visited the Queen and Prince Philip during lockdown, proving that the monarchy faced the hardships of being separated from family in the same way the rest of their nation did.
Sophie, Edward and their children, Lady Louise Windsor and James Viscount Severn live together at Bagshot Park in Surrey.
"We used to see them stand on the balcony, which was about 20 feet up in the air.
"We'd see them waving. We'd shout at them and they'd shout back at us. It always seemed to be windy, so we could barely hear each other."
The couple also swerved answering questions about Prince Harry and Meghan Markle's controversial Oprah Winfrey interview with a cheeky response when asked if they had watched it.
Prince Edward replied with a smile, "Oprah who?" while Sophie Wessex added, "Yes, what interview?"