The Queen helps out as Meghan Markle suffers awkward royal protocol incident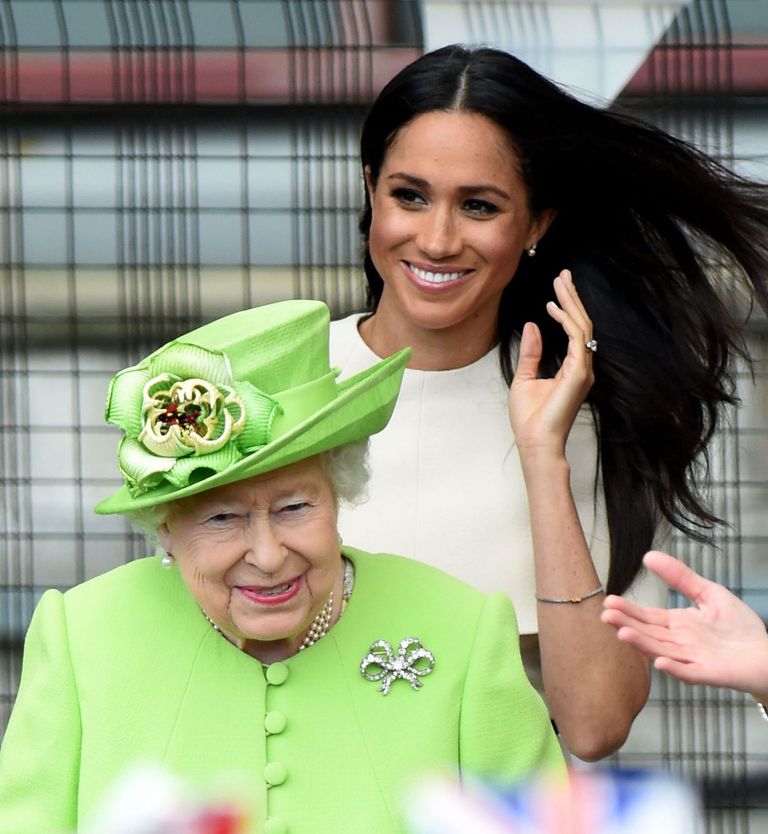 By Amy Hunt
Meghan Duchess of Sussex has so far been expertly navigating life as a new royal, despite being just weeks into the important role.
Yesterday however, on her visit to Chester with the Queen, the Duchess experienced her first royal mishap. Although the trip all appeared to go relatively smoothly, there was one small hitch - when Meghan appeared unsure of royal protocol.
The Duchess and her new grandmother-in-law had got off of the Royal Train at Runcorn station, and were being ushered into a waiting car to head to their first engagement of the day.
Approaching the car, Meghan appeared to do the correct thing, and asked Queen to get into the vehicle first.
However, the pair then shared a moment of confusion, with the Queen stepping back from the car. The monarch's hesitation prompted to Meghan to ask her, "What's your preference?"
Luckily, the Queen was more than happy to reassure new royal Meghan of the rules, asking her to get in first.
The Queen's gesuture suggesting the royal rules hadn't quite been communicated to Prince Harry's wife, as it's well known within the royal household that the Queen always prefers to sit behind the driver - rather than diagonal to the driver, as general etiquette suggests.
It's thought that the pair met with the awkward moment as Meghan is usually told to follow behind the Queen at all times, allowing the monarch to lead the way in most situations.
Royal etiquette expert William Hanson explained that the Queen has always had a personal preference to sit behind the driver of the car.
He told the Daily Mail, "The Queen always sits behind the driver.
"This is just a case of habit not protocol (protocol actually says the most important person sits diagonally behind the driver) but the Queen has always preferred being directly behind whoever is driving her.
"Meghan was probably not aware of this and the royal household may have forgotten to brief The Duchess of Sussex in this nuance."
The pair then got happily settled into the car, with one of the monarch's aides covering her with a blanket in order to keep warm.
Despite the slightly awkward incident, the rest of the day appeared to go off without a hitch, as Meghan and the Queen opened the Merseygate Bridge, attending the opening of the Storyhouse Theatre, and enjoyed a lunch at the Town Hall.
In fact, Queen Elizabeth II and her new granddaughter-in-law actually looked to get on like a house on fire, laughing and joking at regular intervals during the day. Their easy way with each other certainly suggests that the Queen has very quickly warmed to Meghan - as has she, to the monarch.