Meghan Markle joins Duchess of Cambridge, Harry and William for their first joint engagement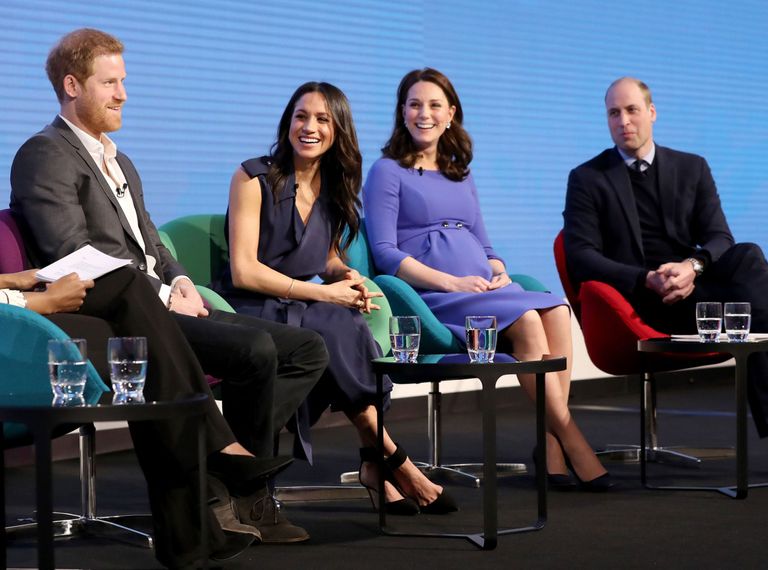 Today Meghan Markle joined the royal trio for the clan's first joint royal engagement together, to address some of the causes they plan to tackle as part of the Royal Foundation.
Meghan, Prince Harry, Prince William and the Duchess of Cambridge came together at the first annual forum for their joint foundation, which has, so far, worked on supporting issues including mental health, conservation, and injured veterans.
While Meghan is not yet an officially Patron of the Foundation like Catherine, Harry and William, she will become one when she marries on 19th May.
Today's event marks the first time Meghan and the Duchess of Cambridge have attended an official engagement together. And it looked as though the pair were getting along like a house on fire.
The royal foursome took part in a Q&A at the event, where they discussed in more detail the causes close to their hearts.
The interviewer, Tina Daheley, however, addressed the fact that, as family members, they all work very closely together - and cheekily asked whether this ever sparks disagreements.
The foursome laughed at the suggestion, but Tina may well have a point, as William cheekily replied, 'Oh yes!'
They were then asked if they'd remembered disagreeing on any specific things - to which Harry jokingly responded, "I can't remember, they come so thick and fast!"
You can see the funny exchange in a video shared by the Daily Mail's Rebecca English.
Harry continued to discuss their bond, jokingly admitting that they are 'stuck together' now.
He said, "I think it's really good we have got four different personalities and we all have that same passion to make a difference.
"We have different opinions and they work really well [together]. Working as family does have its challenges; of course it does. [I think] the fact that everybody is laughing shows they know 'exactly' what's it like. But we are stuck together for the rest of our lives."
Meghan then seemed to laugh in agreement, commenting, "Togetherness at it's finest!"
MORE: Are This Iconic British Band Set To Play At Meghan And Harry's Wedding?
36-year-old Meghan was also questioned on the charities she will be focusing on in her royal career during the event. And while she didn't shed any light on the specifics yet, Meghan did mention her passion for championing women's voices.
Discussing the cause, she acknowledged that she is still early on in her royal role, saying, "I've only been here for three months, right?"
But she assured that she has been quietly working on establishing her interest areas, behind the scenes.
She said, "You want to hit the ground running, even if it's behind-the-scenes, which is what I've focused my energy on thus far.
"I've been meeting with the right people, the right organisations, learning as much as I can, so that I can maximise the opportunity we have here to make an impact."
Meghan continued, saying, "What's interesting, is I hear a lot of people say 'You're helping women find their voices'.
"I fundamentally disagree with that, because women don't need to find a voice, they have a voice. They need to be empowered to use it, and people need to be encouraged to listen."
She also referenced the recent Time's Up movement against sexual harassment.
"Right now in the climate we're seeing so many great campaigns, with Me Too and Time's Up. There really is no better time to shine a light on women feeling empowered."
Later on in the day, Harry also paid a sweet tribute to his fiancee, sharing how "proud" he was that she shares his vision to bring about change.
In his speech, he said, "I am personally incredibly proud and excited that my soon-to-be wife, who is equally passionate about seeing positive change in the world, will soon be joining us with this work."
Meghan chose a simple £1,327 navy blue Jason Wu outfit for the Royal Foundation Forum event, while Catherine decided on a dress by one of her favourite maternity brands, Seraphine.