Meghan Markle admits 'cowering and tiptoeing into a room' in the workplace
Meghan Markle, the Duchess of Sussex, opened up about facing stereotypes in the workplace on her Archetypes podcast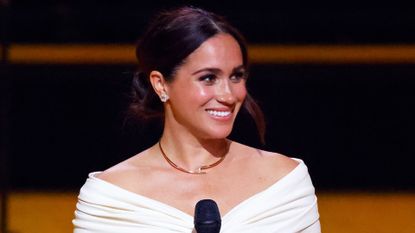 (Image credit: Getty)
Meghan Markle has opened up about facing stereotypes in the workplace in her latest Archetypes podcast episode.
The Duchess of Sussex has admitted to "cowering and tiptoeing into a room" while at work.
Meghan also discussed the unfair "angry black woman " stereotype with comedian Issa Rae.
---
Speaking in the latest episode of her popular podcast, Archetypes, Meghan opened up about being labeled as 'demanding.'
She said, "I'm particular, I think a high tide raises all ships, we're all going to succeed so let's make sure it's really great because it's a shared success for everybody. But I also find myself cowering and tiptoeing into a room and – the thing I find most embarrassing – when you're saying a sentence and the intonation goes up like it's a question. And you're like, 'oh my God, stop like whispering and tiptoeing around it.'"
She added that she believes people should just say what it is they need, "You're allowed to set a boundary. You're allowed to be clear, it doesn't make you demanding. It doesn't make you difficult, it makes you clear."
And speaking to comedian Issa Rae about the stereotypes black women face, Meghan recalled how the author of the book called Algorithms of Oppression typed 'why are Black women so...' on a search engine, resulting in options like, 'Why are Black women so loud?' 'Why are Black women so mean?' and 'Why are Black women so angry?'
"Those were the seeds being planted," Meghan noted. "We all know that sometimes things make you feel angry or sad or hurt or upset — and that's not a gender or racially-specific feeling. Yet, this trope of the angry Black woman, it persists."
Sharing her own experiences, Meghan added, "I remember when I was auditioning, and even the idea of Black roles — I remember those casting sheets where the description of the character, she always had to have an edge or an attitude."
Meghan has had instant success with her podcast, with it shooting straight to the top of the Spotify charts after the first episode. During that first episode, Meghan revealed her sweet nickname for her husband Prince Harry.
Towards the beginning of the recording, Meghan's husband Prince Harry made an unexpected cameo while Meghan spoke to Serena Williams, her first guest.
"Hi! You wanna come say hi? Look who just popped in," Meghan said. Serena then piped in, playfully imitating Harry's accent, adding, "Hello! Hello there!"
Harry is then heard asking Serena, "How you doin'?" To which Serena replied, "Good, how are you?" Harry then let Meghan and Serena get on with recording the episode. When leaving the exchange, Harry said to the women, "have fun!"
Meghan then responded, "Thanks my love," revealing the sweet pet name that she has for her husband.
Robyn is a celebrity and entertainment journalist and editor with over eight years experience in the industry. As well as contributing regular to woman&home, she also often writes for Woman, Woman's Own, Woman's Weekly and The Sun.