Kate Middleton dressed up in a VERY surprising pop star outfit on her hen do
Kate Middleton's hen do outfit was worlds away from the regal looks we see her in now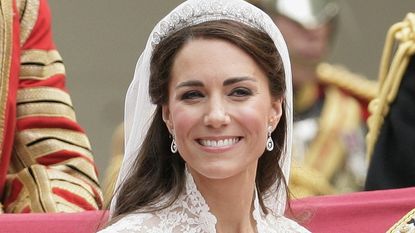 (Image credit: Photo by Indigo/Getty Images)
Kate Middleton's seriously surprising hen do outfit was once revealed by Prince William himself—and the inspiration behind the rather racy costume might surprise you.
Kate Middleton is said to have dressed as Cheryl Cole during her hen do, donning the pop star's iconic Fight For This Love outfit.
Cheryl once revealed that Prince William himself told her all about the cheeky hen do ensemble, with the future King even sharing that Kate performed her own rendition of the song along with the signature dance moves.
In other royal news, the bittersweet reason Prince William once dreamed of being a police man has been revealed.
---
Cheryl's autobiography details the moment Prince William told her that his wife had performed Fight For This Love on her hen night, with her siblings Pippa and James Middleton reportedly backing him up.
The former Girls Aloud star recalls how William approached her during the 2012 Jubilee celebrations, to give her a cheeky insight into Kate's bachelorette party, thrown before the Duke and Duchess of Cambridge tied the knot in 2011.
Kate and William, who now live between Kensington Palace and Amner Hall with Prince George, Princess Charlotte, and Prince Louis, married almost two decades ago in a lavish Kensington Palace ceremony.
Cheryl's book recounts that William told her, "Did you know you've got a bit of competition?"
The former X Factor judge went on to write, "Kate confessed that she dressed up as me on her hen night, in a bodysuit and split trousers, and sang Fight For This Love.
"She even learnt the dance routine and was step-perfect by all accounts, as her sister Pippa and brother James also came over and told me all about it."
Despite the racy outfit that is worlds away from what we see Kate wearing these days, the future Queen Consort's hen night was said to be a rather private affair.
Sources claim that just a handful of close friends and family were in attendance, with Kate hosting the bash at a friend's home.